This Coachella Lineup Poster With Bot-Generated Band Names Is Pretty Funny
Who wouldn't want to see Lil Hack, Deep Harris, Lad Love, and Project Mayor live?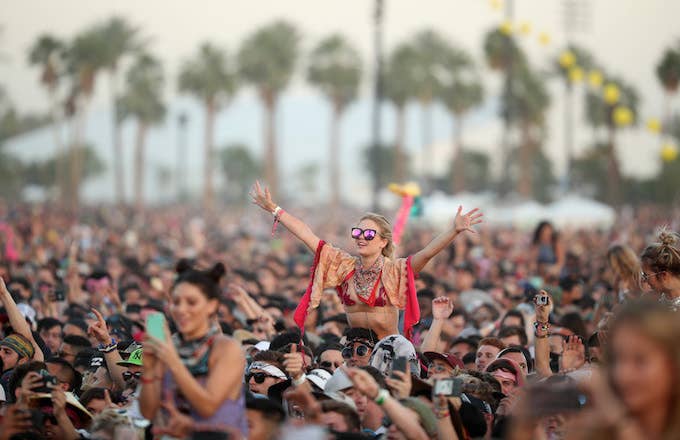 Getty
INDIO, CA - APRIL 23: Festivalgoers attend day 3 of the 2017 Coachella Valley Music & Arts Festival (Weekend 2) at the Empire Polo Club on April 23, 2017 in Indio, California. (Photo by Christopher Polk/Getty Images for Coachella)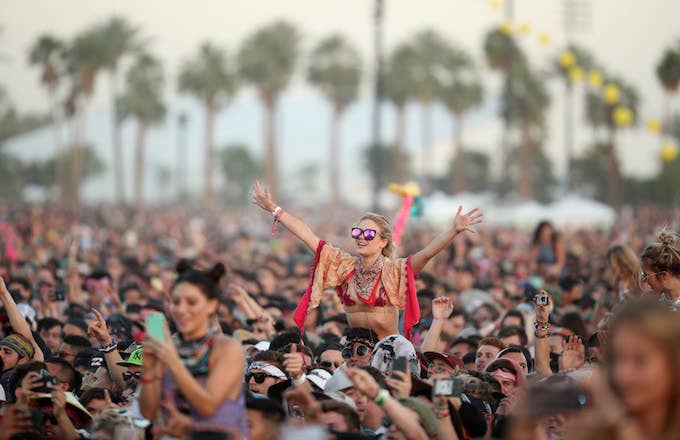 Photoshopped Coachella lineups are a dime a dozen; however, this one generated by AI community Botnik Studios has to be one of the best we've seen in a while.
On Tuesday, the online collective unveiled their own Coachella 2018 poster featuring a long list of made-up monikers generated by a "neural network" that was trained to analyze the names of existing musical acts. The final result is pretty amusing.
Botnik's poster includes headliners Fanch, One of Pig, and Lil Hack, as well as Mother Acid, Max Beaf, Man Mist, Slup, Jonathan Is High, and Skin Clump. Though these acts are 100 percent fictional, we have to admit that this lineup sounds like it'd be lit.
You can check out the full list of acts in Botnik's poster below.
Botnik is a collective of creatives co-founded by comedy writer Jamie Brew and former New Yorker cartoon editor Bob Mankoff. The studio, which refers to itself as an "augmented comedy creation platform," is known for its use of predictive text keyboards to mimic various sources. Seinfeld scripts, Radiohead lyrics, the McDonald's menu, and the Harry Potter books have all been analyzed by Botnik's keyboard app. Once the system has studied the text, it can suggest to users the most common word sequence that's in line with the original source's writing style. But, unlike many other algorithmic text generators, Botnik's system doesn't fully rely on computers.
"What's generated automatically by a computer only has a transient interest for us," Mankoff told Wired in 2017. "But [with Botnik], it's a person working with a computer, and adding a kind of mastery to it. It's based on the idea that you can write anything: If you want to write a country-western song, you're accessing the predictive text of country western songs—but you're not simply spitting it out. You're modifying it."
You can learn more about Botnik and its apps by heading here.