Weeks after his public and bizarre falling out with Ski Mask the Slump God, XXXTentacion is trying to bury the hatchet.
On Friday night, the 19-year-old posted a couple of Instagram stories directed at his former friend and tour mate. He wrote: "@theslumpgod don't care about what you said about me, you know who got your back, love you, forever […] Unconditional."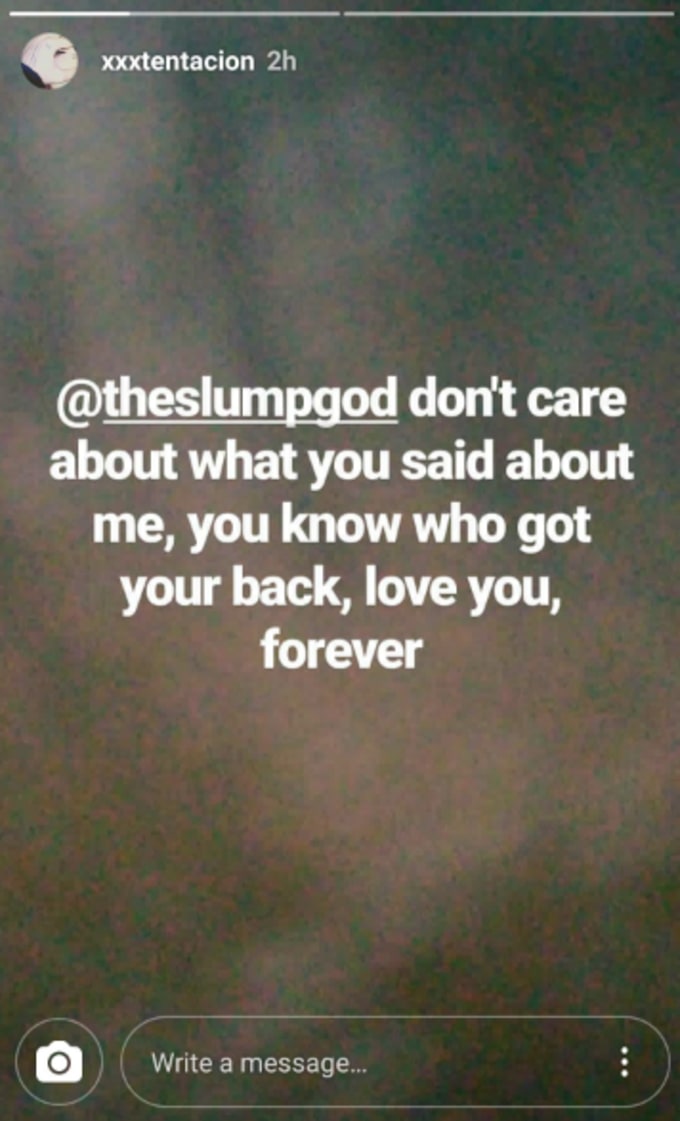 Up until October, the two Florida rappers appeared to be mutual ride-or-dies. But following a series of controversies—including news of XXX's terminated deal with Capitol Records—it became clear the they were no longer on good terms. XXX initially said the fallout was caused by business dealings. He later told fans that the only way he would release new material is if he and Ski-Mask reconnected.
"If you want me to make music, tell Ski Mask to be my friend again," he said in a now-deleted video. "Tell Ski Mask to be my friend again and I will make music. Tell him to be my friend again."
Ski Mask shed more light on the situation when he responded to XXX in his own video.
"I will always love that alien-looking nigga named XXX, but I have to distance myself because nobody would see me as an individual," Ski-Mask said. "On top of that, that nigga crazy as hell."
After some fans accused him of overacting, Ski Mask provided more details on Instagram.
"This is a person who has before threaten[ed] my family, told me I was supposed to be sacrificed on some crazy shit," he wrote. "So no, I didn't just separate myself for no reason.
Ski Mask has yet to respond to XXX's latest message.
XXX is facing charges of ​aggravated battery of a pregnant woman, domestic battery by strangulation, false imprisonment, and witness tampering. Pitchfork previously published disturbing excerpts from the testimony of the alleged victim.