R. Kelly has already been long established as the scum beneath all of our toes, but never has that been more clear than this year. Over the summer, BuzzFeed released a report that extensively detailed years of alleged "cultlike" abuse at the hands of Kelly. Among the many young women that have accused the singer of abuse, some have said their relationship with Kelly began while they were still underaged.
But one woman, Kitti Jones, has come forward months after the explosive report initially dropped to say that Kelly not only manipulated girls, but also grown women like herself. In a recent in-depth interview with Rolling Stone, Jones—who is pictured above, being used as a prop for Kelly's 2012 Single Ladies tour—revealed that she "dated" Kelly for two years, from 2011 to 2013. According to Jones, it didn't take long for things to spiral out of control, with numerous alleged incidents of physical abuse, sexual coercion, emotional manipulation and "a slew of draconian rules" that controlled Jones' entire life. If that sounds familiar, it's because women previously under Kelly's thumb have described nearly the same thing.
After moving to Chicago to live with the singer, Jones says Kelly began playing dictator. As with his other girlfriends, Kelly forbade Jones from interacting with men who were not him. One unnamed musician who opened for R. Kelly while Jones was with him noticed Jones' unusual behavior. "Probably the first week of the tour, we tried to speak to [Kitti] and she just kept walking," he told Rolling Stone. "He had control over her. She was scared to even have a conversation with anyone else. The last show, she walked up to us and hugged us but you could tell she was looking over her shoulder to make sure nobody was looking."
When Jones did anything that deserved "punishment," Kelly would take away her phone—up to two months at a time—preventing her from getting access to food or other basic necessities. "I was getting punished for something every week," she said. "If I wasn't getting slapped, I wasn't eating or my phone was gone." Rolling Stone also provided images of texts she sent to a childhood friend around midnight in May 2013. "Please," she wrote, "Will u send a pizza here to studio I'm alone til 4am no card no money just dropped off with my blanket and the guys aren't replying. I feel dizzy."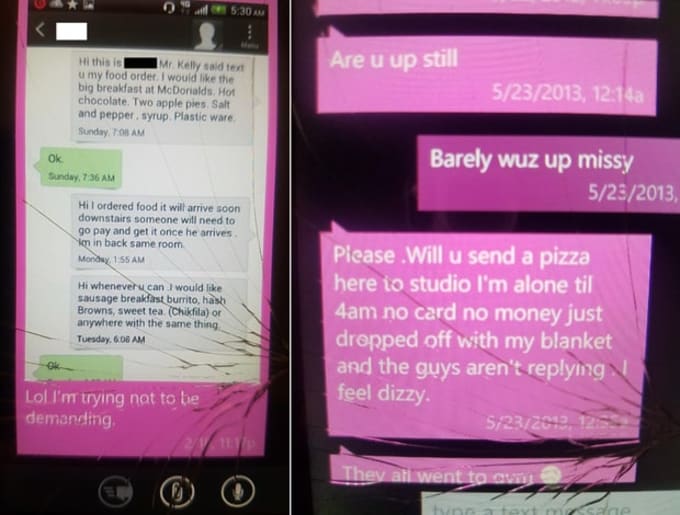 But most humiliating of all, Jones says, was Kelly's insistence that she interact sexually with his other play things. "Ninety-nine percent of the time, I didn't want to do it and I would tell him I didn't want to do it," Jones said, adding that she once vomited after performing oral sex on one of Kelly's girlfriends. "It was the most horrible thing. People look at it and go, 'Oh, you're grown.' No. You have to actually be there to know exactly what it felt like for a person to overpower you and make you feel like there's nothing for you outside of him."
When Rolling Stone approached Kelly with all of Jones' allegations, the singer categorically denied them in a statement. "Mr. Kelly is aware of the repeated and now evolving claims of [Ms. Jones]," Kelly's rep wrote. "It is unfortunate that Ms. Jones, after public statements to the contrary, is now attempting to portray a relationship history with Mr. Kelly as anything other than consensual involvement between two adults. As stated previously, Mr. Kelly does not control the decision-making or force the actions of any other human being, including Ms. Jones, by her own admission. Any claim of wrongdoing of any kind or of mistreatment of any woman by him is false, ill-motived and defamatory."
You can read all of the details over at Rolling Stone.