Fun fact: When I was in college, I was blessed enough to land in Lil B's Top 8 on MySpace. The catch? It was just one of his many, many MySpace pages, dedicated to connecting directly with his fans. But it still meant the world to me, and I wish screenshots were a legitimate thing in the late 2000s.
Anywho, fast forward to 2015 and I get a DM from Lil B on Twitter. Not on no snaky, sleazy slimy shit, but a simple message of support: "Major love kiana," he wrote alongside his number and email, "if u need anything." He didn't know me, but he still felt the need to offer his help.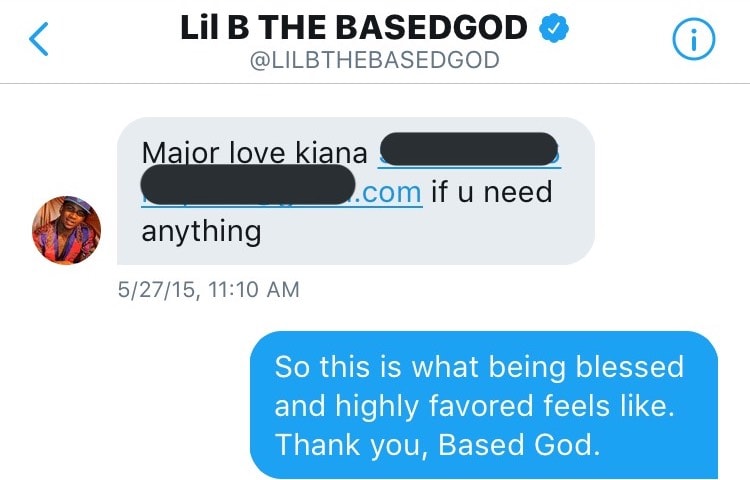 So this weekend, when I heard the awful fucking news that the biggest proponent of love was blindsided with hate, I was sick to my stomach. And today, for the first time, I watched the Based God get jumped by A Boogie Wit Da Hoodie and his crew. It was maddening to see, but I also watched Lil B stand up tall, head out onto the stage to talk to his fans, and still carry love in his heart. 
Lil B just got jumped by A Boogie, PNB Rock and their crews at Rolling Loud smh pic.twitter.com/MjuNl22tD9

— Trashvis (@Trashvis) October 22, 2017
damn lil b got jumped by a boogie backstage at rolling loud. heres the video

b said he's goin to the hospital pic.twitter.com/0COWwrM5LK

— nobodys 🌑 (@NobodysVideo) October 22, 2017
"A Boogie and his whole crew just jumped me in the back," he told the Rolling Loud crowd. "I don't promote violence. I'm never with the violence. So I love them, and it's all good." According to Lil B, he "said something about Boogie's music and they all got mad," leading to the ambush. "So it's all good," he continued. "I'm still here. I got jumped by, like, 10 motherfuckers. Me by myself. It's all love."
He continued espousing those views of positivity online, revealing early Monday morning that he had spoken with A Boogie and patched things up.
Had to make some unity moves westcoast and Eastcoast unity had a phone call with @ArtistHBTL it's no problems shouts out to kilo! - Lil B

— Lil B THE BASEDGOD (@LILBTHEBASEDGOD) October 23, 2017
To the surprise of no one, Lil B's volunteer-based protective unit, the Task Force, assembled to let him know that we're not with the shits. That includes his own peers, like Schoolboy Q and Travis Scott:
"Always protect @LILBTHEBASEDGOD!" -@ScHoolboyQ #RollingLoudBay https://t.co/0pWOfLT4It pic.twitter.com/vRYgKfv3ls

— REVOLT TV (@RevoltTV) October 23, 2017
Travis Scott reacting to the recent news of Lil B getting jumped

pic.twitter.com/tpI04rXFlo

— MusicUpdates (@looneyblogger) October 22, 2017
And it definitely includes his legions of fans online:
Your understanding man and I respect that, but sorry they know what they deserve pic.twitter.com/3YZkXWVD4w

— 👹👻þhåñ†ðm 👹🥀 (@ROB_GHO5T) October 23, 2017
Nah Task Force Got Problems. pic.twitter.com/cyiGcR6bty

— GODSPEED. (@Tvdvrio) October 23, 2017
No sorry bro he still done for

— Wonton Soup (@wontonsoup678) October 23, 2017
My heart isn't as forgiving as yours. Dej boogie wit the hoodie and PBnJ get no plays ever again. They're canceled for the culture pic.twitter.com/FC1e793W0S

— TwampSac (@TwampSacTwan) October 23, 2017
When Lil B was sucker-punched back in 2010, he spoke with Complex about his suspicions of why it happened: "Motherfuckers always try to hate you when you're on the come-up, on the brink of breaking through," he said. "Motherfuckers be jealous. Jealous of how I look. Jealous of everything about me. I'm glad that shit happened, though, because a motherfucker ready now."
Task Force: We ready?