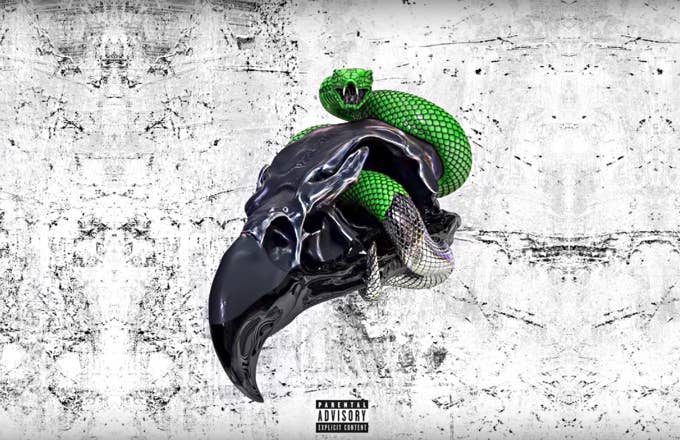 YouTube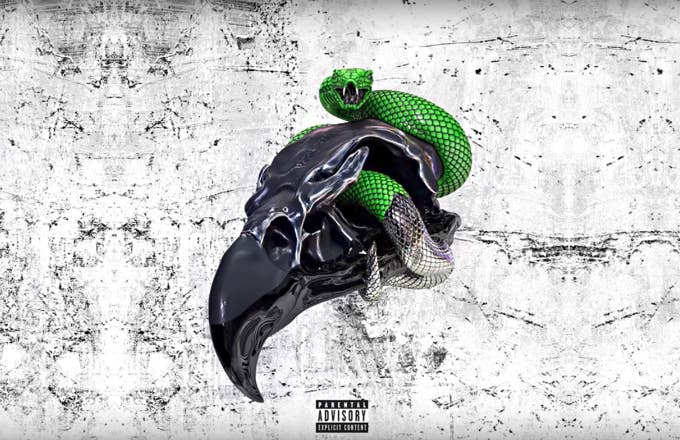 Future and Young Thug, two artists uniquely attuned to all of our grimmer halves, have spent much of 2017, a uniquely grim year, pushing themselves further and further into the light, making music that's airy and joyous and irrepressibly fun. They did most of this separately: Beautiful Thugger Girls was typified by tranquil songs like "Daddy's Birthday" and exuberant ones like "She Wanna Party," while Future followed his steely self-titled album with HNDRXX, his brightest and most musically dynamic effort since 2014's Honest. (The one time they did link up, on Thug's "Relationships," even the Faustian nature of famous sex sounded sort of fun.)
But Super Slimey, a project that was teased for years in the abstract and yet came as an acute surprise, is one of the most haunted, corrosive things either Atlantan has ever touched. This comes not through the pained relationships with women or variousdrugs that Future usually trafficks in, nor from Thug's more varied tragicstreak. Instead it's marked by an ever-present, indefinable dread that runs through the production (Southside, Wheezy, London on da Track, Mike WiLL Made-It, Fuse, and more) and colors much of the writing, to the point where Super Slimey is made to feel like an uneasy missive for our present moment.
To be clear: most of that is subtextual. While a joint project between Future and Young Thug has been whispered about and hoped for since the latter became a critical and popular sensation in 2014, this is not their blockbuster answer to Watch the Throne. In fact, Super Slimey is pretty minor, slotting into their respective catalogs behind not only official albums, but signature mixtapes like Astronaut Status or I Came From Nothing 2.
Few of the songs cohere into anything beyond lyrical exercises—but that's also what makes the project invigorating. A record like this probably should have come out in 2015, but the fact that it comes out now allows each to tap into a deep well of unconscious thought, and so on the opener "No Cap," a flow that Future's been using as a template on and off for years gets filled in with some of his most colorful writing:
"I send my Ethiopian to go pray at the temple
I flood her heart with diamonds just to pray—it's so expensive
She tasting holy water, so for me it's beneficial
She caught the Holy Ghost when I gave her the Presidential."
For his part, Future has become especially adept at placing simple facts next to one another to make an argument. On "All da Smoke"—which sounds like an uptempo spiritual successor to "Perkys Calling"—he juxtaposes destitute formative years with lavish drop-tops, tommy guns with luxury boxes. He puts Rolexes on inmates' wrists and on college funds on strippers' thighs. On his solo cut "4 da Gang," he outfits his daughter in jewels and beams about only showing up to school on Tuesday and Thursdays, then pays touching tribute to his recently departed engineer, Seth Firkins.
Thug, on the other hand, is at a more puzzling career juncture. A couple years ago, it seemed as if his immutable sense for pop would be able to shoehorn his eccentric and sometimes wildly technical approach onto the Top 40. And while there's still the potential for him to truly break out, a combination of ambivalence from Thug and mismanagement from his label have created the appearance of a plateau, even as he continues to explore interesting sounds and directions for his writing and his voice. One of his solo cuts, the guitar-driven "Killed Before," is an early favorite from the tape, and is also its most obvious outlier: tender and minimal, filled with boasts about paying tuition and about resiliency.
On the collaborative material, there's no truly show-stopping Thug verse in the vein of "Blood" or "About the Money." But he carries Future a few times (see: "Mink Flow") and is perhaps better suited to the format, which rewards clever, contained, low-stakes improvisation. Future is able to quickly find an emotional pocket to match some of the spine-chilling beats, as if by reflex, but Thug generally hits on the most interesting variation on each topic, like when, on "200," he muses on what it means to buy jewelry in the past tense.
(An aside: There's nothing Thug or Future could have done to avoid being completely shown up by a preposterously focused Offset on "Patek Water.")
Super Slimey is probably best experienced as a forty-minute demonstration of what two extraordinary artists can do on autopilot. It gets its teeth from that dread I mentioned earlier, the one that comes through explicitly on the harrowing closer "Group Home." Future, sounding as if he swallowed a hundred Newports before he stepped into the booth, growls, "I talk to Jesus Christ on my worst day / He made me a millionaire / I'm talking to him every day"; he evokes "Permanent Scar." Thug gets just as candid ("It's too hard to dedicate to you, I'm so scared of shame / I don't care to find out you was creepin, 'cause I'm doing the same...thing"). It's easy to look at the song as a sign of what could have been if Super Slimey had been more carefully curated and plotted out. But at the same time, how often do you want to look that deeply in the mirror?