Lil Uzi Vert's "XO Tour Llif3" Is Expected to Rake in $4.5M for His Label
The track has been streamed more than 1.3 billion times since its release.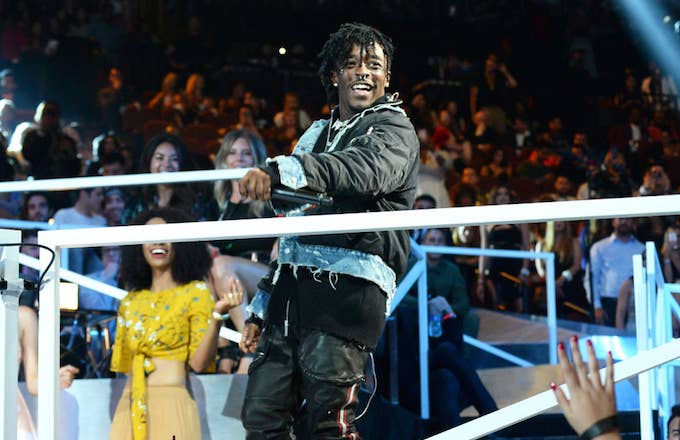 Getty
Ed Sheeran and Lil Uzi Vert perform during the 2017 MTV Video Music Awards at The Forum on August 27, 2017 in Inglewood, California
Lil Uzi Vert's Luv Is Rage 2 closer "XO Tour Llif3" has serious legs. A full six months after the single's initial release, Uzi dropped a new Virgi Abloh-directed video for the track. The video, featuring pop-ins from Nav and the Weeknd, has already bagged nearly 20 million views during its first week of release. The contagious megahit is also still hanging out in the top 20 of the Billboard Hot 100, which begs the question: Exactly how massive are the "XO Tour Llif3" streaming numbers?
According to a recent Vulture report, "XO Tour Llif3" has garnered more than 1.3 billion streams in audio and video formats. Though the track was initially released on Uzi Vert's Soundcloud page, it eventually hit major streaming services and made its way onto the highly influential Spotify playlist RapCaviar. This placement resulted in a huge boost for the song, as well as Uzi Vert's bank account.
Industry insiders told Vulture that Uzi Vert's label Atlantic is expected to earn about $4.5 million from "XO Tour Llif3" streams; the 23-year-old rapper will pocket more than $900,000 out of that figure.
Though the song was delivered nearly six months ago, it's been able to retain its relevance. The TM88-produced track is currently at the No. 19 spot on the Billboard Hot 100 (peaking at No. 7) and has earned a double-platinum certification. It also nabbed the Song of the Summer award at this year's VMAs.
"To all my fans, I'll be bringing the Moonman to all my shows so all you guys can touch it," he said while accepting the award, "because you guys helped me get it."
Go to Vulture to read the full report, which also reveals how Uzi Vert's lost phones lead to the "XO Tour Llif3" leak.