Cher and Future might sound like an unlikely duo, but that's only because you haven't heard their new duet for the Gap's new fall campaign. The iconic singer and chart-topping rapper teamed up for Gap's "Meet Me in the Gap" ad to create one of the fall's catchiest tunes: a cover of Sly & the Family Stone's 1968 hit, "Everyday People." You can watch their new take on the song at the top of this page.
"When Gap said they wanted to team me up with a young artist, I knew it would be really beautiful," Cher, 71, told People about her collaboration with Future. "We had a blast together."
As for Future, the Gap is extra special since his 3-year-old son, Future Zahir, is already a model for the clothing retailer.
"It's part of my DNA, growing up wearing Gap and now to see my son wearing it and in a campaign ties the whole family together," Future told People. "They have something for every age, every person in a family."
Future wears a pretty dope-looking leather jacket in the overall ad campaign, and revealed he plans to save it and gift it to his son in the (lol) future.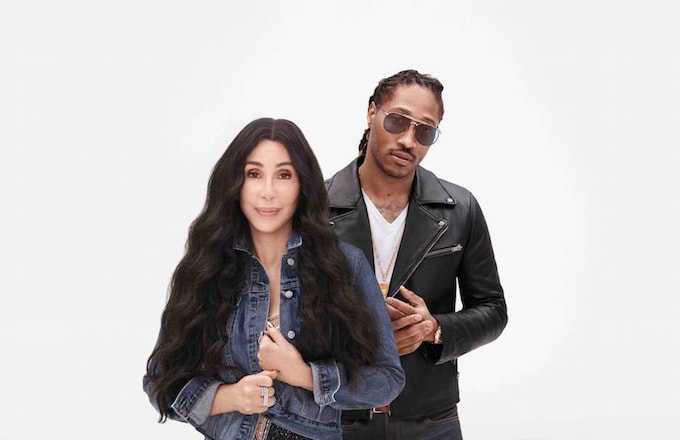 "With both of us being in campaigns for Gap, I think it would be cool to pass down that piece of memory to him," he shared. "Coming into this, I wanted to have as much fun as he did."
Future had nothing but great things to say about Cher and the legacy she brought to the partnership. "It was cool to work with someone who is in the industry but has such a different background and life from me," he said. "Our love for music really connected us. She's a true performer and a legend. I couldn't help but follow her lead and also ask her for a few pointers on stage presence in front of the camera in this type of setting."
The unexpected collaboration has expectedly sent fans through the roof:
So Cher and Future made a song.... pic.twitter.com/Q5adMTCnal

— Pettywise (@trashbaumann) September 13, 2017
Bsjsbdjd Cher and Future is such a random combo but it works

— FUCK TRUMP'S AMERICA (@K1SSFROMAROSE) September 13, 2017
Cher and Future singing together is the best thing I've see all week

— LL Fool J (@dgraveyy) September 13, 2017
Sometimes I worry about the state of the world and then I see a Gap commercial starring Cher & Future and think "never mind it's fixed"

— Jacqueline Felker (@whattheFELK) September 13, 2017
I never thought I'd live to see the day Cher and Future unite. https://t.co/5lVi4jXuWT

— CHEV (@kevchenister) September 13, 2017
Cher and Future's voices together is not something I thought I needed in my life. Boy was I wrong. That shit was magical.

— Rae 🌻 (@rsm19XX) September 13, 2017