Nav Is the "First Brown Boy to Get It Popping" and His Meteoric Rise Is Far From Over
In his first-ever interview, Nav explains how he fell in with XO, and what it's like to become a star in the blink of an eye.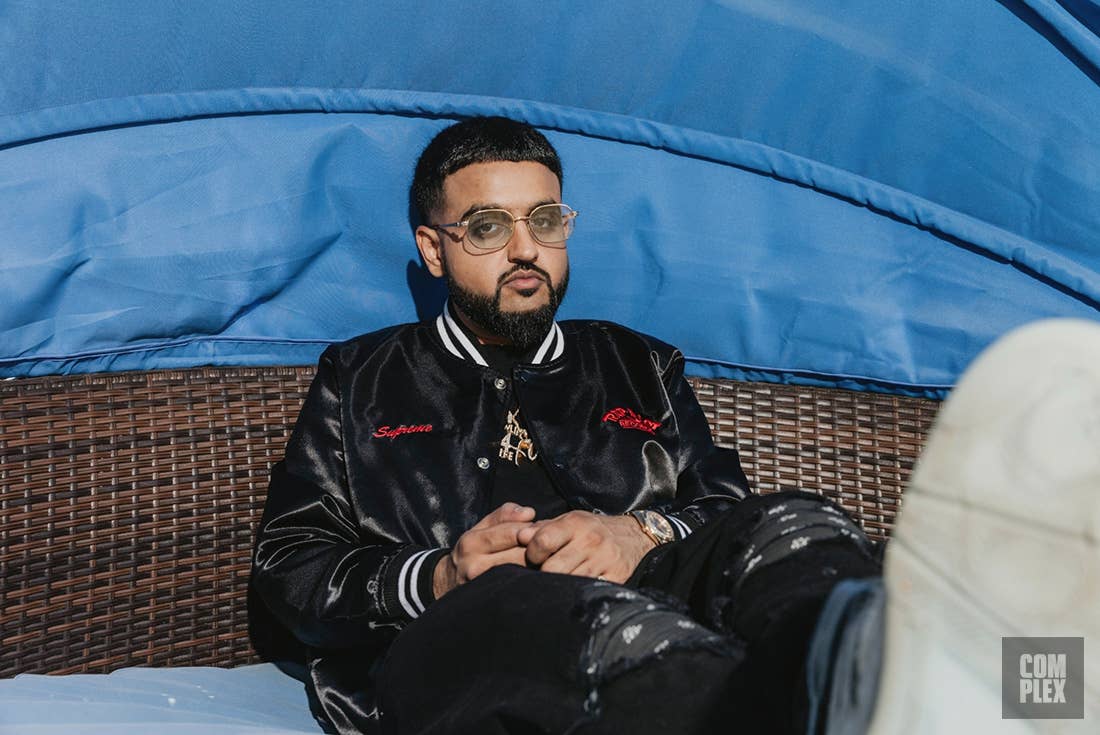 Complex Original
Image via Complex Original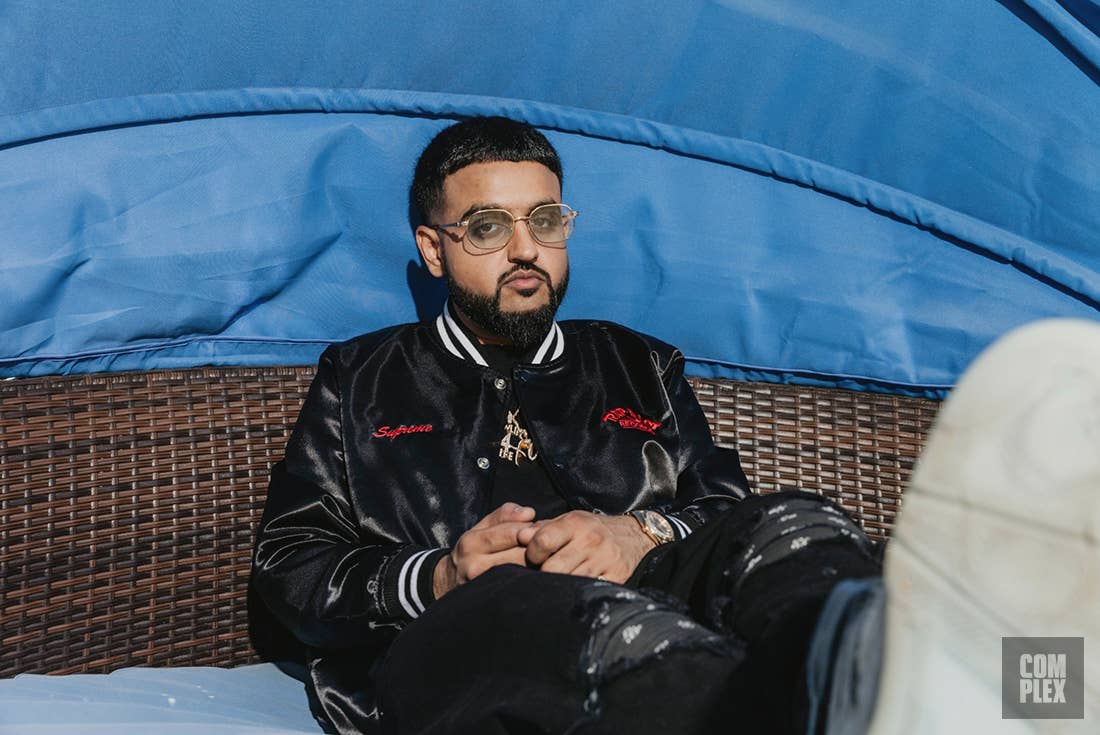 The house, as Nav will stress when you ask about the half-dozen Chanel-branded candles, is rented. The climb up to the Valley side of the Hills starts in a sluggish suburb that would be Rockwellian if not for the palm trees. The streets are a grid at first, but that grid eventually pinches and breaks apart into the sort of darting, cramped, nearly vertical system of capillaries that signifies wealth in Los Angeles. The houses get slicker and more postmodern; sometimes all you see are gates. You hold your breath as you lean into blind curves and hang off the edges of jagged cliffs to let Audis and Maseratis pass through. Don't worry. This is only temporary.
Outside there's a black Rolls Royce and two stone Buddhas. The only colors in the living room are black, white, and metallic silver—except for the Marilyn Monroe portrait that's bordered in glitter and studded with faux pearls where her earrings and bracelet would be. The kitchen table sits under a painting of the Hermes logo, except the Hermes logo is sort of melting. A stack of books whose spines are simply fashion labels (GUCCI, DIOR, LOUIS VUITTON, CHANEL) are joined only by The Art of War. 
This is the Toronto native's first press cycle, after a blink-of-an-eye rise to prominence shrouded in the type of mystery that works on SoundCloud, and that his XO labelmate, Abel Tesfaye, wrote the contemporary playbook for. He co-produced Drake's Meek Mill death blow "Back to Back," delivered the coke-dusted chorus of the 2016 Travis Scott single "Beibs in the Trap," and racked up tens of millions of plays for his own material. His buddy the Weeknd is touting Nav as his first real protégé. He talks eagerly about winning a Grammy one day, just like Abel.
Nav moves gamely around the room of his rental, posing for a photographer who, lanky and lightly clothed though he may be, is dripping in the July heat. Nav is fine. He adjusts his watch, is told yes, just like that; do that; adjust your watch, and continues to adjust his watch, only this time for the camera. The flash from the light stand bounces off a bouquet of flowers that has been spray-painted silver. Nav doesn't exactly smile. When the shoot moves outside, he declines to take off black satin jacket with the Rap-A-Lot logo on the back and left breast and "Supreme" embroidered on the right.
In a little more than a week, Nav will release Perfect Timing, a collaboration with the Atlanta-based super producer Metro Boomin. Speaking about that record earlier today, Nav is animated, calling it more personal than anything he's done before and raving about his relationship with Metro, which he says had an "organic" beginning and has become a kinetic sort of give-and-take ("I'd start off the beat and Metro would put in his drums, or I would put a little touch on it…"). Now, he's affecting the sort of brooding, inebriated cool that is his record label's calling card. A friend comes through the front door and rips open a UPS box of gifted streetwear.
"I was more hard-headed, I guess," Nav says, assessing his personality from before the Drake co-sign and deal with XO. "I was more, like, wild; I wanted to go out. I really wanted attention. I really liked attention. But now that I got all the attention I find myself just, like, chilling by myself or going to lowkey places." He readjusts his watch. "Before, I would walk outside with my XO jacket on and just pray that someone would notice me. But they wouldn't even look at me." The photographer starts to disassemble his equipment, satisfied. "Literally, last year, no one would look at me twice."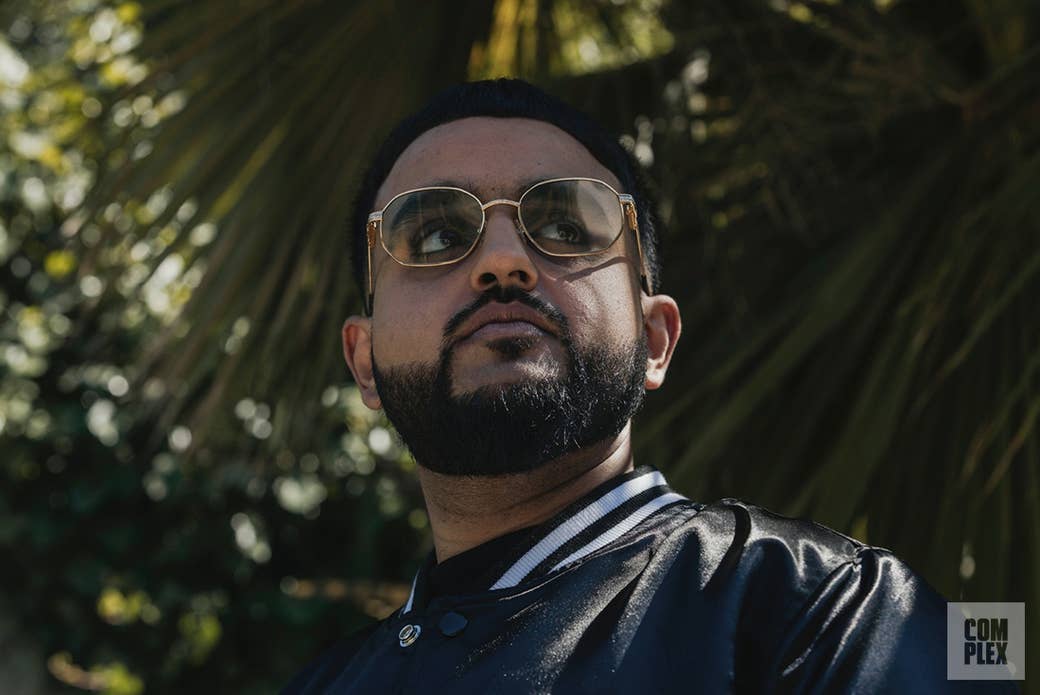 Navraj Singh Goraya was born in the fall of 1989 in Toronto, the youngest of three. His parents are from Punjab, which borders Pakistan in the northern region of India, and each made a career in Canadian factories: his mother was involved in computer manufacturing, and his father drove a forklift. "They did what they could for us," Nav says. The family settled in Rexdale, an area formerly in the outlying suburb of Etobicoke that's been subsumed into the city's Northwest. Rexdale was the adolescent home of the Somali rapper K'naan and the birthplace of P.K. Subban, who recently eclipsed Jarome Iginla to become the NHL's most recognizable black star.
Nav has mostly positive things to say about Rexdale, noting only that bullying was a problem for kids in his generation. "Other than that it's a great neighborhood," he says. "You can stay out of trouble if you want to. You have a choice. It's not like you're born into some shit." He was a poor student, though he says that he now thinks he was simply too creative to sit still: "I wasn't into math and stuff like that. I liked playing and having fun all the time."
In high school, Nav saw other kids making mashups of popular songs and decided to try his hand at it. After about a week of marrying hits to one another, he began making his own beats with Sony's ACID software. "I became, like, pretty much the coolest kid in high school because I had started making beats for local rappers," he says.
While the thousands of people who own The Underground Tapes will blanch, Nav wasn't interested in Toronto's music scene until this decade. "When people like Drake and the Weeknd started blowing up, that's when we started having our own sound and liking our own city's music," he says. To Nav and his high school friends, the hip-hop worth listening to came from New York: Jay, Big, and etc. "To be honest, Nas was my favorite artist growing up," he says. "The way he told stories, I could close my eyes and imagine something while he's rapping. I always wanted to be able to do the same thing."
Nav produced or co-produced his self-titled mixtape, from earlier this year, and clearly has the feel for a hit song, and playful melodies that slink around inside your brain for days. But he seems to have made the decision to court the droning, moody ghosts of early Weeknd, without Abel's din-piercing voice. Still, it opens with what are still his two strongest songs to date: "Myself" is a lullaby about self-medication that became a runaway hit, and "NAV" has one couplet—"I remember being broke and down bad/Now I pay nothing for my sneakers 'cause I'm Nav"—that communicates enough joy to make you buy into the artist's whole enterprise. 
When people use the phrase "materialism in rap," they're usually prepping a moralistic screed. NAV is an endless barrage of consumption—drugs, designer belts, $2,000 sweaters—but the tape's problem is an aesthetic one. Nas's stories are riddled with hyper-vivid details and quick psychological turns; what Nav frequently draws together are the starting points of a scene, the settings and the rough sketches of characters.
"A lot of the things I might have been rapping about, I didn't have at the time," Nav says of the tape. This makes sense. The foreign cars feel, well, foreign: there's no specificity, no description of how the steering is. (What's the difference between the 4.0 and the 4.6?) For someone who evidently knows how to craft the right single, Nav spends an awful lot of his debut trying to make you jealous of a life he seldom fleshes out beyond the Google-able facts. 
He touts Perfect Timing as being "more serious," with a wider variety of sounds and approaches. The latter is true: while Metro's contribution is not as singular as his spare work on Savage Mode, with 21 Savage, it's a varied attack that is reliably (and sometimes exhilaratingly) listenable. But it does not mark a lyrical leap forward, and in fact sees Nav get even more two-dimensional when he raps about women—there's plenty of fretting and flexing and resentment, but it's mostly reduced into flip one-liners. In conversation, he hints at paranoid feelings, the understandably mounting fear that those around him see him as a famous meal ticket rather than as a person with thoughts and emotions of his own. "You don't know who's fake and who's real," he says, "especially with girls: they could do anything for me and there's still kind of that guard up." On "Held Me Down," his bitterness is at least achieves a comic level ("I got a side bitch and I lie to her, too"), but too often his writing about entanglements lacks novelty or introspection.
Where the album does see improvement is in his melodic work. Those two successes from NAV were unique for their sing-song quality; "Held Me Down," for example, is built on an excellent vocal line, and "I Don't Care" is precisely weightless enough to work. For the time being, Nav is still very much trying to bridge the gap between broad structure and fine execution.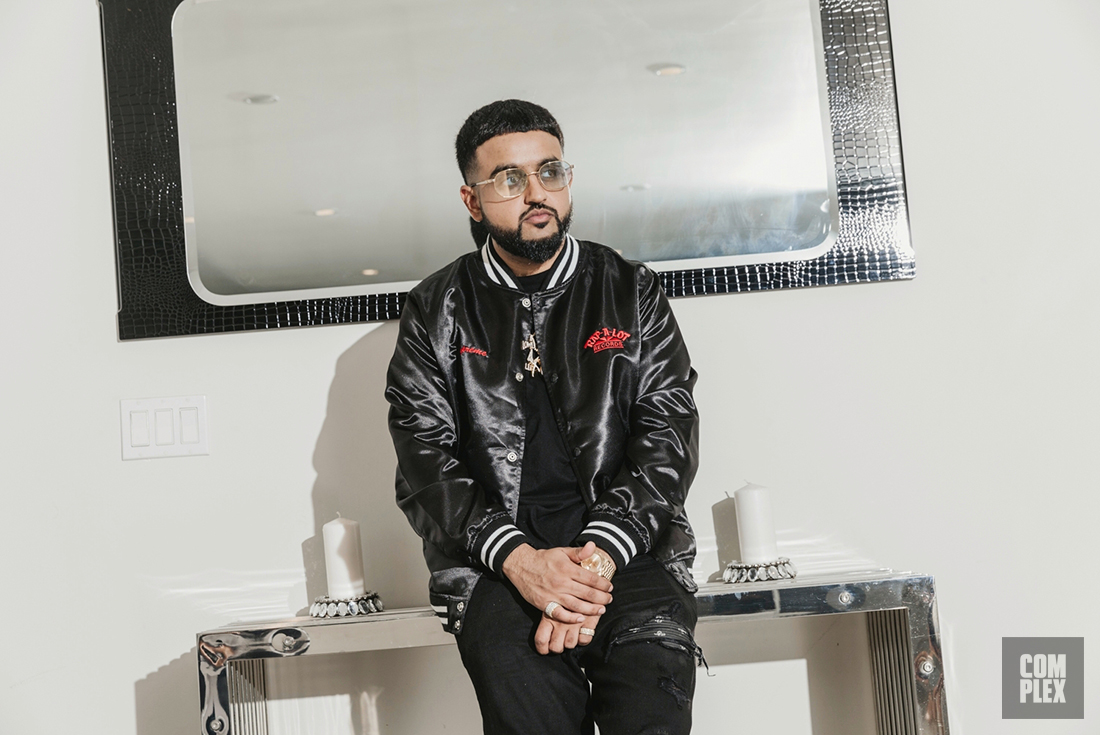 The thing you have to realize is how rapid all of this has been. When I ask Nav about the first time he rapped in front of a crowd, he relays a half-remembered story about a drunken night from what seems like half a lifetime ago—then finally pinpoints the date as 2015. That's about as far back as he can go, because he's only been rapping for two years, since a friend sent back a song that Nav had filled out with scratch vocals and said "I can't rap this like you, you should put it out yourself." The first real gig he booked was a 9:40 p.m. slot at Coachella 2017.
In the summer of 2015, a beat he co-produced made its way to Drake, who fashioned it into "Back to Back." A few months later, Nav's music was featured on OVO Sound Radio ("I was chilling at my cousin's house, in the basement, smoking up and stuff. We were playing video games, not even really listening to [OVO], it was just in the background. And I heard my song. I tripped out.") A year after that initial co-sign, his music had been teased by the A&R of our time, Kylie Jenner, and Nav was featured on Travis Scott's Birds in the Trap Sing McKnight. "It's crazy because [one of my sisters] says all the time, 'You were playing [Travis's] old album in the car,' my little Honda. Everything's surreal about that."
Most of the finer machinations whirred to life after Nav fell in with the Tehran-born, Ottawa-bred Amir Esmailian—better known as Cash—who serves as the Weeknd's co-manager and helps run his XO imprint. "Cash just skyrocketed me," Nav says. "He put me on this fast conveyor belt."
Nav's SoundCloud numbers are genuinely breathtaking, though it's impossible to parse how many million streams represent a grassroots enthusiasm that would lead to an artist being famous, and how many million are streams of curiosity or hype submission because an artist is famous, or appears to be. On the one hand, songs like "Myself" and "Up" are obvious hits; on the other, we're in a cultural time when success is thought to justify itself, and therefore is able to perpetuate itself.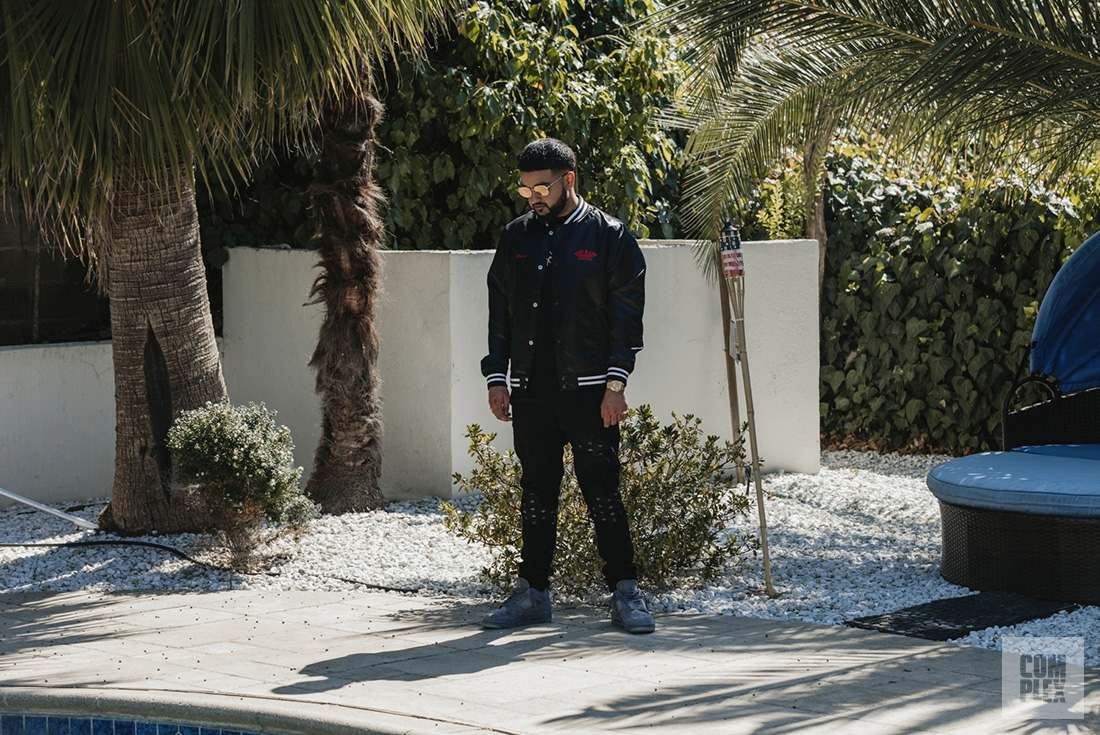 Depending on the circumstances under which you meet him, you might find Nav born to be a professional celebrity or ill-suited for the business. When the cameras and stand-alone flashes are trained on him, he exudes that steely, distant, sort of deviant sheen that defined the Weeknd's music until he chased Michael Jackson's memory up the pop charts. He looks like how NAV sounds. But in conversation he's positively wired, an endlessly polite guy who talks fast and litters his speech with qualifiers and enthusiastic asides. He's likable. When I ask him about the overwhelming substance use on NAV, he says: "Honestly, I was being honest in my music, to be honest," then clarifies that today his real-life drug use never goes beyond the recreational.
Nav also loves quippy, motivational aphorisms ("When you're sleeping, someone else is working harder than you are") and buzzwords, which he applies liberally, the way the host at a corporate retreat might. At one point, he says that Cash "organically brought me around people: he brought me around Travis Scott, we hung out like a bunch of times before we ever thought about even doing music." I ask, to clarify: "You mean outside of the studio?" to which he says, "Yeah, just organically. We're at the house, just chilling. Just homeboy stuff. Watching the Finals together. That's what we did. It just organically happened."
Of course, the average person would not call a meeting between an aspiring artist and an established star, arranged by another star's high-powered manager, "organic." (He also uses the word to describe his collaborative work with Lil Uzi Vert, whom Nav spent time with on the Weeknd's tour, but that makes more intuitive sense.) And yet this is not spin: when he talks about his relationships with Travis, and with Abel, and with Uzi, the professional concerns that frame so many of his answers melt away. He seems to have genuine affection for these guys, in a way that's endearing and undercuts what would otherwise seem like an artificial setup. In fact, in talking to him, it's hard to imagine someone who Nav wouldn't be able to bond with and talk shit to over a game of FIFA or something. There's a remarkable lack of cynicism. It all makes his on-camera transformation into the guy who rapped "I think my nuts look better on her face" jarring. He seems an awful lot closer to the guy who's overjoyed that he finally gets some sneakers for free—that's the Nav that the listener is overjoyed for, too.
The only time he betrays any sort of psychic stress is in talking, briefly, about the pressure that comes from being one of the most visible men of Indian descent in North American pop. "It feels good to represent them," he says, "but I also have to be careful of the way I represent them. I can't do anything too crazy. I don't want to misrepresent them." Nav does rep this frequently: see "Good For It," where he's "the only brown boy with a bag," or the SoundCloud-only effort "Brown Boy."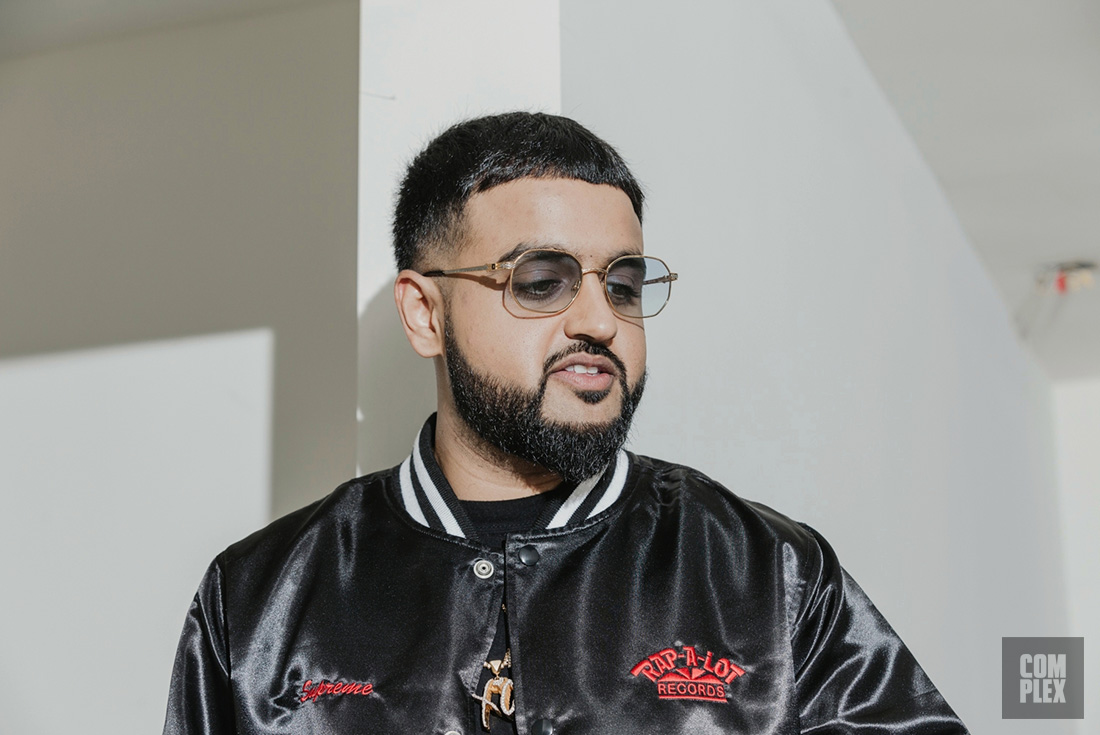 After his music began to gain traction, Nav came under scrutiny for the use of the n-word in his music. When asked about it, Nav offers some context, and then vows to excise the word entirely:
"Well, it's like, the neighborhood I grew up in is very multicultural," he says. "It goes from Chinese to white to black to Jamaican, everything, right? Everybody uses that word freely. A Chinese guy is saying it to me, I'm saying it to a black guy, a black guy's saying it to me. It's all like that. I was making music for me and my friends in the beginning. So I didn't really think anything of it. But then once I got to the global level and I started seeing a little bit of backlash, I totally cut it out. I respect it. In my neighborhood it's cool, but out here it's not cool. So I just play by the rules. [On this album], you won't hear me say it once."
While Nav speaks with general excitement about music-industry corporate-ladder stuff, he expresses real affection for his family, and for his hometown. "Growing up I was never good in school," he reiterates. "My family is Indian, right? So they got jobs and shit: lawyers and pharmacists and accountants. But I didn't want to be that." His parents don't quite understand his music, he says, but they're happy that he's healthy and out of trouble; his two older sisters have supported him unconditionally. Before he leaves for tour with Abel and Gucci Mane, he's heading back home to visit them.
"My short-term schedule right now is kind of temporary," Nav says. "After tour, I'll kind of figure out where I want to live." With this, he spots his publicist and smiles as if at an old friend. She and I, along with the photographer and a makeup artist, are ready to wrap up. Everyone stands, exchanges thank-yous and wishes Nav luck with Perfect Timing. Then we all disperse, back down the hill.