Boosie Badazz Allegedly Scammed Out of $361,000 by Brother
TMZ reports Boosie Badazz's brother, Taquari Hatch, posed as the rapper and authorized multiple transactions illegally in Boosie's name.
Getty
HOUSTON, TX - FEBRUARY 03: Boosie at The Power Of Influence Brunch at The House of Dereon on February 3, 2017 in Houston, Texas.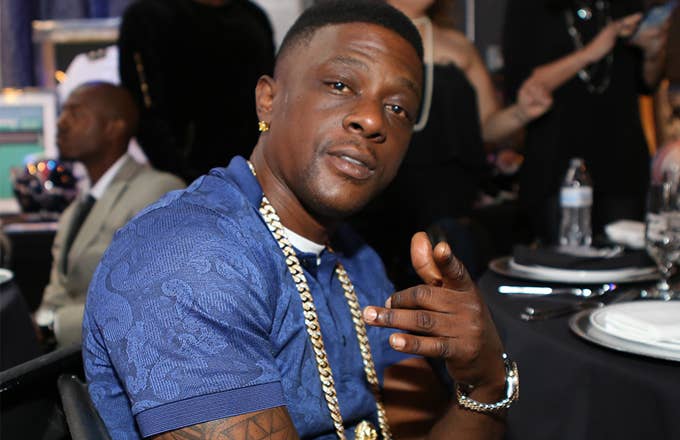 After Boosie Badazz made claims someone hacked his bank account by using his stolen drivers license, it appears authorities have found the culprit. Boosie's brother, Taquari Hatch, has reportedly been arrested on charges of identity theft and fraud for making approximately $361,000 in illegal transactions.
"The rapper said someone siphoned dough from his Capital One account and made a bunch of transactions," TMZ reports. "Now we've obtained the police report, which says Boosie's bro, Taquari Hatch, made more than a dozen wire transfers to different people ... who would then give him cash. Cops say he once sent as much as $80k in one transfer."
Hatch's reported arrest comes less than two weeks after Boosie initially told TMZ he was filing a claim with Capital One to have the charges reversed pending the results of a fraud investigation. According to the report, authorities were tipped off when Hatch allegedly mentioned his wife while posing on the phone as Boosie—who is not married.
This is not the first time Boosie has been victimized while conflicting reports of the crime went public. In April, the rapper claimed Mississippi police stole $1 million of jewelry from him. Biloxi city officials said they found the jewelry and a stolen handgun inside Boosie's van. The officials alleged they gave Boosie instructions on how to retrieve the items, but no one claimed them. After taking to social media with his accusations, Boosie reportedly reclaimed his items.