After Safaree Samuels took to social media Friday night making claims Meek Mill's crew jumped him, a large number of people went into full on "we don't believe you, you need more people" mode. Safaree began trending on Twitter Saturday morning, as users dragged him for his allegations against Meek. There was initially skepticism towards Safaree's claims, but TMZ has provided a video (above) clearly showing the Love & Hip Hop: Hollywood cast member being assaulted just after Meek Mill exits an approaching SUV.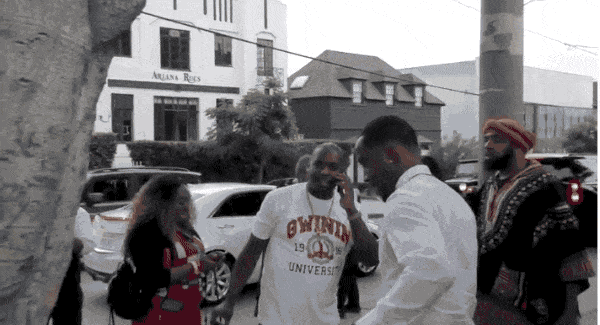 The altercation is believed to have happened at DJ Khaled's pre-BET Awards party at a venue in West Hollywood. Safaree can be seen exchanging pleasantries with someone else at the event before two men appear to emerge from Meek's SUV, chase Safaree across the street, and land a few punches. The scuffle briefly continues before Safaree escapes, while a man who appears to be one of his associates is roughed up against a nearby wall.
Some HD quality video essentially substantiating Safaree's claims didn't stop fans from going in on him.
Nicki Minaj and Safaree split in 2014, but the two continue to be linked—mainly due to the ongoing accusations that Safaree ghostwrites for Nicki. With Nicki later romantically linked to Meek Mill before a public split in January of 2017, the stage was set for some predictable back and forth between both Meek Mill and Safaree. Meek Mill may have referenced the incident in a few Instagram posts he shared afterward.
"I wish I would pay attention to these homeless n#%gas," Meek wrote in the caption of one post. A subsequent post featured him donning a pair of headphones and with a caption that read, "In the studio finishing my album ... WINS & LOSSES! #theymakingupdistractions #imfocusedman."