Miley Cyrus: Katy Perry Said "I Kissed a Girl" Was About Me
During a recent radio inteview, Miley Cyrus said Katy Perry wrote "I Kissed a Girl" about her.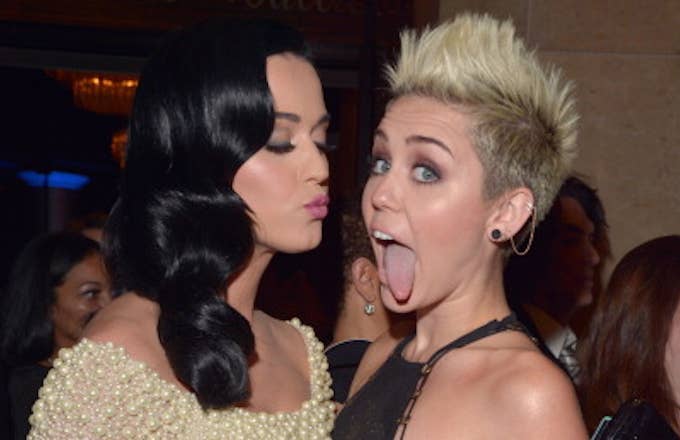 Getty
Katy Perry (L) and Miley Cyrus arrive at the 55th Annual GRAMMY Awards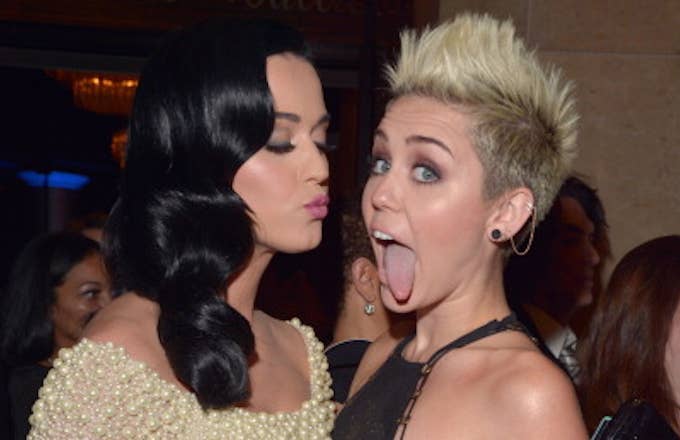 Miley Cyrus and Katy Perry go way back—at least by Hollywood standards.
Though they work in an industry that consistently pits female artists against one another, they've been able to remain friends for nearly a decade, without any reported beefs or a falling out. According to Miley, "that's, like, a really long time."
"We were actually just realizing the other day that next year, we'll have been friends for 10 years," Miley said during a recent interview with WKTU's Cubby and Carolina Bermudez. "I think that's my friend that I've known the longest. Which is really, really weird!"
relatDuring the Tuesday interview, Miley shed more light on her ionship with Katy. She said it all started in 2008 while she was riding a four wheeler.
"When [Katy] came out with 'I Kissed a Girl,' I was doing the Hannah Montana movie, and I heard her on the radio," Cyrus explained. "They said, 'Who did you write that about?' She said me! And I was on a four wheeler, actually—my dad had this four wheeler, this is how hillbilly we are, we had a radio attached to the four wheeler, and I heard it and I screamed, and started freaking out."
Shortly after the shout-out, Katy asked Miley to accompany her to the 2008 MTV VMAs. Though Miley said her mom was hesitant, the then-teenager was allowed to go with Katy on one condition: Miley's mom had to join them on the limo ride.
The whole story is nice and all, but it contradicts Katy's previous claims about her breakout single "I Kissed a Girl." During a 2008 interview with Steppin' Out magazine, the singer revealed that Scarlett Johansson was the inspiration behind the song:
"'I Kissed a Girl' was inspired when I opened up a magazine and I saw a picture of Scarlett Johansson" she said. "I was with my boyfriend at the time, and I said to him, 'I'm not going to lie: If Scarlett Johansson walked into the room and wanted to make out with me, I would make out with her. I hope you're OK with that?'"
So was this 10-year friendship based on a lie? Katy was probably joking about Miley being the inspiration behind the track. At least we hope so, considering Miley was only 15 when it came out.