It's harder than ever to maintain your composure as a single human being in 2017. Regardless of your gender or sexuality, Instagram models and pictures of your high school crush in a bathing suit are only a few clicks away, and sometimes it's difficult to refrain from stopping at just smashing that like button.
Drake knows this better than anyone. He has songs upon songs dedicated to his pursuit of women, including drunk-dialing anthems for exes like "Marvin's Room," and he rubs elbows with celebrities average people can only fantasize about. Being a star isn't going to prevent Drake (or anyone else for that matter) from falling for beautiful women or lacking self-awareness from time-to-time. 
So in honor of Drake shooting his shot at the 2017 Billboard Music Awards, we're going back through some of Drake's thirstiest moments in history, when he let his desire for a woman take him just a little too far. No shade buddy—I have certainly been there before.
Jhené Aiko, Saturday Night Live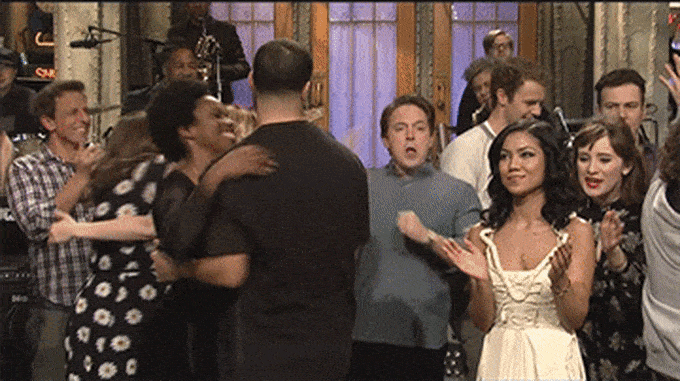 Some of you have probably been in a crowded setting—like a graduation party or a reunion—that ends with a lot of people saying goodbye to one another all at once. It can lead to some awkward situations as guests try to be polite, even to people they don't really want to see.
When Drake had the chance to say goodbye to singer Jhené Aiko​ on the SNL stage in 2014, he didn't want to waste the opportunity. Unfortunately, she did not seem interested in returning the favor, and unlike the struggle hugs at your 10-year reunion, this botched hug was broadcast to millions of people and saved as a GIF for all of eternity. That's a spin move that puts Barry Sanders to shame.
Skylar Diggins, 2014 ESPY's
Once you're a multi-millionaire musician who can, you know, actually hang out with star athletes, it's probably past time to stop wearing their jerseys. But as part of his busted courtship of basketball star Skylar Diggins, Drake walked on the ESPY's stage draped in Diggins' jersey, ready to read an original poem about their theoretical marriage, "Can I Dig In?"
Yes, it was just as corny as it sounds. Diggins was a good sport about the whole thing, but when push came to shove she opted for the parent-like smooch on the forehead, even as sparks quite literally flew behind the pair. 
Lorde, Instagram
A post shared by champagnepapi (@champagnepapi) on Sep 16, 2015 at 1:57pm PDT
At the risk of sounding like a broken record here, there's nothing low-key about calling someone "wifey" to your Instagram following of over 36 million people. Maybe all the broken-hearted songs have been written because Drake hasn't realized some things are best kept between two people, and two people alone.
But unlike with some of his other thirsting, however, Lorde may in fact be cool with it:
champagne papi got me like ☺️☺️😍 pic.twitter.com/4V96z3Jv5h

— Lorde (@lorde) September 16, 2015
OK, so maybe this guy knows what he's doing sometimes. 
Mia Khalifa, Down in the DMs
Former porn star Mia Khalifa has made a habit of exposing dudes who try to get all up in her direct messages, and Drake is no exception. During a 2015 interview, Khalifa revealed she had a big celebrity slide into her DMs whose name rhymed with "rake," so you can put the pieces together fairly easily.
From the sound of things, his flirtation didn't go over well. "It was flattering but his intentions were clear. It was just so cringeworthy," said Khalifa. Better luck next time, Drizzy.
The Gonzalez Twins, UNLV Women's Basketball
Here's your video evidence of @Drake at the @UNLVLadyRebels game #unlvwbb @Dollbaby_duo pic.twitter.com/Vli9dL6mNl

— The Rebel Report (@RebelReportUNLV) November 15, 2015
UNLV's women's team has never drawn over 5,000 people to a home game, but the lack of a following didn't stop Drake from crashing the scene back in 2015. Once he became aware of the presence of a pair of sisters, Dakota and Dylan Gonzalez, the Toronto native started showing up and lurking amongst the sparse crowd at UNLV home games.
Drake is a big hoops fan, of course, but the Lady Rebels were only 18-14 that season. It may help him shed his reputation as a sports front-runner, but that's a lot of mediocre basketball to watch just to meet a couple college girls.
Rihanna, 2016 MTV VMA's
Drake's speech to set up Rihanna's acceptance of the Vanguard Award at the 2016 VMA's was pretty touching for a while, as he talked about their history together and sang her praises as an artist. And then he dropped the now infamous, "She's someone I've been in love with since I was 22 years old" line, and nothing was the same.
When Drake tried to put the moves on her after he speech was done, further evidence on video makes it look as though he got curved. The on-again, off-again nature of their relationship probably makes this look worse than it actually was, but just like that annoying couple you all know and hate follow, he very easily could have said and done this behind closed doors. Based on some of the looks on her face during his speech, Rihanna seemed like she also would have preferred a more private moment.
Rihanna, That Damn Billboard
A post shared by badgalriri (@badgalriri) on Aug 26, 2016 at 3:43pm PDT
Speaking of that moment at the VMA's, Drake also went through the trouble of broadcasting his appreciation for Rihanna on a billboard spotted by the singer. I've heard of grand gestures, but you could send some flowers or treat her to a spa day and I promise she'll appreciate it just as much, my guy.
We could probably do a whole list of Rihanna-related thirst from Drake. Remember, this is the guy who said he wanted to "go half on a baby" with the singer during a concert shortly before the 2016 VMA's.
Doris Burke, Raptors vs. Warriors Game
Iz talks to Drake about Doris Burke pic.twitter.com/5fYqPptuaa

— CJ Fogler (@cjzero) November 17, 2016
Doris Burke is one of basketball's leading ladies, so it's hard to blame Drake for taking a liking to the whip-smart ESPN analyst. But wearing her face on a sweatshirt and asking her out to dinner through an interview courtside? That's a little bit much. But maybe Drake knows better on this one—Burke seems like she's into the idea.
@Drake dinner is on ❤️️

— Doris Burke (@heydb) November 17, 2016
Vanessa Hudgens, 2017 Billboard Music Awards
CONGRATS, @Drake 🎉 "Views" was awarded the #BBMAs for Top Billboard 200 Album! 💽✨ pic.twitter.com/zAZWBmFMtp

— BillboardMusicAwards (@BBMAs) May 22, 2017
Drake's latest foray into public thirst is just the latest in a long line of questionable decisions. After carving out some space in his acceptance speech to say Vanessa Hudgens looked "incredible," Drake decided to take his admiration of her beauty to the next level almost immediately. He did what any admiring man would do in his shoes: he took it to the 'gram.
Lmaoo salute pic.twitter.com/1JBDcSL0wT

— James 🐙/LIR2 (@BoltJames5) May 22, 2017
I have a lot of respect for the two-pronged attack, even if Nicki Minaj didn't seem all that pleased about it in the crowd.
Nicki Minaj, Their Entire Relationship
While Drake's turn as an admiring lap-dance viewer was mostly for show in the "Anaconda" music video, the image of him staring down Nicki isn't exactly off-brand in the history of their relationship. On Nicki's song "Only," Drake admits the only reason he hasn't slept with her is because she already has a man in her life. 
Of course, someone being tied up with a significant other has never stopped him before, and he reiterated on "Only" he wasn't done with his pursuit. "When that's over, then I'm the first in line," he said at the time. He and Nicki have had a rocky relationship in the years since that song dropped, but things are looking up as of late. Maybe all this waiting in line will finally pay off!