While dropping a rap record on 4/20 may at first seem like a gimmick, one read through Fil Jackson's Twitter feed proves that this is a man who is committed to the cannabis. In between musings on the downfalls of stoner culture and cheeky jabs at our PM, the other thing that Fil is clearly serious about is his music. After making Jersey Club inspired beats under the name "Lee Carvallo"—including a few on Helsinki-based label Top Billin—Fil took on his new alias when he began making experimenting with the footwork and juke flavours of Chicago house. He always had inspirations of releasing a hip hop project, however, which is exactly what he's releasing today in partnership with Toronto's Bedroomer collective. 
The six track EP entitled The Uptown takes listeners on a journey through a variety of sonic stylings - starting with '90s style rap and Canadian hip-hop, moving into a tongue-in-cheek take on a trendy mumble-rap trap, before ending with the footwork and house vibes that Fil has, until now, been best-known for. While the EP is seeing a digital-only release at first, it will also become available in the physical realm via limited-edition tapes that are on their way. 
One of the standout cuts, "My Own Thang," gets a trippy visual treatment which you can view above. We also caught up with Fil to get to know him a bit better, and asked him to bless us with some marijuana knowledge on this very important day. Get learned below, and be sure to stream the EP in its entirety as well.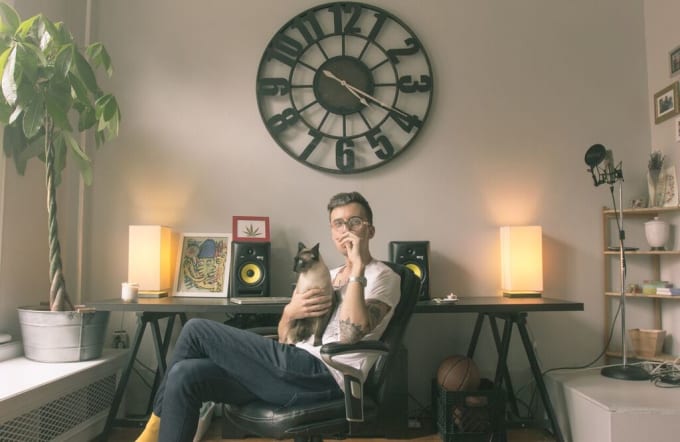 Can you explain where the name Fil Jackson came from? 
My real name is Filip and everyone calls me Fil. My last name starts with a J but is difficult to pronounce so I adopted Jackson. I'm also a huge basketball fan so it doesn't bother me at all that I now share a name with the legendary Phil Jackson. 
You're known more for making footwork/juke/house but the Uptown EP has some more hip-hop flavours. What inspired the inclusion of these sounds?
Hip hop is my first love and I've been wanting to do an EP like this for a long time. Instead of chasing SoundCloud rappers around for features, I looked to my own friend circle and realized there was some serious talent there that I could showcase. A couple of ounces of high powered weed later and we had The Uptown. 
You're quite the passionate marijuana advocate. How does smoking weed affect/influence your creative process as a producer?
Honestly, a lot. I smoke to relax and to stimulate my brain so when I sit down to make music it feels very free and natural. I've heard a lot of artists say this but I almost feel like a vessel for the song. Like it's creating itself.
Related: How important was it for you to release on this "holiday" of sorts?
It was the logical choice! If everyone is going to be in an "elevated" state anyway, they might as well listen to some music. Weed and music is my peanut butter and jelly.
Aside from the Uptown EP, what are three other weed-related songs that you encourage our readers to bump this 4/20?
John Holt, "Police In Helicopter."A great reggae tune about growing weed in Jamaica and protecting your crop from fire-spitting government helicopters, which they call "Weed-eaters".
Cab Calloway, "Reefer Man." This song is from the 1930s and it details the wild ramblings of a man stoned off reefer. One of my all time favs.
Michael Franti, "Ganja Babe." A wonderful love song dedicated to the plant and the ways in which she cares as well as misbehaves.
Can you give us one mind-blowing weed fact so we can sound smart at future parties?
Just one?! Ok, ok, I'll pick the endocannabanoid system as my weed fact: Every mammal has this system which contains these cannabinoid receptors and it controls things like mood, pain, and appetite, amongst others. Weed is full of cannabinoids—THC being one of them—so the ways in which you can manipulate and help your body with the cannabis plant vary wildly. Unfortunately, due to the demonization of the plant throughout history, we are only now starting to discover all of its benefits.