Solange Knowles isn't happy with the Grammys.
Shortly after her sister Beyoncé lost the Album of the Year award to Adele Sunday night, Solange responded to the upset via Twitter; however, rather than deliver her own lengthy rant, the 30-year-old singer decided to refer to Frank Ocean's recent Tumblr post, in which he criticized the awards show. In the now-deleted tweet, Solange simply wrote "wuddup frank," with a link to his message.
Solange also incorrectly tweeted, and then deleted, that only two black artists have won Album of the Year within the last two decades [the actual number of black Album of the Year winners in the past 20 years is four: Herbie Hancock (2008), Ray Charles (2005), Outkast (2004), and Lauryn Hill (1999)]. She also sent out another now-deleted tweet, urging others to "build their own institutions" so they can "be the gold [they] wanna hold."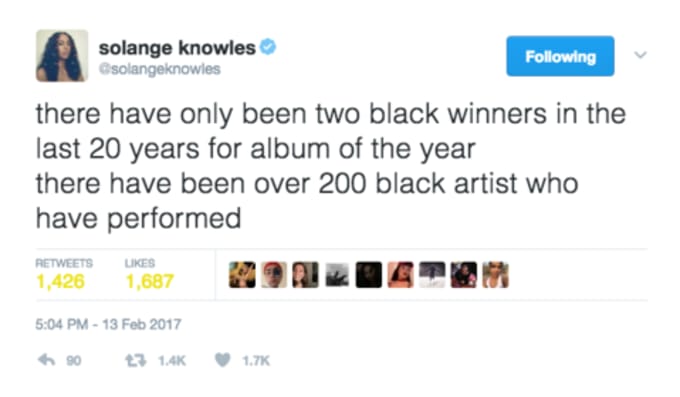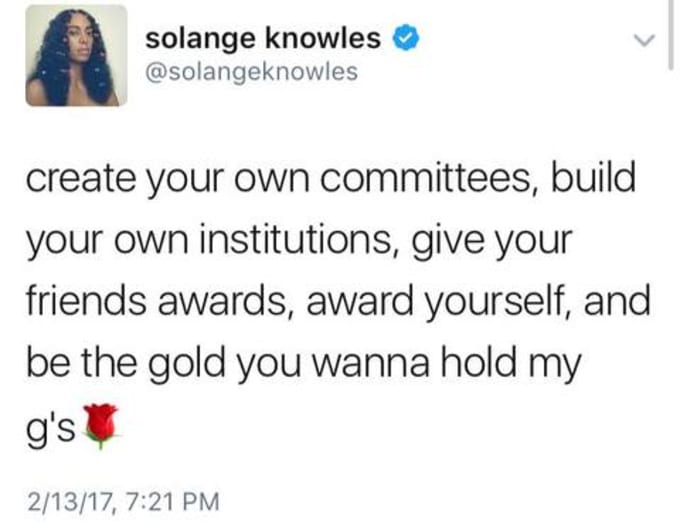 Ocean's note was written a day before the 59th annual Grammys, and a day after the show's producer Ken Ehrlich and writer David Wild criticized the Blonde artist for abstaining from this year's ceremony. Though Ocean previously called the Grammy's "dated" and culturally irrelevant, Ehrlich and Wild suggested the real reason for his criticism was due to his "faulty" 2013 Grammy performance.
"We executed his vision knowing that it was faulty. And we tried to tell him that, we tried to tell his management that, we tried to tell the record label that," Ehrlich said during an interview on Rolling Stone Music Now. "So, his feelings about the Grammys right now, I would imagine, probably go back to that in one way. But honestly, it wasn't us."
Ocean then responded to the claims on Tumblr, where he called out the awards show for its "cultural bias."
"I've actually been tuning into CBS around this time of year for a while to see who gets the top honor and you know what's really not 'great TV' guys? 1989 getting album of the year over To Pimp A Butterfly," he wrote. "Hands down one of the most 'faulty' TV moments I've seen. Believe the people."
Solange's tweet was far from the only high-profile response to the night's events. As it turns out, many people—including Adele herself—believe Beyoncé should've walked away with the night's top honor.