Introducing Mr Eazi, the OVO and Wizkid Favorite Bringing Afrobeats to the Masses
Signed by Wizkid and sweated by OVO, Mr. Eazi looks like he might just be Afrobeat music's next to blow up worldwide.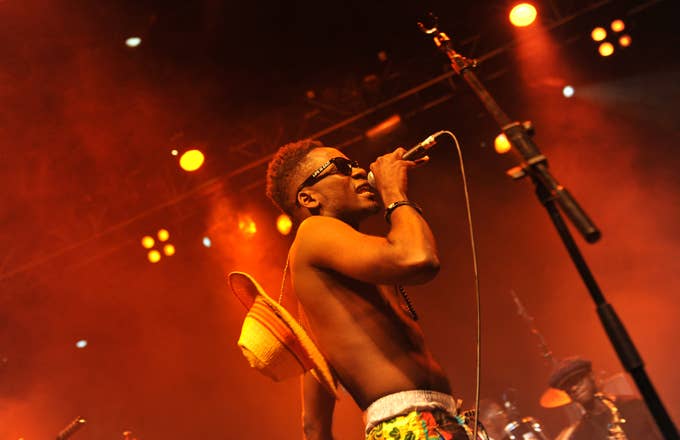 Getty
Image via Getty/C Brandon/Redferns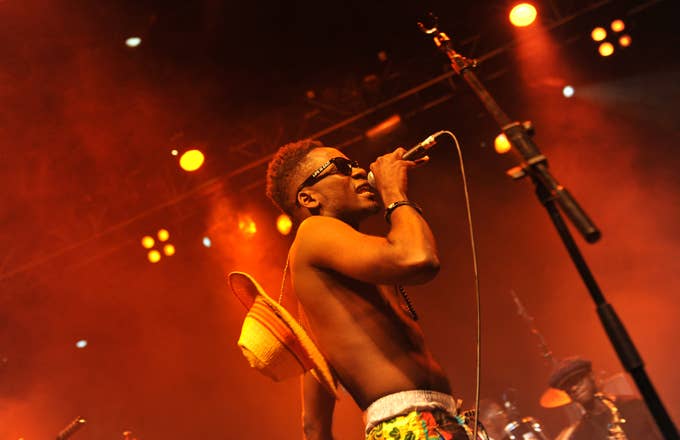 In his new "Leg Over" music video, Nigerian-born Afrobeats star Mr Eazi carries a big black bat into the confession booth at Our Lady of the Holy Souls church in Kensal, West London. In between scenes depicting a posse of dancers moving suggestively to the track's slow-burning beat, we watch as the parish priest, played by British-Congolese comedian Eddie Kadi, twists up his face in shock at Eazi's exploits, waving his crucifix as if to ward off lustful spirits. "Leg Over" is the first single from the artist's debut EP, Life Is Eazi Vol. 1: Accra to Lagos.

Born Oluwatosin Ajibade in Nigeria, Mr Eazi is one of the fastest rising stars in African music. His work broadly fits into the category of Afrobeats, a contemporary fusion genre that marries global pop, highlife, and hip-hop. (Don't mistake that for Afrobeat, the genre exemplified by the funky compositions of Fela Kuti.) Eazi is also a pioneer for a sound he calls Banku music that's characterized by percolating rhythms and laid-back vocal delivered in Ghanaian "pidgin" slang. Over the past few years hits like "Skintight,""Hollup," and "Bankulize" have transformed Mr. Eazi from a local event promoter in the Kumasi region of Ghana to a big star all across West Africa. While he's usually photographed with a farmer's hat casually slung over his back, don't get it confused: Eazi's not taking it easy—and he's raising more than corn, yams, and cassava. Having collaborated with top acts like Sarkodie, Joey B, and Pappy Kojo, Mr. Eazi inked a deal with Wizkid last May, signing to the Nigerian artist's Starboy Worldwide Entertainment group.

Following the massive success of "One Dance," Wizkid's genre-bending collab with Drake, the stage is set for the Afrobeats sound to continue its worldwide explosion. When that happens, Mr Eazi seems a sure bet for next to blow as he forges connections with the OVO crew and the popularity of his sound continues to grow. Although he was excluded from the 2016 Ghana Music Awards 2016 because he's a Nigerian citizen, he will kick off a world tour next month in New York City. Complex caught up with him via cell phone during a break in the shoot.

A lot of things happened for you last year. The link with Starboy first and foremost. How did that come about and what difference has it made to you?
I used to be like a show promoter, shows, parties, fashion shows, blah blah blah. The artist I used to book the most when I was at uni in Kumasi, in Ghana, was R2Bees. So I would book R2Bees for almost all my gigs, and R2Bees is like family with Efya. So I had known R2Bees and Efya for a while. I still remember the first time I sent a record to Mugeez from R2Bees [who features on "Business," a track on Eazi's new EP]. He was like "Yo, you should take this music seriously. You should put this out."

What made you want to do music yourself?
Like I say, I was booking artists to come all the way to Kumasi and next thing I'm in the studio with emerging artists because they wanted to play at my gigs. They would take me to the studio to convince me that they're good. When I look back on it, I see that I was just rehearsing myself and getting better. Fast forward to 2015 December, I saw that my fanbase was growing and I decided to test myself by doing an intimate concert with my fans. And after that everything just started to form.

Every time R2Bees and Efya and we got together—we had a vibe. By the time the music kicked off it was only a matter of time before I met Wiz and we did link up. We said, "Let us just come together." Even though we have our individual movements, let's just come together and have sort of a unified platform with the aim of pushing African music to the world.
I met Drake some days ago in London. He already knew the music. He already knew who I was.

It seems to be reaching the four corners of the earth like never before. Why has London become such an important center for Afrobeats music?
I feel like, with all due respect to Afrobeat dancers all across the world, London has the strongest community of Afrobeat dancers. And I remember my first ever record recorded in Kumasi, a friend had sent it to a director who shoots the majority of these dance videos. And then they had done a dance viral video for the record, and I was there in Ghana and Nigeria not even knowing that the video had been shot and it had circulated. I had no idea that my music was already in the scene. 

London is close-knit. The industry is very small, like it is everywhere. Also, it's full of a lot of second, third-generation immigrants who are very very active and very loud. And dance is a huge thing in London, and I feel like dance has been the engine room for propagation of the genre. I just got a few dancers dancing to a record on Instagram, and we had other dancers from across the world join in on the movement and before we knew it we had a viral record. So I feel like the vibrancy of the Afrobeat scene in London to the dancers who are pushing it. It's no more music, it's now culture we are touching. And the dance is very infectious. It's been happening for a while from Fuse ODG to even now. And I feel like it's getting bigger.

In London of course there's a strong sound system culture coming out of the Caribbean, with Notting Hill Carnival and all of the UK underground. How does Afrobeats mesh with dancehall? What are the connections between the two?
Even from the first, like from back in the day when I just used to be a promoter and follow artists to the studio, I used to see the music in Ghana… And Ghana is very heavy on reggae and dancehall. Dancehall is like the biggest genre of music next to Azonto in Ghana. In fact, there's even Azonto dancehall—that's the sound you hear on the streets. The influence cannot be overemphasized. You can see that everywhere from chord progression… in the music that's played on the streets. 

And you know the dancehall culture is very infectious. And so I feel like there's a marriage. Because at the end of the day, them in the Caribbeans are our African brothers who got moved out of Africa during the time of slavery. And so at the end of the day, they're still African. For instance you see a tradition like Ogun worship, the Umoja festival, you see them do the same thing in the Caribbean. They're just our brothers who went to the Caribbeans with the music, and they were on islands and it has a different flavor and a strong culture. So I feel like there's a marriage, and you can always cite almost every African artist that's doing well locally, if you put him on a dancehall song he would deliver and do well, because we've been listening to reggae, we've been listening to dancehall growing up. We've been sampling chord progressions, we've been sampling delivery. Like on my mixtape there's one record where I sample the ragga delivery but I do it in pidgin English. So, you know, I feel like there's a marriage. Fusion I just call it.

African music is powerful to begin with. What is it about Jamaica and the Caribbean that created such a strong vibration that it reached back to Africa from such a small island?
I feel like the music from the Caribbean is not just Africa you know. It's worldwide. You hear all sorts of dancehall sampling and remaking in almost all types of records—a lot of big records from way back even up till now. Like the other day I heard a remake of "Everyone Falls in Love Sometimes." So I feel like the Caribbean, even though it's a small place, there's a culture. The dancehall culture. You put a dancehall artist on any song in the world, on any genre, he's not gonna come and blend into the genre. He's gonna come and give his same dancehall delivery, content on that record. And you'd rather change the record [to fit him]. 

Like one of my favorite records, "I'm in Control" by AlunaGeorge—[sings] "I'm in control"—and you see when Popcaan's part comes up, the beat has to switch. The beat switches and Popcaan gives the same delivery he does in all his records. He doesn't change anything. So the fact that the culture is attached to the music very well, I feel like that's the key. That's the key driving factor, and that's why it's even reaching all the way back to Africa. It's worldwide.

You're known for pioneering a style called Banku music. What's unique about that style?
Banku music is just what you call fusion music. It's a mixture of genres and influences, and I started experimenting by mixing Nigerian and Ghanaian music, mixing Ghanaian bounces, Ghanaian highlife with Nigerian chord progressions, Nigerian patterns. The essence of Banku music is a mixture of Nigeria and Ghana. That's what my mixtape is about, Accra to Lagos. And it will continue to evolve as I continue to travel and get exposed to different genres and try and mix, blend more different sounds.

Speaking of fusion, I've been hearing through the grapevine that you're making links with some artists from Toronto.
Yeah, yeah, yeah, yeah yeah. My mixtape features Big Lean from Toronto.

And I even heard something about OVO. 
Yeah, yeah, yeah. For instance Big Lean is affiliated with OVO. So some days ago I met the OVO team. I met I think 1980 or 1950, I don't know. I can't remember his name. 

Nineteen85?
Yeah. I've recorded two songs with Di Genius, who produced "Controlla." And I've been working with the man who produced Mixpak. 

Dre Skull? 
Yeah, Dre Skull. The OVO come the other day, and someone was introducing me to Majid Jordan. I met Drake some days ago in London. He already knew the music. He already knew who I was. So I feel like you can also see the dancehall influence in Toronto. A lot of Toronto music have that dancehall vibe, which is—like I said earlier—like a cousin sound to dancehall. So it's only natural for there to be some connection. I know Africans travel a lot. We are everywhere in the diaspora. We have healthy communities in all these places, which further propagates the music.

Drake has been such a force in merging these sounds on the pop charts. What sort of conversation did you have with him?
It was just the first time we meet. He said, "Oh I love your music." He introduced me to Young Thug. It was more of a meeting—"Hi, what's up?—cause he was at an afterparty. It's just on those levels.

Any plans to do more work with him and his team? 
You know I definitely fuck with the OVO team. Since I'm all about fusion, Drake is one of the persons at the forefront of that. When he does fusion, when he does Banku music, he does it best. And not just in the music, but even in the numbers and in the pop charts. So it's something I look forward to doing some time in the future. But the focus now is Accra to Lagos and basically cementing my position in West Africa. 

A lot of artists who are part of a regional scene, or some kind of local scene, they have to make a decision about which audience they want to speak to first. It sounds like your focus is at home. 
Yeah, for Q1. First of all my focus was Ghana. And I was making music just for people in Kumasi. And I played my festival show in Leicester. So I feel like I shouldn't change anything. For now, let me keep making music for my people. And music is spiritual. African music is very spiritual. Because you know, I've been in writing sessions lately with Rudimental, with Ellie Goulding. And I see the difference with both writing processes. The writing process here in Africa is very, very spiritual.

Now I see Rita Ora and Travis Scott on social media checking you out. How does that make you feel? 
You know it's… Right now, I don't think it's a surprise. It can go further than that. Because like I said earlier, you have a lot of African music up in the charts. A lot of records have a heavy African vibe to it. So it's only natural that more people will jump to it. You know?

Can we expect a collab with Travis? He's in your comments a lot. 
Yeah, yeah, yeah. You know, at the end of the day we're up for making music, right? We're making good music for our people. So if it comes up, that would be great, but the focus is still making music for my people—my Ghana, my Naija people. As long as they're happy. Step by step, right? So our focus is Accra to Lagos, even though we are discussing across the world.

If you were going to play one record for someone to explain what Banku music is all about, what would you play?
[Laughs.] Play "Skintight" you know?

What is it about that record?
"Skintight" is a fusion. On the delivery I'm speaking Ghana pidgin, on the melody I'm using Nigerian melodies, on the beat it's a slight dancehall influence. So that's Banku music.

I thought you were gonna say "Bankulize." 
[Laughs.] Some other people say "Bankulize." It depends. 

And who is Burna Boy?
Burna is an artist out of Nigeria. Very talented artist as well. Burna is one of my favorites locally. 

I love his vibes on the "Bankulize" remix. So tell me more about the mixtape, Life Is Eazi Volume 1: Accra to Lagos. 
It has the first five tracks with the Accra vibes and the last five tracks are Lagos vibes. When you listen to the mixtape, if you listen closely you'll catch it and see the difference.

Any other collabs on the proiect?
Yeah, you have my favorite artists from both sides—Ghana and Nigeria, Accra and Lagos. Big Lean is the only artist who's not from Accra or Lagos on the mixtape. That's because I was just feeling like I reached out and said, "If you can catch the vibe."

I read that there was an award last year in Ghana that you were considered for but you were finally disqualified. What happened?
Every award organizer has opinions on their criteria. They have their criteria and I didn't meet that criteria. And their criteria is that you had to be of Ghanaian nationality. And I'm Nigerian. So that was the situation within the awards. It just represented the opinion of the organizers.

But your music was popular enough in Ghana that people wanted it on there. 
Exactly, because on the night the nominees were announced and the night of the awards I was trending, and the music being played at the awards was my music. So it felt kind of silly.

The fans always get the last word, don't they?
Exactly. Look at it—less than one year after the awards, there's still no one doing it like me, getting that amount of hits. So the music finds a way. I'm about to do a world tour off a mixtape so I think that speaks for itself.