Word of caution: Don't rock a Donald Trump jersey to a Waka Flocka concert. Especially if the concert falls on Martin Luther King Jr. Day.
On Monday, a University of Georgia student decided he'd show his support for the president-elect during Waka's performance at the Georgia Theatre. Not a wise decision, considering the 30-year-old rapper has publically criticized Trump for his comments on undocumented immigrants.
The student, named Kyle Weber, acknowledged he was taking a risk by wearing the jersey to the show, tweeting, "Hopefully I don't end up hospitalized" just hours before.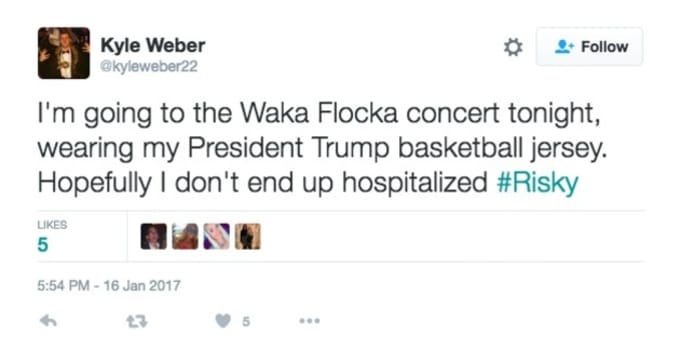 Well, Weber wasn't hospitalized, but he did get called out. While on stage, Waka noticed the Trump jersey and immediately demanded the man to hand it over. Once he had it in his hands, Waka pulled down his pants wiped his ass with garment before throwing it on the ground.

You can watch it go down in the video above. And check out a few tweets from other audience members who witnessed the incident below.