J. Cole fans were pleasantly surprised to hear the announcement that 4 Your Eyez Only, the rapper's fourth studio album, would be releasing next week, on Dec. 9. So far, the rollout began in earnest on Thursday night, when Cole shared a new documentary on Tidal, titled Eyez.
Directed by Scott Lazer and edited by Roberta Spitz, Eyez extends the idea from Cole's Forest Hills Drive: Homecoming documentary series on HBO in giving fans an intimate look at what goes on during the recording process of an album. In Eyez, we learn that Cole in addition to rapping and producing, Cole has taken on an executive role by guiding engineers and various musicians (violinist, organist, trumpeter, and more). The beauty of Eyez is that we are all experiencing this moment of Cole's life and enjoying his company together, which further supports his mission of putting his family, friends, and fans first. Here are 14 things we learned from Eyez, and if you haven't watched the doc yet, you can do so here.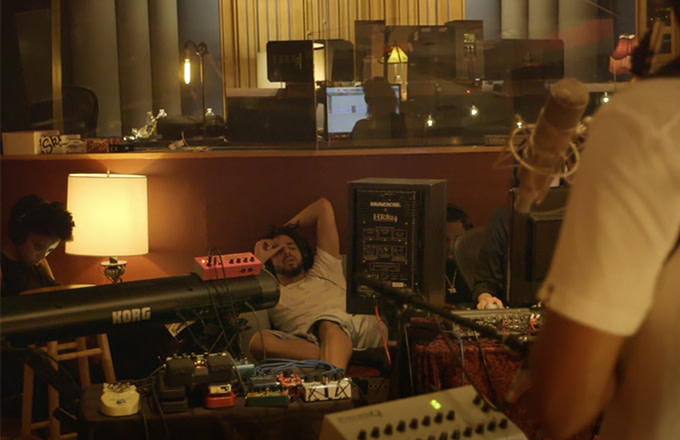 1. J. Cole recorded at Electric Lady Studios.
Cole held sessions for 4 Your Eyez Only at the historic New York studio, where artists such asJimi Hendrix, Led Zeppelin, Stevie Wonder, Prince, Erykah Badu, and D'Angelo have recorded.
2. Cole writes his lyrics with a pen and a notepad.
A rare sighting from MCs these days.
3. There were a lot of different song titles in the mix.
While discussing the idea of releasing a single for an album after a long hiatus, Cole and his manager Ibrahim "Ib" Hamad reveal song titles for 4 Your Eyez Only: "Swing My Way," Immortal," "Real Ni**as," "Neighbors," "Interlude," and "Everybody Dies" are all possible titles.
4. Cole has a lot to say about fake rappers.
In a Fayvetteville State University jersey, Cole rides around in his hometown on a back of a truck calling out the rap game at large in a clip for "Everybody Dies":
"Clap back at the fake deep rappers/the OG gatekeep rappers/the would you take a break please rappers?/A bunch of words and they ain't saying shit – I hate these rappers/Especially the amateur, eight-week rappers/Lil whatever, just another shortbus rapper/Fake drug dealers turned tour bus trappers/Napoleon complex, you this tall rappers/Get exposed standing next to 6' 4" rappers/The streets don't fuck with you, you Pitchfork rappers/Chosen by the white man, you hipster rappers/I reload the clip, and I hit more rappers/Straight shittin' on these piss poor rappers, I'm back."
5. He samples A Tribe Called Quest in one of the two new songs.
"Everybody Dies" also flips a loop from A Tribe Called Quest's "Lyrics to Go."
6. Disney's 'The Jungle Book' was a source of inspiration.
One of Cole's collaborators showed a scene from the Japanese version of the film that featured a soothing melody. "That sounds mad pretty," Cole said.
7. Cole never misses an opportunity to ball.
In between recording sessions, Cole still makes time to play basketball.
8. Police brutality and race relations are on his mind.
During some downtime, Ib and Cole have a conversation about the 19-year-old Florida teen who murdered a couple and began eating parts of a man's face. The report Ib read stated that Austin Harrouff was deemed a good kid by the sheriff and was detained by police, hypothesizing if that same situation happened to a black man, it would go down differently. "That's the other thing, he killed a husband and wife and started eating this dude's face, and they just detained him. Like if he was black, he woulda been got shot…quickly," Ib says. "That's weird. But yeah, that's nothing new," Cole adds.
9. He's a musician at heart.
Cole gets taught a lesson in composition and musical theory, disagreeing that there shouldn't always be an explanation on how music is formed.
10. He's maintained his ambition.
In speaking about the difficulties of finishing 4 Your Eyez Only, Cole brings up the reality where rappers are at the top of the ladder, but seemingly fall down a few rungs when their next album isn't as well-received. He wants to use his platform and opportunity now to say "the realest shit I've ever said." He adds, "In case next time that shit down here, when I got to the top of the mountain, this is what the fuck I'ma say. That intention has been there and that purpose has been there."
11. He's also still competitive.
Interestingly enough, what gets Cole focused to complete his songs is hearing other people's work. He mentions YG and Drake's "Who Do You Love" having that effect on him.
12. Cole keeps to himself.
He avoids social media and doesn't read the news on the internet. "It's family and fuckin' music," he says of his priorities. Cole hasn't tweeted since Oct. 21 and his Instagram hasn't been updated since the announcement of Road to Homecoming.
13. We get an explanation for that time we saw Cole riding the city bus in Queens. 
Here's why. In the kinda, sorta video for "False Prophets" that takes place around Queens County, Cole sends some subliminals at his idols and his peers again—some say he's talking about Kanye West and Wale. A few key bars:
"When he tell us he a genius but it's clearer lately/It's been hard for him to look into the mirror lately/There was a time when this ni**a was my hero, maybe/That's the reason why his fall from grace is hard to take"

"Maybe it's my fault for idolizing ni**as based off the words they be rappin'
/But come to find out, these ni**as don't even write they shit
/Hear some new style bubblin' up, then they bite the shit
/Damn, that's what I get for lyin' to myself"
"I got a homie, he a rapper and he wanna win bad/
He want the fame, the acclaim, the respect that's been had
/By all the legends, so every time I see him, he stressin'/Talkin' 'bout, ni**as don't fuck with him, the shit is depressin'"

"And I know he so bitter he can't see his own blessings/Goddamn, ni**a, you too blind to see you got fans, ni**a/And a platform to make a classic rap song
/To change a ni**a life, but you too anxious livin' life"
14. Cole still rides his bicycle around New York City.
It's a practice he showed us on the "Intro" video from 2014 Forest Hills Drive.