Meek Mill just unleashed his new video for "On the Regular," and it's a tour-de-force of his high-flying lifestyle. Meek posts up in Rick Ross' mansion, showering cash left and right while delivering lines about blowing money and settling vendettas. "Remember they said I was done done/Fuck that they ain't know I'm the one one/We get your chain and it's one one/I tell my nigga I want one," he raps. Elsewhere, he sits on the steps of a private jet and adorns a marble statue with some Maybach Music chains.
"On the Regular" includes appearances from MMG figures Sam Sneak and Rick Ross, the later of whom takes a break from the video to show off his tobacco leaf portrait and expensive collection of vintage newspapers. At one point, Meek also poses with a plaque commemorating three million single sales from Nicki Minaj's sophomore album Pink Friday: Roman Reloaded.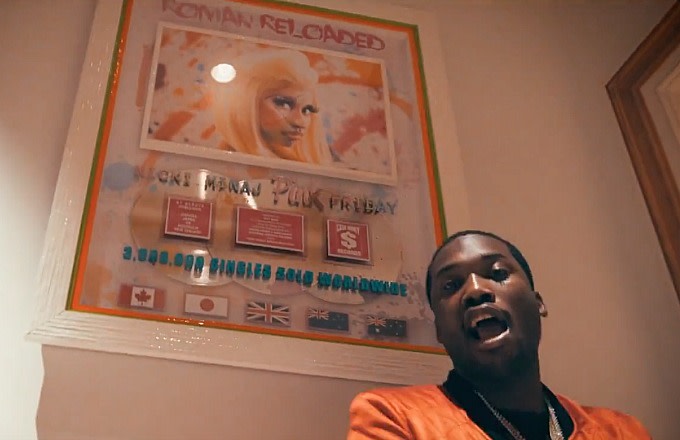 "On the Regular is the opening track for Meek's recent mixtape DC4. The mixtape was his first since he finished his house arrest earlier this year, and served as a major comeback moment for the MMG rapper. It moved 87,000 album equivalent units in its first week of release, landing at No. 3 on the Billboard 200 chart. Half of the mixtape's songs charted on the Billboard Hot 100 upon its release, with "On the Regular" landing at No. 75. He's released a string of videos since, and "On the Regular" continues his hot streak.
You can watch Meek Mill's video for "On the Regular" above.