ComplexCon returns to Long Beach Nov. 6 - 7 with hosts J. Balvin and Kristen Noel Crawley, performances by A$AP Rocky and Turnstile, and more shopping and drops.
Secure your spot while tickets last!
When I ring Nick Hook, he's just played the first show on his North American tour and is behind the wheel of his own tour van. His energy flows vibrantly down the phone as he opens up about the start of his tour and the formation of his new album, Relationships. It's clear hear why he's chosen this name for the album; the way he instantly connects with me down the line is the reason that he's been so successful in the studio with a plethora of big-name collaborators.
From rap stars like Young Thug, 21 Savage, and Action Bronson, to more underground acts like Novelist, Machinedrum and the late, great DJ Rashad, Hook is someone who sees high value in building beyond his own scene. From start to finish, the album is an emotional rollercoaster. Sandwiched between two tracks recorded with DJ Rashad before he passed, Relationships is a maelstrom of addictive and diverse electronic beats alongside one of the best LP feature lists of 2016 to ride with it. "Gucci's,"which you can stream exclusively below, is just a slice of what's to come from the album, with Hook grabbing enigmatic Atlanta newcomer 24hrs to add pitched-up vocal heat over his blend of explosive pads and jittering synths.
Catalysed by the death of close friends as much as it represents the beginning of new ones, Nick Hook candidly opened up to Complex about utilizing different drugs for different types of production in the studio (his home away from home) and how his ride-or-die attitude to companionship, beat-making and life forged the new work of art that is Relationships. 
Interview by Jacob Davey
---
What was it like working with Novelist on "Can't Tell Me Nothing"?
I feel like God gave us that song. We made it in 10 minutes at six in the morning. We met in Poland and he came over and a friend asked if he could use my second studio. He was only 18 when he came over, and he pointed out my studio window across the New York skyline and asked, "What's that?" I was like: "That's the Empire State Building, bro!" That 10 minutes changed my life; it reminded myself why I do this. Novelist blew my mind and the energy from that collab was unreal.
Do you find using certain drugs make you produce a particular way?
I've now got to a stage where I know what each drug I take does to me and my creativity. But at the same time, I don't want to be remembered for the fact I take drugs; I wanna be remembered for my production. Look at Keith Herring, Jimi Hendrix, Picasso... I need to know what these geniuses are thinking and get on their wave. When I'm sober, I learn how to utilzse each drug to my advantage. Also, just being sober makes me produce a certain way. The most powerful drug I've found recently is yoga. Being able to meditate every day is incredibly powerful, alongside eating healthily—that's a type of drug in itself.  
So, what can we expect from the new album Relationships?
Basically, the album starts and finishes with tracks me and Rashad made before he passed away. I've been multi-genre my whole life but I've always been afraid to show it. 21 Savage and Chino from The Deftones seems farfetched, but it really does work. One of my DJ friends on Gchat asked how much I was paying these guys for a feature [laughs]. I never pay anyone for a feature! And that's why I named my album Relationships—this shit is all based on the fact we ride or die for each other. Last year, two of my friends died on the same day, and that's when I realized I had to stop fucking around, be open and show the world what I was capable of. 
That was apparent in your recent Against The Clock for FACT—just how open you were with your studio.
That's what I wanted to get across. If you come to my studio and we connect spiritually, you can come with nothing but end up creating something magical. Having the right people around you stimulates your best creativity. 
Would you say this album is a progression in quality from your previous work?
I think a lot of kids go out there and paint this perfect painting. But me, I'm a rugged motherfucker man! Everyday I'll scrape my knee, bruise my brain... This game is for the long haul, and not for the lightweight. That's why I've never made an album before, as before I definitely wasn't a good enough mixer, good enough songwriter, communicator, producer. Losing my friends shifted my perception of things entirely. The more you put in, the more you get the confidence and meet people who are backing you to do better; whether it's Action Bronson, Big Boi, or Run the Jewels, I've been working with my idols and they've now become my peers.
Has there got to be a certain energy between you and someone to want to make music with them?
I was never supposed to be in this scene. Every year since 2005, I thought my career would be over. Then there's always been this weird left turn with someone like an Azealia Banks or a Young Thug or an El-P that has reinvigorated me just because I've stuck with my shit. I'm not out here to be someone like Sonny Digital or Metro Boomin; I'm Hook, ya know? And that's what I've learned: I don't want to make hits—I want to make stuff that I love. And I know with this album, I can look back on it in years to come and I will still love it. 
What have the studio sessions with all these different artists been like?
Well, with Thugga, Bernie Worell, and Novelist, they strike like Tyson man! It's the first round knockout. [Laughs.] You get the knockout, get it done, get your check and get the fuck out of there. That's what I'm trying to bring to what we do, man. If you look at all these trap records coming out of Atlanta, they don't have a timeframe for when that creativity pops. I think it's such a white thing to work 9-5 then be off. You never fucking know when inspiration is gonna strike. That's why my studio's very clean. My studio's that boxing ring to capture fire. If Nov was ready to give me that fire and I wasn't ready to produce it, I wouldn't be a good producer. I've been around every type of rapper in the world and that's why they sit around smoking 50 blunts all day: they're waiting for that moment to strike.
So is the album comprised of these hot moments?
It's 16 songs that were not only hot moments, but could easily not have happened. I could easily have zero songs, but I was just ready to get it whenever. That's why I called the album Relationships 'cause of these quick connections, and also out to my homies that believed in me. This record is really my story; if you're a kid from south London like Nov or St Louis like me, it's a record that shows if you put in the effort, you can make that record you've dreamt of making. It's not just for middle-class people or whatever—it's for everyone, for everyone to enjoy. The plan now is to help people like Novelist and Junglepussy on their albums. Now that I've finished my album, I want to give back and help others out with theirs.
Nick Hook heads to the UK for his first headlining show at The Pickle Factory on Nov. 16 alongside some very special friends. Tickets are available now. Relationships drops Nov. 1 on Fool's Gold and is available for pre-order on iTunes. You can check out the cover and tracklist below.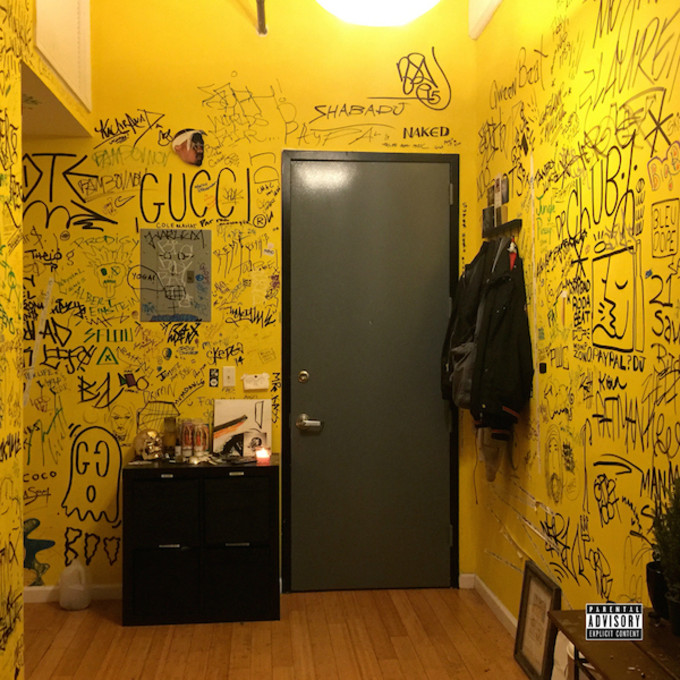 1. +3 feat. DJ Rashad, DJ Paypal & Nasty Nigel
2. Pro-Choice feat. Black Kray, Father, Michael Christmas & KCSB 
3. Gucci's feat. 24hrs 
4. Evolisontherise feat. Hudson Mohawke 
5. Another Way feat. Spank Rock 
6. Forever 
7. Dive For You feat. Junglepussy & Prefuse 73 
8. Can't Tell Me Nothing feat. Novelist 
9. All Alone feat. iLoveMakonnen 
10. Bhu Hum feat. Damien Hagglund
11. Live While I'm Livin' feat. Meyhem Lauren & Superhero Killer 
12. Silk Pants
13. Head feat. 21 Savage & Bulletproof Dolphin 
14. Need 2 B feat. Rahel
15. Lovesong feat. Nasty Nigel 
16. The Infinite Loop feat. DJ Rashad, Chino Moreno & Nasty Nigel