Iggy Azalea is pissed—and understandably so. Soon after it was announced that she and Nick Young had called it quits, the rapper was allegedly blindsided by more devastating news: Young had been sleeping with his ex Keonna Green, and they're now expecting another baby.
Iggy has since gone to social media insisting she didn't know about the pregnancy until after the break-up.  In an exclusive interview with US Weekly, Green says she attempted to reach out to the rapper but never received a response. And Iggy said she found out from E! News.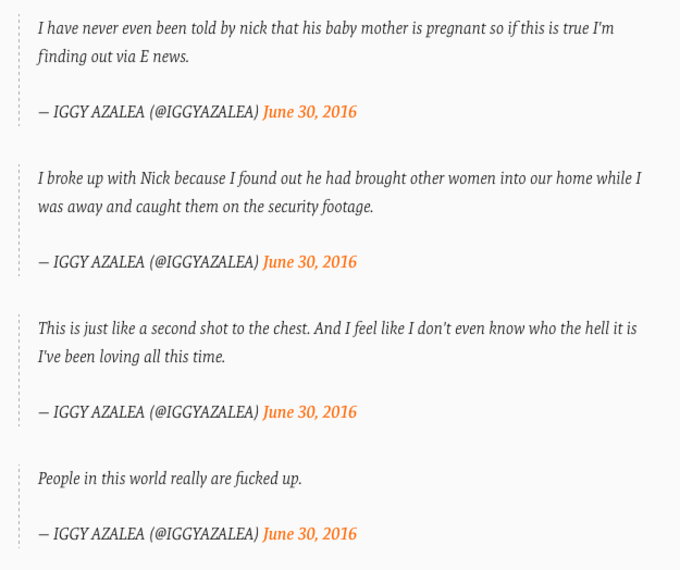 Just hours after the exclusive dropped Wednesday, Iggy was seen at an Australian airport and had a not-so-subtle message for Young and Green. And she didn't have to utter a single word.
So what was the message caught by TMZ? It was a good ol' fashioned "F**k you" presented with her middle finger. And just so people wouldn't think the gesture was directed at the nosey paparazzi, Iggy made sure to say it was specifically for Young and his baby mama.
Now, TMZ is reporting that Iggy's legal team has slapped Green with a scathing letter warning her that any mention of Iggy in any story will land her in huge trouble. "Any mention of Iggy in your client's efforts to sell a story to whatever tabloid needs to fill its pages with the fetid story of your client's classless antics will be considered a violation of Iggy's rights of publicity...subjecting Ms. Green and any publication that airs your client's soiled laundry to significant liability," the letter stated.
Clearly, this shit storm, which has also included a D'Angelo Russell scandal, is far from over. Let's just hope for Iggy's sake that there's no more secrets emerge. You can check out the clip at TMZ.