Vic Mensa's 23rd birthday was one to remember, but it isn't ending on the best note.
The Chicago rapper went on Twitter Monday night to say he had been kicked off a United Airlines flight for talking on the phone. In the now-deleted tweets, Vic insisted he did nothing wrong, as the plane had yet to take off. "THX @united FOR KICKING ME OFF MY FLIGHT FOR TALKING TO A DEPRESSED FAN WHO NEEDED HELP ON THE PHONE," he wrote. He later called on his fans to hit up the company's social media account with the hashtag #FUCKUNITEDAIRLINES.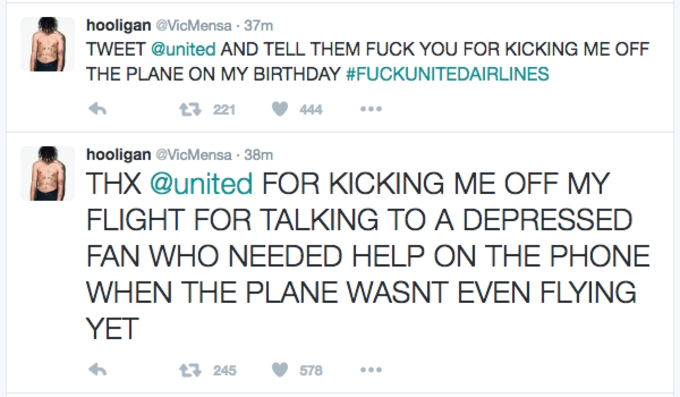 United Airlines and Vic Mensa's camp didn't immediately respond to our request for comment. But United Airlines did tweet out a response to the rapper shortly after he expressed his frustration:
Seems like a crappy end to an otherwise lit birthday weekend. After Governor's Ball day three was canceled, Vic hit up Webster Hall Sunday night for a rain check performance with Ty Dolla $ign. Vic continued his birthday celebration at the 40/40 Club, where he partied with Chance the Rapper, Jay Z, and Beyoncé.
Vic also linked up with Complex Monday for a town hall meeting.