UPDATED 6:30 p.m. ET: Lil Wayne has finally addressed his recent health scare. "Thanx for all the prayers," he wrote on Twitter. "I love y'all." The note brings a sigh of relief for fans after it was reported the rapper had two seizures hours apart. 
thanx for all the prayers!! I love y'all

— Lil Wayne WEEZY F (@LilTunechi) June 14, 2016
UPDATED 4:15 p.m. ET: Lil Wayne reportedly drank three bottles of cough syrup the night before seizures forced his plane to make an emergency airplane Monday, according to TMZ. Weezy was spotted with approximately five 16 oz bottles of Promethazine/Codeine syrup and was sipping on the lean throughout the entire club appearance and at the after party. A video of Wayne at stage shows him with his double cup in hand. Thankfully, he is now in stable condition according to his rep.
This was Lil Wayne last night pic.twitter.com/YoU4EMpqLs

— DJ Akademiks (@IamAkademiks) June 13, 2016
UPDATED 6/14/16 10:00 a.m. ET: A representative of Lil Wayne confirmed to The Fader that the rapper is in stable condition. "We can confirm that he did experience a minor seizure earlier this afternoon," they said. "Under the guidance of his own doctors, he is now in stable condition and good spirits. He thanks his fans for their everlasting support, prayers and well wishes."
UPDATED 8:00 p.m. ET: It looks like Lil Wayne is going to be fine. Just hours after the rapper was reportedly taken to the hospital, Young Money president Mack Maine went to Twitter to give Weezy's fans some peace of mind: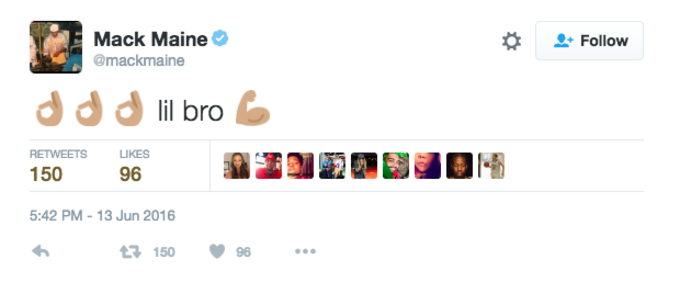 UPDATED: According to TMZ, Wayne suffered another seizure after the plane took off again and has now been taken to the hospital by ambulance. 
Read the original story below. 
Lil Wayne's plane was reportedly forced to make an emergency landing Monday in Nebraska after the rapper had a seizure during a cross-country flight, according to TMZ. While the report says Wayne is currently alert after blacking out during the flight, he's reportedly refusing medical attention from paramedics on the scene. If you remember, these are the same issues that Wayne dealt with back in 2012 and 2013 when multiple flights he was on were forced to make emergency landings due to his seizures.
Wayne later revealed that he suffered from epilepsy, but has since been in relative good health, at least in the public eye. TMZ notes Wayne was traveling from Milwaukee to Los Angeles when the plane made the emergency landing in Nebraska. It's currently unclear if Wayne will be allowed back on the plane today or if he'll have to visit a hospital to get himself checked out. Back in January, reports came out that Wayne was once again drinking lean, though it's unclear if that's connected to his seizures. We've reached out to reps for Lil Wayne, who have yet to respond to comment. Karen Civil, who is close with Wayne, later tweeted that Mack Maine had told her that Wayne is good. 
Complex was able to speak to a rep for the Eppley Airport in Nebraska where Lil Wayne's plane landed at, and though they were not able to confirm it was him on the plane, they did confirm a plane made an emergency landing and the individual has refused medical attention. The plane has yet to take back off according to the rep for the airport. We'll continue to update this story as more details are made available. You can listen to the audio of the dispatch call from the incident below.