On top of everything he is winning at in his life, Drake has the continual blessing to dance up on stage with Rihanna thanks their collaboration, "Work." Wednesday night, Drake once again dropped by the Anti World Tour during its stop in Manchester, England to perform their No. 1 track and seemed just as taken as ever with RiRi.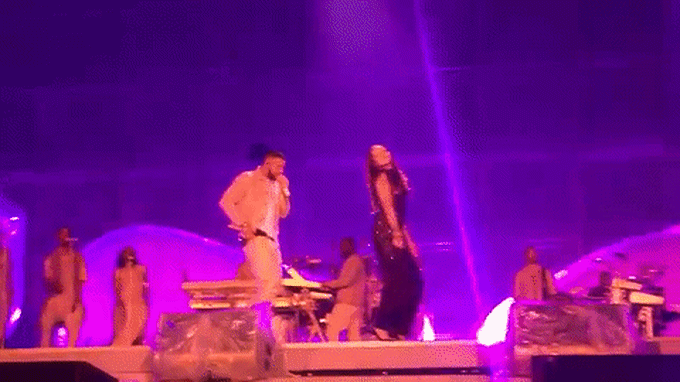 We can't really blame Drake for being in awe of Rihanna or his views from the stage because she is an unreal human living among the rest of us. Drake was either overcome with Ri's perfection or decided to toy with the audience's emotions even more by kissing Ri's neck at one time of the performance. As usual, they flirted throughout the whole thing and Rihanna treated Drake to some dirty wining directly in his lap. Honestly, this performance felt even hotter than the times they took the stage together in Miami, Toronto, or Los Angeles.
Drake was recently spotted in South Africa where he was supposedly filming his long awaited video for his No. 1 hit, "One Dance." We're sure he didn't hesitate at the chance to jump on a plane and join Ri on stage once again. He even jumped on the mic to praise Ri after the performance was over. "Manchester, you gotta make some noise for the most beautiful, talented woman I've ever seen in my life," he told the crowd. "She goes by the name of Rihanna...I'm getting my heart broken tonight." 
We know there has been Snapchat evidence that Drake was potentially hooking up with Hailey Baldwin, but can these two get back together already? We'll wait.
Did y'all see that? 👀@drake 💋 @Rihanna 😍#ANTIWorldTour Manchester 🎈 pic.twitter.com/cpczdQQhMh

— ANTI WORLD TOUR (@AWTGuide) June 29, 2016