DJ Khaled took some time off from his busy schedule as Chelsea Handler's chief financial correspondent to pay Jimmy Kimmel a visit on Thursday night, and he unveiled his Major Key cover art and discussed the virtues of presidential cloth talk in the process. Kimmel was rightly blessed with highly valuable knowledge, starting with the artistic trump that is the Major Key album cover. Come on, just look at this instaclassic declaration of power:​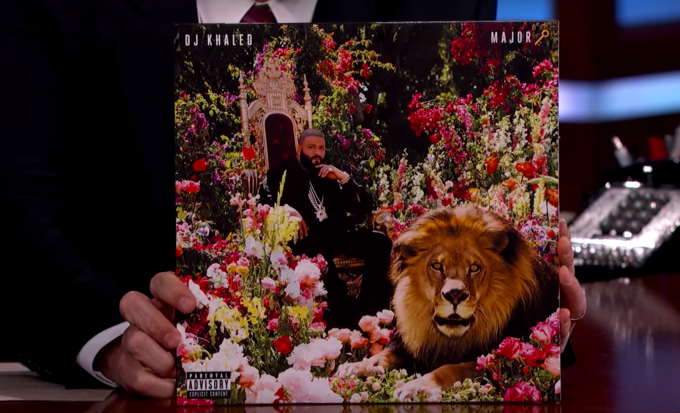 "Any time is always the right time," Khaled told the audience when Kimmel asked if the time was right to unveil Major Key. "The key is it's always that time. The other key is the more we show it, the more this show is going to continue to be bigger and bigger every day." Kimmel then somehow managed to continue the interview, despite having just received the most crucial co-sign in late-night history.​
According to Khaled, the cover perfectly captures the essence of 2016 Khaled. "The album cover is 100 percent authentic," Khaled said. "What I represent from my spiritual vibes to my beliefs and not just that, but a certain energy that I keep around me. Positivity but, at the same time, as a king. A positive king."
But Khaled didn't merely drop by Kimmel's TV home to implore society to embrace the key. He also had other things to discuss, mainly his forthcoming baby son and President Barack Obama's gift of cloth talk. Khaled told Kimmel he's stoked about raising a son in the world of keys, revealing he's actually planning to Snapchat the entire birth. Damn. Profound.
"We had cloth talk," Khaled said of his recent meeting with POTUS. Kimmel, apparently uninformed as to the concept of cloth talk, inquired further. "[It's] the realest talk ever," Khaled explained. "The holy grail. Not everybody can talk cloth."
Major Key will, of course, improve society's general living conditions when it drops later this year. Khaled generously hit the 'gram after his Kimmel appearance to break down the album's importance even further: