Guns N' Roses frontman Axl Rose has issued a DMCA takedown notice to Google to remove certain images of himself, according to TorrentFreak.
On May 31, several takedown notices were issued that specifically referenced a photo of Rose taken at a concert in Winnipeg, Canada, in 2010. The photographer, Boris Minkevich of the Winnipeg Free Press, was reportedly not aware Rose was trying to remove the image from the internet. 
"Copyright image of Axl Rose," the notices sent on behalf of Rose state on the Lumen database. "Please be advised that no permission has been granted to publish the copyright image so we cannot direct you to an authorized example of it."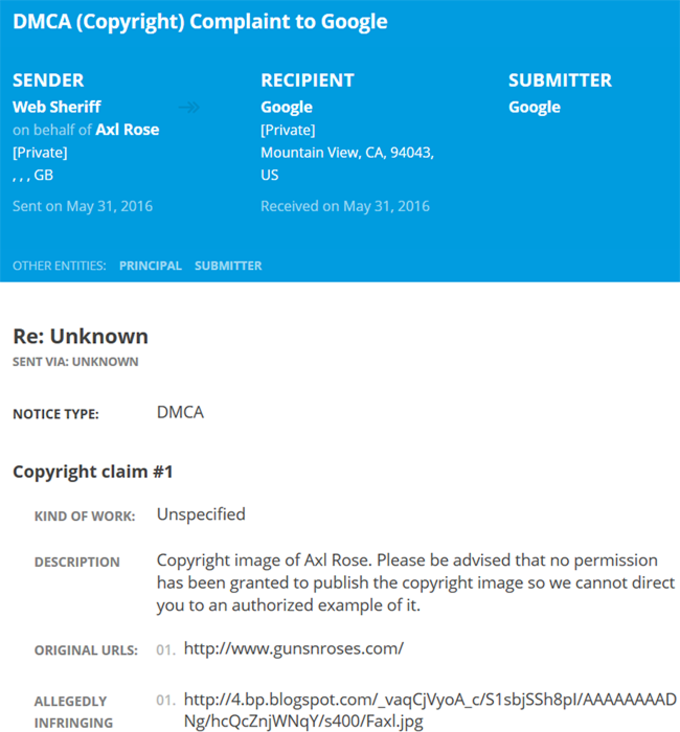 If you don't remember, a picture of an out-of-shape Rose performing during a 2010 show began making the rounds on the internet. It wasn't long before people transformed the image into a meme that usually included food puns and Guns N' Roses lyrics and mocked his weight. The meme became known by many as "Fat Axl."
As of press time, Google has not taken down the pictures of Axl Rose, which are still showing up in Google search. This isn't the first time a celebrity has requested pictures of them be taken down. Beyoncé's camp asked Buzzfeed to do just that following her Super Bowl performance in 2013. However, those photos are still all over the internet. Only time will tell if Rose's takedown notices are accepted, but it's hard to see that happening. Instead, Axl should just focus on his current stint as the lead singer for AC/DC on tour. Google declined to comment on the takedown notices.
Dear Axl,

The easiest way to have more fat Axl memes is to tell people they can't post them. #FatAxl pic.twitter.com/34MF3doCMG

— Chris McCullough (@GrigLager) June 6, 2016
AXL ROSE SENDS DMCA NOTICES TO GOOGLE TARGETING 'FAT' PHOTO https://t.co/SftGVvx3Sz pic.twitter.com/XHIgcV1Bx4

— Speak You Mind (@speakyourmindss) June 5, 2016
Fat axl rose memes haha pic.twitter.com/QXhtQVOBAv

— Joe Seph (@KillJo3) April 26, 2016
Haha. Fat Axl Rose memes. @Papi_sez pic.twitter.com/CvbWVwRax0

— Xtian Baal (@BaalXtian) March 2, 2016
I have absolutely nothing to say tonight, so here's a picture of fat Axl Rose. pic.twitter.com/SThq7Y75sh

— Michelle Wolfson (@michellew_) January 6, 2016