What did Jay Z do?
The question has been pinging across texts and tweets since the normally ultra-private Beyoncé possibly aired her marriage's dirty laundry out via the arresting visual album LEMONADE. One of the album's more memorable scenes features her husband in a state of intimacy and vulnerability no one who's followed his career thus far was prepared for.
"Big homie better grow up," Beyoncé chides on "Sorry," the fourth track of her three-act exercise (or exorcise?) in marital catharsis. It's not the flashiest line on the album, but it's quietly one of the most biting. By using one of Jay's most popular monikers, it subtly hints that the album could be autobiographical. The basic assumption: Hov cheated, Bey spiraled and considered cutting her losses, and the foundation of their marriage gave out before they ultimately saved it from total collapse. But not without Beyoncé processing the entire experience artistically with her most engaging album yet. The question now becomes: will Jay Z do the same?
Jigga is gearing up for a comeback. It's been almost two years since his last full guest verse, and nearly three since his last solo track. He was more active in the three years that he was technically "retired." He's been aggressively radio silent. Too silent. In recent months, those of us who know how Jay works took it not as a sign of another retirement, but instead as the surest signal that he was plotting in secret. In a climate where, at least judging from the cynics on Rap Twitter, the community is ambivalent on whether the game needs one more album from the God MC, Jay's next move was always going to be met with intrigue. In this post-LEMONADE world, though? We're waiting with bated breath.
Whatever path he decides to take musically, now there's one clear, crucial directive: He needs to get personal—more personal than ever. It's the only way he can regain face with a nation that believes he almost compromised a loving marriage with the baddest woman in the game. It's also the only way the album will be worthwhile.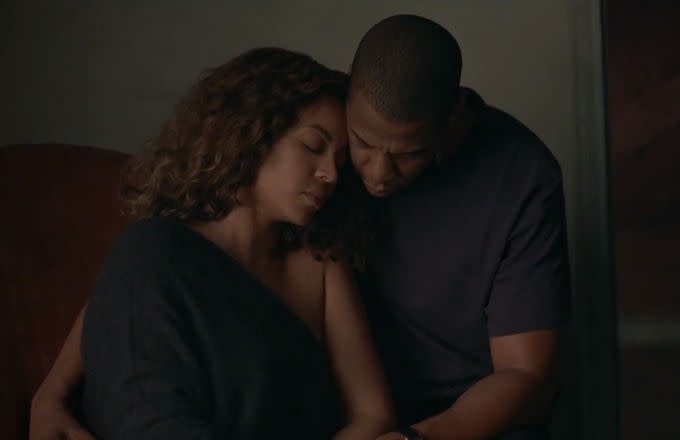 Is LEMONADE one big airing out? How much is fictional role playing? When Jay appears in the visual for "Sandcastles," is he co-starring in the story of his own infidelity, or playing a role in a more novelistic endeavor? There's a 97 percent chance that the Carters will never address this directly. And there's a 100 percent chance that they knew what the Internet reaction would be. But as Beyoncé's done on her last two albums, Jay needs to let the art speak. And it needs to say more than how rich he is, how no one in rap will ever turn into Jay, how you're all hating ass crabs for dragging Tidal, etc. (Sidebar: Maybe he should unearth this song from the vault?)
To his credit, he's slowly been peeling back the curtain on his life in his lyrics since Watch the Throne; references to his insecurities, fears, and yes, Beyoncé, abound. And he may have even been the first to address trouble in paradise on Magna Carta Holy Grail—released five months before BEYONCÉ—​on a song the album's detractors probably don't even remember. The track is "Jay Z Blue," less an ode to his daughter than a pre-apology, the complete opposite of the "Isn't She Lovely" vibes of "Glory." Instead of beaming joy at a new full family, Jay sounds fraught with tension and paranoia.
Earlier on on that album, on "Part II (On the Run)," he raps, "My baby mama harder than a lot of you niggas/Keep it 100, hit the lottery, nigga." Just three songs later though, he's frank and direct: "This relationship shit is complicated." His day-to-day marital status is marked by uncertainty: "We ain't speaking every day, I fucking hate it." This is the same woman who, on Throne's "That's My Bitch," was described as "goes harder for a nigga than a nigga, go figure" and told him to "keep my own money if we ever did split up"—a sentiment repeated almost verbatim on LEMONADE's "Don't Hurt Yourself"—in a verse tying Beyoncé's awesomeness to an overarching under-representation of beautiful black women in art and media. 
Is Hov ready to let us in? His new album might feel hollow if he doesn't.
Fast-forward to "Jay Z Blue," and its refrain of, "Apologies in order, to Blue Ivy, my daughter." Throughout he laments his lineage of errant fathers, bad behavior, and failed unions. If his marriage hasn't imploded yet, he sounds fearful that it won't be long until it does.
Before LEMONADE, all Jay Z had to worry about was digging deep and finding a new way to make compelling music in today's soundscape, and delivering a crucial project in lieu of another B effort that he could make in his sleep. His new music has to deftly manage not sounding old and washed; he can't sound like a 46-year-old man riding waves too youthful for him. No small feat, especially considering whether he announces it again or not, it could very well be his last album. Now, his wife has put the ball in his court to match her by making his rawest, most intimate work to date. Their marriage may have always been fine; their marriage may have endured tumult thanks to him only to come out on the other side. Whatever Jay did or didn't do, he clearly has lingering demons, as evidenced on "Jay Z Blue." Is Hov ready to let us in? His new album might feel hollow if he doesn't.
Jay is notoriously private, but subtext or not, even his appearance in "Sandcastles" suggests a tentative step towards more public displays of intimacy. The visual was directed by Mark Romanek, who also helmed MCHG's "Picasso Baby," the "live art" experience in which Jay enjoys a series of spontaneous interactions with random crowd members. In an interview, Romanek shared Beyoncé's opinion of it: "[She] was really effusive and sweet and emotional in her reaction to the video. She felt that it really captured a side of him that previously she was only privy to."
Meanwhile in a conversation about LEMONADE, the writer dream hampton, who is friends with the couple and has known Jay for the better part of two decades, swerved any infidelity assumptions, instead zeroing in on the home movie footage during "All Night Long": "Having been his friend for the past 20 years, this is my favorite phase of his life. This phase where he gets to be deeply connected with his daughter. He healed his relationship with his father at the very last stage of his father's life; his father was dying. And that made it possible for him to be in his first real love relationship, which is with his wife. And to see him be able to do more healing around that karmic energy, with his own daughter, is beautiful. Beyoncé must really love that about Jay."
In this regard, it would seem like the "Sandcastles" video is less about Jay earning his way out of the doghouse than it is Beyoncé continuing to tease more displays of vulnerability out of him.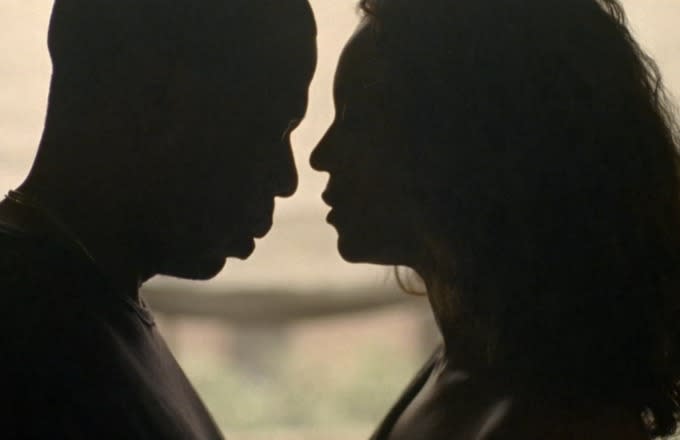 Regardless of what he did or didn't do, the elevator lingers. Rumors swirled and not just on gossip sites. Now even the most respected publications are making assumptions in their LEMONADE reviews. The internet is going full Spotlight to unveil "Becky." Some fans have reportedly booed his appearances in home movies played during the "Formation" tour. The fact is, a whole fuckton of people think he hurt Beyoncé IRL. It needs to be addressed.
No one [reasonable] is expecting gravitas bars on a song with Future and DJ Khaled, or an "All the Way Up" remix. But to drop an album focused on hits, sans substance, would appear stubborn and indignant; it would risk alienating an audience that has already become dubious about Jay and his intentions. Exploring his vulnerabilities would make him human again—and energize those fans who feel that, after twelve albums, they've heard all they need to hear from Hov. This new album needs a "Song Cry 2." It needs something as raw and self-lacerating as "You Must Love Me." It needs to be packed with moments of clarity. Thirteen years ago, in one of Jay's first references to his relationship on wax, he rapped in trademark subliminal fashion, "Press wanna know about the daughter of Matthew." On album 13, we all want to hear about that—and everything else.