UPDATE 4/4/2016: According to TMZ, police responded to the video shoot in riot gear to shut down the crowd, though they apparently didn't know it was for a music video. The report states that YG and Nipsey finished the majority of the footage for the video before the shoot was shut down.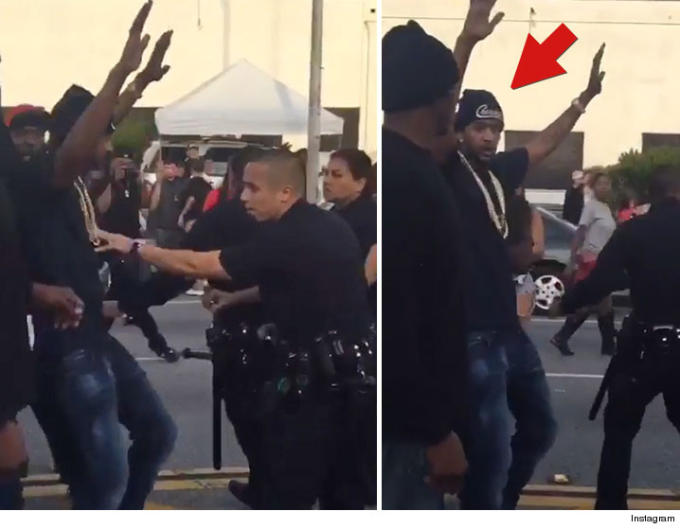 Read the original story below. 
YG and Nipsey Hussle's "FDT" (Fuck Donald Trump) is their politically-charged record about addressing Donald Trump and his controversial presidential campaign.
In a recent interview with Billboard, YG and Nip explained that the record came together because of his comments about undocumented Mexican immigrants.
Nipsey Hussle: Overall just hearing his stance on Hispanic people, especially being from L.A. Him being so vocal and one-sided on how he feels about Mexican people as far as categorizing [them] as illegal immigrants and that they make no positive contributions to the country. Number one, I'm from L.A. so I grew up with Mexican people and number two, I see Mexican people at all my concerts that really support. I felt like they needed somebody to ride for 'em.
Honestly, that was one of the things that really turned me off to Trump aside from me having an assertion that he was just a privileged rich dude that got an out-of-touch view of the world. That made me [feel] like dude is definitely out of his mind and our country sounding crazy for even taking him as a legitimate candidate. It says something about the American people if he do actually get elected.
Earlier today, Nipsey and YG tweeted a location around Melrose Ave. and Fairfax Ave.  for their video shoot. Naturally, a large crowd gathered to show their support for the rappers and their message in "FDT."
You can watch clips from the video shoot below. Look out for the video soon.