How the Emoji Fame App Wants to Help Artists Make Money Off of Their Own Emojis
Emoji Fame gives artists the opportunity to license their own emojis. Complex Original
Image via Complex Original Michelle McDevitt and Gavin Rhodes have been running Audible Treats, a Brooklyn-based entertainment firm, since 2004. They know the business, and as president and director of marketing, respectively, have seen the rise in how artists are using the internet to make their brands bigger than ever. These days, between repping artists like T.I.., Iamsu!, Sir Michael Rocks, Saba, Nef the Pharaoh, Souls of Mischief, and more​, they're launching their very own emoji app, Emoji Fame. They linked up with a development team to create the only officially licensed emoji app that has officially licensed artists and allows you to use the custom emojis as you would normal emojis. Unlike other apps, these emojis are officially licensed by the artists, too. 
"It's something I've been thinking about for about a year and a half," McDevitt told Complex over the phone. "I've embraced emojis from the get go. There's such a gap between what existed and its potential, so we looked into it." Over the next year, the two worked through development stages to create artist-branded emojis, to assist with album rollouts, viral tracks, and essentially, helping artists promote themselves—and their music—online. " We work in an industry and we realize that people need to make money, so they should be in charge of their image," Rhodes says. "It makes sense--fans will be paying and it puts the artist in control. From our standpoint, a lot of companies doing sticker apps are coming from technology startups, which is disruptive and they don't care about licensing."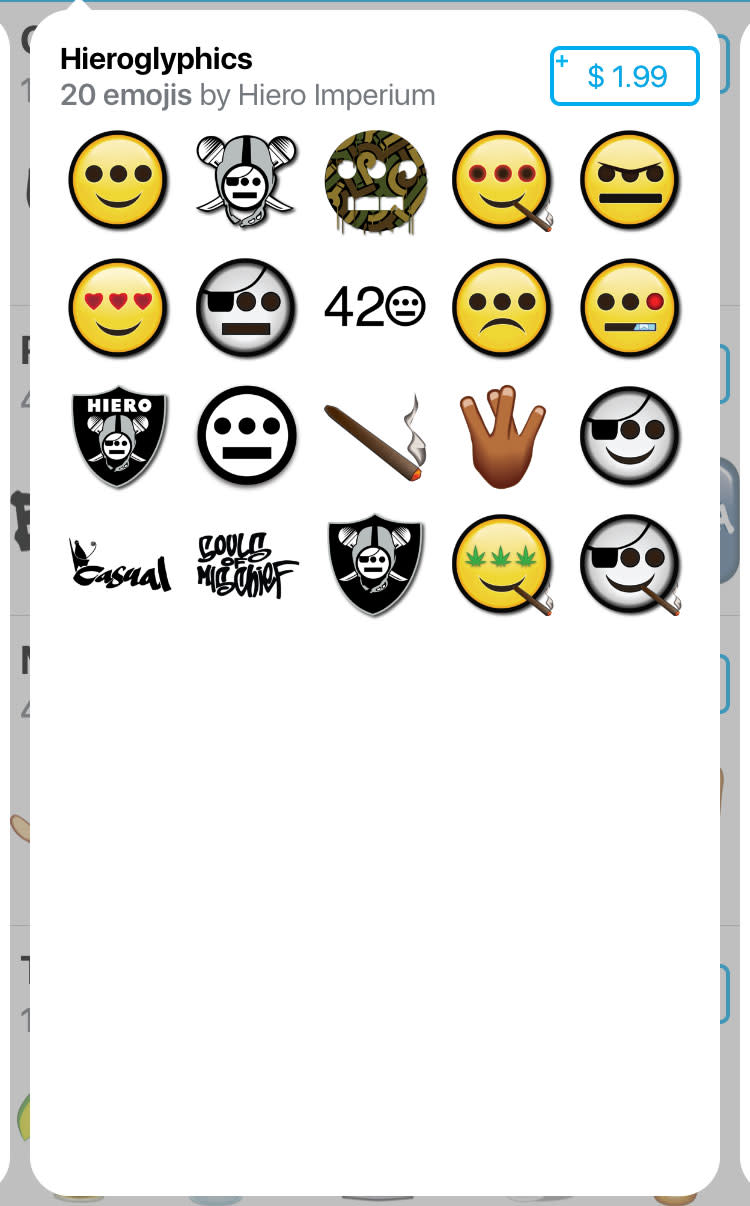 One of the first artists they reached out to create custom emojis for was Hieroglyphics. "They're independent and saw that it's a new revenue," McDevitt said. Now they've been in talks with Mike WiLL Made-It, the Roots, YG and many more. 
"As far as financials go, most of what we're doing right now are $1.99, so artists get a share of that," Rhodes said. "For some artists, you can charge more. That's revenue that was never on the plate before. Almost more importantly, in terms of engagement, we can put out a new emoji to do with a new video that you put out the day of." 
What they've faced—similar to other emoji apps like Kim Kardashian's Kimoji app—is the technology restrictions based on the iOS system, which makes these emojis not available for use on Instagram, Twitter, and other social platforms. While Emoji Fame is the only aftermarket emoji company that can combine text with an emoji in the same line, the app works best with texting and email. "Our hope is that if enough people want it, the iOS development team will listen and come up with a good work around with custom emojis," Rhodes said. "Emojis are the exact same thing as fonts. There's a certain underlying code for emojis."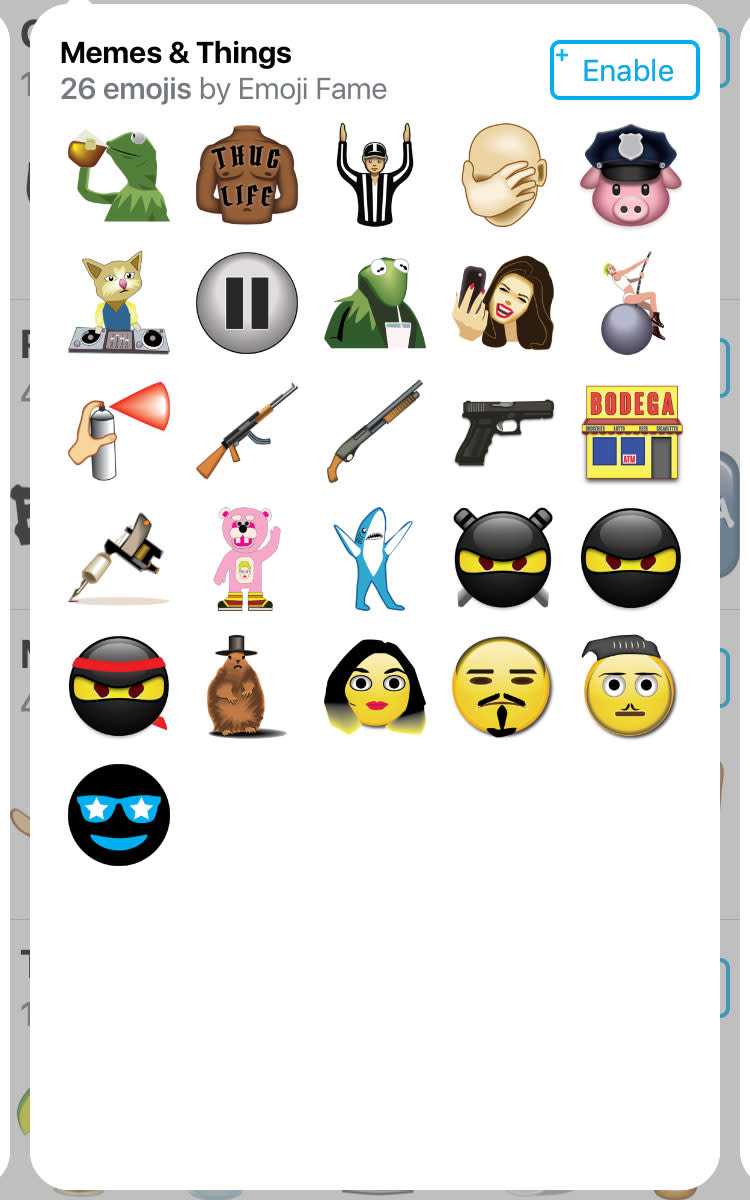 At the moment, the artist-branded sets available are Hieroglyphics, Dizzy Wright, and Funk Volume, among a handful of other one-off emoji sets, too. You can take a peek at some of those sets below, and check out Emoji Fame's site, Twitter, Facebook, Instagram, and of course, the iTunes store right now.