Grime is getting political. Whilst always representing a scene that sticks two fingers up at the establishment and seeks to represent a distinct sub-culture against the norm, is 2016 the year grime becomes the new flag-bearer for a standout anarchist genre? 40 years ago, the Sex Pistols released their debut single, "Anarchy In The UK", and your uncle started buying vests, ripping holes in them and dousing them in ketchup. This track became the formative sound that catalysed the punk movement, and boy did they have fun doing it. Punk-rock coincided with an abrupt end to the last of the '60s and early '70s post-war, feel-good music and politics that preceded the rise of Thatcherism, and nearly every British punk band expressed an attitude of angry social alienation. Punk would go on to spawn many bands with deeply-rooted political messages in the proceeding decades, such as The Clash, The Smiths, and Siouxsie and The Banshees.

In 2016, young people are similarly alienated from a political system that will be cutting arts funding, and limiting expression. There's an increasingly nihilistic/anarchistic undertone to grime and social media right now; Nihilist Memes currently has over 200,000 followers on Facebook and Cadell, in a recent freestyle, stated: I'm gonna die when I die so I don't really care about old nor brave. This has coincided with an unprecedented rise of protests in London on political matters towards the end of 2015, with a particular rise of distinct anti-capitalist groups that young people have been at the heart of. 
The signs that grime is becoming more than just a sub-culture are there for all to see.
Whilst London has been a hotbed of protest recently, it's also sparked a new wave of reaction in its own offspring—grime. Young people will always care about music. When musicians engage politically, it can be a catalyst that people react to. Grime, from Peckham to Penzance, has blown up in appreciation in 2015, and will continue to rise in 2016. But a recent trend has emerged in some of the scene leaders' latest offerings; a distinct political message which is both angry and anarchistic in tone, much like the punk of 40 years ago. But it's not just Britain's youth that are feeling it—Frankie Boyle's politically-charged writing for The Guardian has been resonating with a lot more of today's adolescents than his previously semi-funny (but largely cringe-worthy) obscene patter. He may be a middle-aged comedian from Scotland, but his penchant for grime has been well-documented​. It might seem like a random, or even strange connection, but there's a tie between grime's anti-establishment nature and the disillusionment within his political writing. 
The murmurings were there in 2015: during his car park shutdown in Shoreditch, Skepta moved fans to shout "fuck the police" whilst donning a coat emblazoned with Anarchy Is The Key. The BBK MC also rapped on "Back Then" that he dashed his voting card in the bin—which is the most direct example of his disapproval with the system. "Rebel" star Ghetts makes the point that grime is inherently political because it sounds-out experiences from those who aren't always represented: "You could say that grime was and still is political," he says, "because it speaks up for a culture that didn't get heard. That's why people took to it in the first place."
Towards the end of 2015, as the UK decided to bomb Syria, both Stormzy and Skepta were vocal about their lack of respect for the government: "These politicians should put on their combats and go Syria themselves," tweeted Stormzy, with Skepta offering up a simple "SMH" for his verdict on Cameron's decision for more bloodshed in the Middle-East.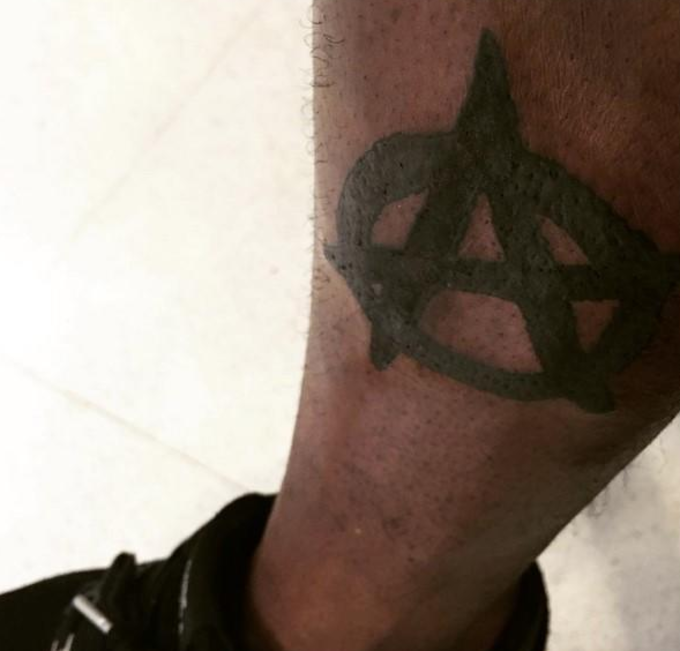 Skepta kicked off 2016 by getting the above tattooed on his leg, literally a week after Stormzy dropped "Hear Dis" (with Chip) and told us: They said I can't tweet bout the government, why can't I be free any more? I will extort these racist clubs and feds who can't move me any more. The signs that grime is becoming more than just a sub-culture are there for all to see, and with its influence at an all-time high, does its position as a dominant genre for representing British youth mean it will become the true answer to the punk of 40 years ago? Grime in 2016 looks set to throw up more than just standard "fuck the feds" references. There are more anti-establishment, anti-system, and anti-political backlash references against a political system that does not resonate with today's youth.
One MC in particular, who's both still growing up in the midst of political apathy and grime's resurgence, is Novelist. Now 18, he's split from The Square and is setting his own agenda away from clashing blokes down at "Lewisham McDeez". After unleashing the hard-hitting "David Cameron Riddim", Nov has now dropped "Street Politician" (produced by Nick Hook) calling out David Cameron not just in the song's sample, but also in its lyrics. He's also set up an anti-establishment group, Tugg Set, which is no doubt set for more anarchistic vibes this year.
No one's better placed to incite this new form of anarchism in music as a neo-punk movement than the likes of young, fresh MCs like Stormzy and Novelist, with older figureheads Ghetts and Skepta getting behind the message. Novelist has clocked that, in 2016, it might well be time for grime to get fully anarchic and inspire this generation to protest against a political system that continues to disregard their interests.