On July 15, Young Thug was arrested by U.S. Marshals in his Georgia home under allegations that he threatened to shoot a mall security guard. As serious as that sounds, it was chalked up as just another incident in a long year of controversy for the 24-year-old Atlanta rapper. His friendship—and working relationship—with frequent collaborator Rich Homie Quan had deteriorated; barbs were thrown by both men during shows and on social media. Thug's relationship with his father figure Birdman would phase out as well after the shocking and disturbing allegations that they conspired to kill Lil Wayne. Rich Gang, as we knew it, was over. And the issues in his personal life were only compounded by the mess of his music rollout. His debut "retail mixtape," titled Barter 6, was mired in controversy with Lil Wayne. Plus, just a few weeks after its release, over 100 songs from Thug's catalog were leaked online. From the outside, it seemed like Thug's work and personal lives were spiraling, and as his circle got tighter, cracks started to form as rap's weirdest new star became his own worst enemy.
Thug's most trusted friend—and engineer, DJ, and executive producer—Alex Tumay, was out of town for less than 10 hours when he got a call that Thug had been arrested. "They seized everything," Tumay says. "Hard drives, computer screens, everything. We had to re-buy it all. Luckily, I make copies of everything, and I had all of his music with me." His foresight single handedly saved hundreds of Thug songs from simply just becoming police evidence. 
Long before Metro Boomin persuaded Tumay to work with Young Thug on 19 and Boomin, the 29-year-old Queens, N.Y., native spent most of his teenage years in Ft. Lauderdale, Fla. His father, a classical pianist, influenced him to play piano and guitar growing up. "But rap was all I listened to," he says. "I remember having FUBU jerseys and all that, but I was into heavy metal too." He went from high school band to small garage bands. "When I decided I couldn't find a major in college, I dropped out and I was at home working restaurant jobs," he says. "My buddy pulled up Logic one day, and I tried to use it, but I had no idea what I was doing, so I enrolled in Full Sail University to learn how to. It was like a one-month decision."
After Tumay graduated in 2010, he moved to Atlanta and started working at Maze Studios, which was frequented by producer Ben Allen. The two started working closely together, and Allen, who has produced for Youth Lagoon and Animal Collective, taught him the ropes for almost three years. "It came to a point where there was no room for growth there," he says. "There was a competition between me and, like, three other dudes. Obviously, I didn't win, and I was on the outs with music [again]." He went around to every studio in Atlanta with his resume, taking on internships, and eventually linked with his manager, Monica Tannian of Milk Money Consulting, through his work with Allen. She eventually helped him get a gig at Dallas Austin's legendary DARP Studios, where he was brought on as a technician. "I ended up rewiring the whole studio. Just being [in the studio all the time] brought me these opportunities. That's the trick in this industry: If you're just there, you get better," he says."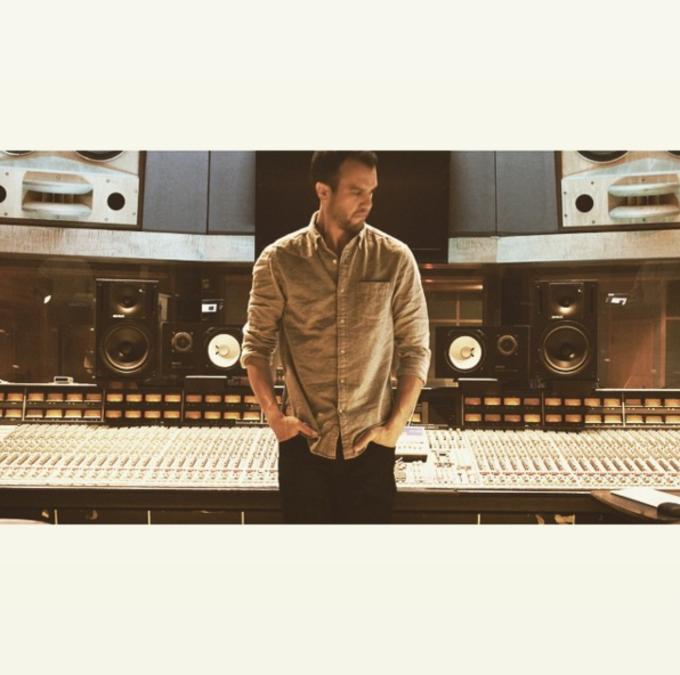 Just being around the studio led to his work with artists like T.I. and Hustle Gang, and eventually, Waka Flocka Flame, PARTYNEXTDOOR, and Tinashe, among others. Tumay's ability to learn quickly and adapt on the fly was put to the test in 2013 when he started working more closely with Thug––who is extremely elusive when it comes to being in the studio. "We'd do a song, he would hand me a hard drive, and then be gone for weeks. [We had] a safe in the studio just for him," Tumay says. When they first started working together through mutual friend Metro Boomin, things were more tense. "We used to get in a lot more arguments about music. Slowly but surely, Thug became more comfortable working with Tumay. Together, they knocked out hit songs like "Danny Glover/2 Bitches" as well as the entirety of the Rich Gang mixtape.
The key to earning Thug's trust was being able to keep up with his speed and unorthodox way of recording. "He records in a way that nobody else does," Tumay says. "I recommended [another engineer] because I was sick once, and he was like 'How the fuck do you do this?' because the way he records fucks with your whole idea of how you record people. He'll have me punch him in with empty space before the song because he wants to rap before the beat comes in, then pick an arbitrary time to start and he'll nail it. He has an absurd sense of timing that no one else has."
Even as Thug was reaching a peak in his mainstream visibility with Quan and Birdman, Tumay was steadily earning trust and maneuvering in the shadows. He was holed up in a Miami studio that Birdman bought out for months, recording and mixing more than 100 songs for Thug and the collective of artists that were around him. The fever pitch of Internet hype led to a huge demand for Thug's music, and in a truly fascinating amount of backdoor dealings between message board members and bystanders in the studio, a lot of the songs he worked on leaked last spring. This massive debacle that took the wind out of the sails of his Barter 6 mixtape––which Tumay says is his "most important record" and led to him speaking out on the Hip-Hop Heads section of Reddit, too. Had the leaks not appeared, the release schedule of Thug's music may have looked a lot different this year. "Half of those songs could have been huge, but the fact is that the surprise is a huge part of the success [of music]. How you deliver and package the music is so important," Tumay says.
The bad news didn't stop there, as Thug's personal issues were also coming to a head at the same time. After Thug's arrest in July, police searched his home and hit him with drug and weapons charges on top of a "terroristic threats" charge. Thug was released from jail two days later on $10,000 bail, and according to Tumay he was surprised at how fans were clamoring for more music immediately after his release. In order to keep up with the demand, the two got right back to work. He and Tumay hunkered down in his home studio, one of the only two places he records now, and prepared for the release of Slime Season. The mixtape was originally supposed to be a collaborative effort between Thug and London on da Track. Following a different set of rules—no phones in the studio, no snippets on Periscope, no emailing songs—Tumay pieced together the project and even re-engineered a number of leaked songs so they would sound nothing like they did before. "Prior to this year, I wanted to output less," Tumay says. "Then the leaks [happened], and people saw the level of quality we had—so we had to take control of what we lost."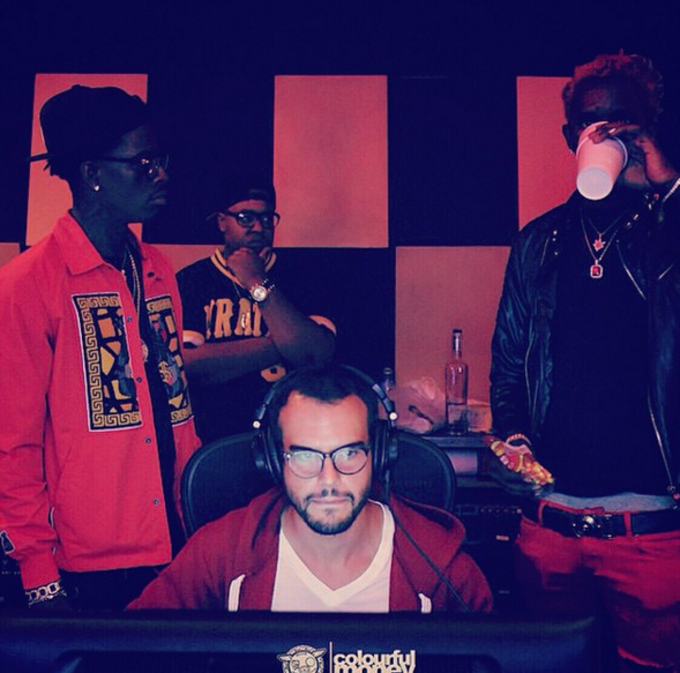 The only song that Young Thug was adamant about adding to the project was a collab between him and Lil Wayne titled "Take Kare." The song was recorded in the summer of 2014, long before the tensions between Wayne and Birdman spilled out into the public. Tumay says that Thug didn't even know that Wayne was going to be on the song and that Birdman kept the feature a tightly guarded secret. "He recorded that song in Miami [before Lil Wayne's engineer sent the vocals to Birdman], and [when he came back to Atlanta] they gave me a bunch of sessions. One of them was called 'Take Kare,'" Tumay says. "Birdman sent me a bounce and told me to put headphones on. I mixed it and Bird went to get Thug, so I played the song. When Wayne comes in at the end, [Thug turned] around and put his hand on his mouth like 'Oh shit.' It's all we listened to that night, for six hours straight."  
While the Slime Season mixtapes kept fans pleased this year, and with the leaks under control, Tumay is looking to be more hands on with the release of Thug's long awaited, debut album, Hy!£UN35. This year, Tumay has worked on major projects from Travi$ Scott, Lil Durk, and Future, and his role has gone from primarily engineer to executive producer, tour DJ, and more. Thug has continued to work on lots of songs, some of which could end up on that first official album, but even if he says he has 10 projects in the stash right now, Tumay says they're just "in flux until they are complete."
The strange, controversial rise of Young Thug has been interesting to watch over the last two years. From obscure Atlanta rapper to weirdo critical fave to the Rich Gang rise and fall, Thug's career has been exhausting to keep track of, let alone live. But thanks to Tumay, and the bond between him and Thugger, it seems like he's back on the right path, just in time for the release of his debut LP.