By now, everyone in the world has seen the naked photos of Justin Bieber vacationing in Bora Bora—including his dad, apparently.
Early this morning, Jeremy Bieber used Twitter as a platform to voice his fatherly pride. Plot twist: he wasn't congratulating his son on the success of "What Do You Mean?" or his cool new hairdo. Unless he was actually remarking on the girth of one of Bieber's many pets, it looks like his dad intended to compliment him on the size of his genitals in a roundabout way.
Most Canadian fathers marvel at their son's accomplishments with a hearty pat on the back, or a single tear falling slowly down their cheek as you hoist a minor hockey trophy in the air for the first time.
Jeremy Bieber, on the other hand, lowkey tweets about his son's penis.
And, because this thing will get deleted as soon as Scooter Braun finds out, we've taken a screenshot for posterity: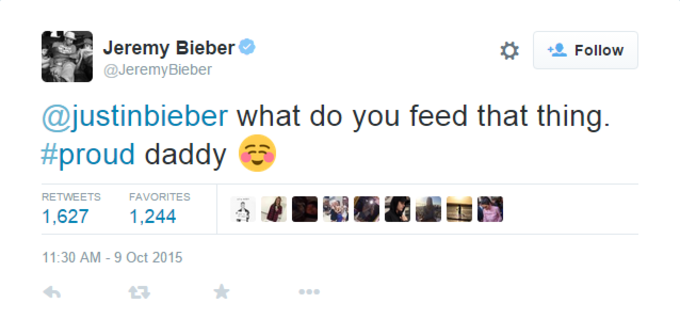 It's official: Jeremy Bieber has zero chill.