Move over Chief Keef and Lil Herb: emerging out of the thin air of the Internet comes a new rapper draped up in Louis V and True Religion, flashing three-figure belts, brandishing guns and repping that drill scene: Slim Jesus. The 18-year-old Hamilton, Ohio, native's video is slowly but surely taking over Twitter this week.
In a phone interview with Complex, Slim Jesus talked to us about the early stages of his rap career and revealed that "Drill Time" is the first song he's had take off. "It got like 4,000 in one day and that was crazy to me already, and now it has like hundreds of hundreds of thousands." Slim has only been seriously rapping for the last couple of months, but has been making music for a few years now. 
As far as his name, he said his friends started calling him Swag Jesus and over time it transformed to Slim Jesus. "Yeah, and we flipped it and made it Slim, for obvious reasons, I'm skinny as hell. But uh, yeah I just kind of stuck with it. It made people mad for shock value. The name worked." Slim said that he makes drill music now because that's what he listens to regularly, especially Keef, Lil Bibby, Lil Herb, and more. "Ugh, I don't know, that's just the music I fuck with," he said, though he resides in Ohio and not Chicago, where Drill music hit the mainstream.
However, Bibby caught word of the song and shared it on his own Twitter. 
He's bridging that vintage Slim Shady look and contemporary drill flow, all while he's posted up with his boys rapping about how he'll steal your girl and lay you flat out if you try him, in a video whose mise en scene recalls that of Chief Keef's seminal "I Don't Like." And the best part? This disclaimer, which Slim said was because there are minors in the video and "They gotta keep the cops off that video."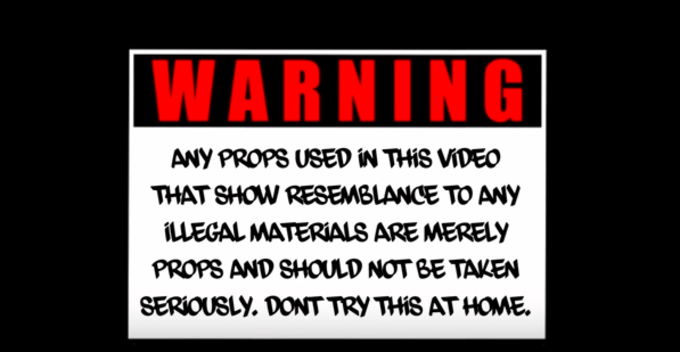 Have to respect Slim J for keeping it all the way 100. There's more to come from the self-proclaimed Young & Ignorant project soon. Slim can be found on Twitter here.