Kendrick Lamar's adoration for the creative work and cultural importance of the late Tupac Shakur is well-documented, with Lamar professing his emotional attachment to the Tupac discography in both interviews and and his own work. As Sunday marks the 19th anniversary of the iconic lyricist's tragic passing, Shakur's estate updated their official website to include a touching tribute from Lamar, detailing his introduction to the legend as a child and that meeting's continued influence on his career today: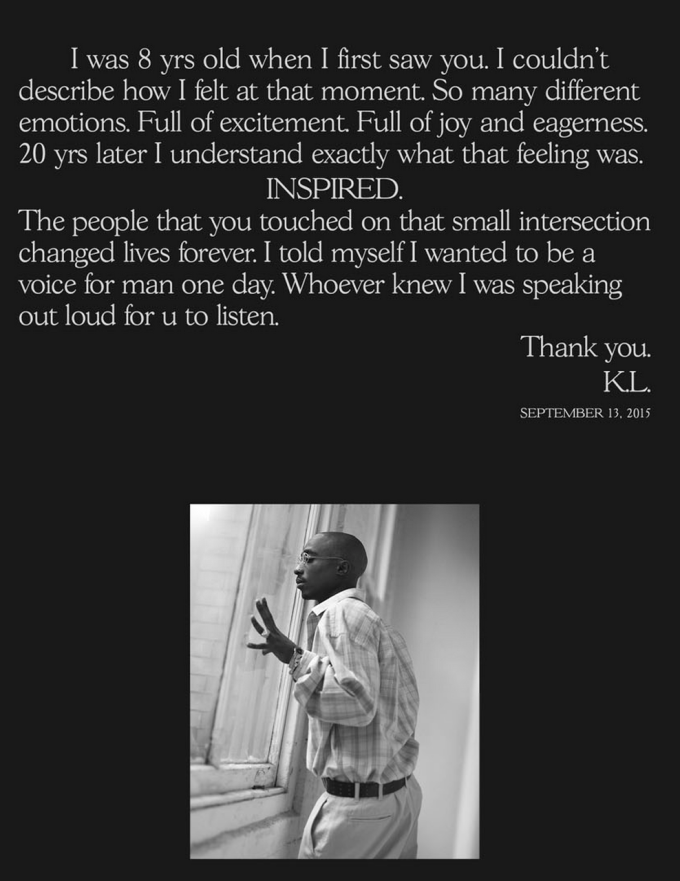 Tupac makes an appearance of sorts on Lamar's To Pimp a Butterfly closer "Mortal Man," depicting a fictional conversation between the two. Shortly after that instaclassic's release, Lamar also revealed that the original title was actually Tu Pimp a Caterpillar, the abbreviation of which (Tu.P.A.C.) was another nod to Lamar's earliest inspiration.
In 2011, Lamar revealed that Tupac once visited him in his sleep:
I was sleeping one night and [Tupac] said, 'Keep doing what you doing, don't let my music die..." The shit scared the shit out of me!...I'm doing it for the people around me, my city of course and a bigger power, and that's to continue the message that he tried to carry.
R.I.P. Tupac