The second annual Raurfest sold out two days before the event was scheduled to take place. For an artist whose meteoric rise to fame is puzzling to some, his pull in the city of Atlanta among a certain sect is undeniable. 
Last year's Raurfest went down at a nameless warehouse in the Castleberry section of the city and was free to the public. The only material from the neophyte MC fans had to go off of was the moving "God's Whisper" video and the track "Cigarette Song." Still around 500 curious kids showed up, with another 200 or so who had to be turned away because of fire code restrictions. It would be two months later before he dropped his whimsical indie debut, Indigo Child, a trip down the rabbit hole, which provided a bountiful clash of rap, soul, folk, and rock aesthetics.
Almost exactly 365 days later and the scene has changed. The Atlanta Freight Depot, a spacious brick venue located near Underground Atlanta, is ground zero. And this time Raury brought friends, with a full slate of divergent artists on deck.
With the announcement that 600 tickets would be available at the door, by 6 p.m.—the scheduled start time on the flyer—there was a growing line of overwrought fans coiling around the building. All ready to Raur.
The previous night, Raury's label, LoveRenaissance, hosted a private dinner at Big Studio (King Plow Art Center) in Atlanta, which featured one of the most eclectic groups of young creatives, business people, and socialites you'll find at a rap-related event in ATL.
Earth tones, pointed-toe shoes, skin-tight pants, natural hairdos, form-fitting shirts, ripped jeans, dreads, and braless breasts abounded. Parmesan-encrusted macaroni and cheese balls, what looked like chunks of dried seaweed, and chicken and waffle kabobs were among the dishes served on faux wooden plates and silverware adding to the ambiance. In the background, an Asian-American female DJ spun a cohesive mix of well-known and obscure hip-hop bangers. 
"Atlanta has a big music trap scene, and a big strip club scene," said Sean Famoso, Raury's manger. "We are trying to provide something different."
Raury showed up rocking his now-signature hat and sporting a mile-long smile while greeting guests and mingling with those in attendance. Yet, the 19-year-old Columbia Records signee who has been labeled as one of the figureheads of the New Atlanta music scene was focused. 
"I'm feeling amazing about tomorrow," he said, partially drowned out by the music blaring from the speakers. "Everything in my being is telling me things are going to change for me around 1 o' clock."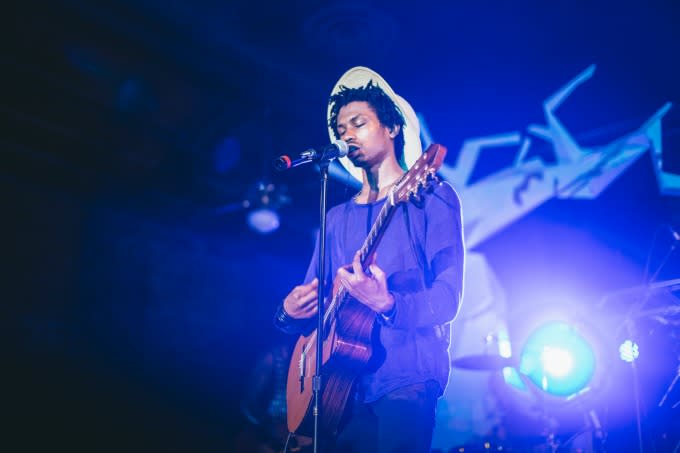 The show starts slightly behind schedule as fans of all races and backgrounds slowly start to pack the venue. Atlanta's consummate hype man, Fort Knox, a chiseled individual with a penchant for getting crowds to break the knob off, is already on duty. "Let me hear you say, 'Raur!'" he gruffly yells to the crowd who responds in kind. 
Off to the side, a merch booth is set up with shirts. One is tie-dye and reads "RAURFEST" with an emblazoned image of the MC sitting cross-legged, playing the guitar. Another contains a simplistic drawing of a cartoon face along with the phrase, "We Are the Saviors," a line from his most widely known single, "God Whisper." Raury's band, aptly named the Band of Brothers, warms up on stage.
The opening acts, all A-town talent save for one, are as diverse as the crowd, ranging from rap groups (EarthGang and Two-9), a pop vocalist (Vivian), soul singers (Marian Mereba, India Shawn, and 6lack), trap rappers (Money Makin' Nique and Key!), and a rock band (Hello Ocho), who all get equally hyped reactions from the now-festering congregation that has grown to nearly 2,000 people.  
The moment when Fort Knox asks if the crowd is finally ready to see Raury nearly an hour after he was set to go on, the energy shifts. A few minutes later Raury literally pops up on stage as if propelled by a trampoline. After enthusiastically thanking the people for coming out, he quickly hits the crowd with an adrenaline shot, jumping into the rock-inspired "Chariots of Fire."
Between two-song sets of his tracks, Raury brings out other headlining guests to do their thing. Trinidad Jame$ performs the always potent "All Gold Everything." Later on, white hot Virginia newcomer D.R.A.M. has the whole mass of humanity two-stepping to his recent hit "Cha Cha." Big K.R.I.T. blesses the crowd with "Cadillactica" and "Soul Food." Keith Ape, a Korean rapper with an entourage of surgical-mask-wearing cronies, later charges up the crowd with his song "It G Ma."
Sultry T.D.E. diva SZA makes an impressive appearance before disappearing off stage. Someone in the crowd near the front row lifts a black Allen Iverson jersey to the sky when Post Malone, the final act, steps on stage to perform his breakout hit "White Iverson."
As Raury pops back on stage, a masculine voice in the crowd yells out, "You the new 3 Stacks!," which is ironic because Andre 3000 is sitting backstage taking in the show. By that time police are milling around backstage looking like they are about 10 seconds away from meaning business, and venue staff have turned the lights on. Time is of the essence. 
The band cranks up Raury's opus, "God's Whisper." As the epic finale starts to crescendo a pre-choreographed mob of people rush the stage and start splashing water on the seemingly mesmerized front row. 
Right as he finishes his song, venue staff pulls the plug on audio. Raury defiantly tosses off his jacket—the same one from the "God Whisper" video—stands on top of a speaker and passionately yells something barely audible about "love" to the crowd. The depth of the building makes it nearly impossible for people in attendance, other than those in close proximity, to make it out. But they don't have to hear to see the change coming.
C. Vernon Coleman is a writer living in Atlanta. Follow him @Vernon_Coleman.