Toronto is a hotbed for wavy, dream-like R&B right now, with artists like AKUA, Daniel Ceasar, Wilde, and Brendan Philip all cranking out a spread of hypnotic soundscapes. On a similar tip, there's no one in the city doing electro-soul better than a l l i e. Collaborating with producers like 2nd Son, Elaquent, Nick Wisdom, and Sweater Beats, Allie's soothing, agile vocal reveals a sensitive and astute songwriter, with studio-ready chops and a story to tell.
Part way through a degree in English Literature at Montreal's Concordia University, Allie made a leap of faith around five years ago, putting academia on hold in favour of pursuing music full-time. In retrospect, what must have been a daunting decision initially now looks like a no-brainer, as she prepares to open for Illinois rapper and Timbaland protege Tink at this year's NXNE festival in Toronto. 
Atmospheric production work, and gentle, expressive vocal runs characterize her signature sound, but it's when she puts her pen to the pad that a meditative mind that's wise beyond its years takes centre stage. Listening to a l l i e is like a breathing exercise for your brain—​that is to say, it's mad soothing.
We linked up with a l l i e to talk about collaboration as therapy, opening for Tink at NXNE, and choosing to do what makes you feel alive.
(If you want to witness the magic of Tink and a l l i e at NXNE in Toronto this week, simply RSVP here.​)
I know you've worked with a pretty extensive cross-section of producers—Nick Wisdom, 2nd Son, and Elaquent, to name a few. As a vocalist, does your approach change from producer to producer when you're collaborating?
My approach doesn't really change much from producer to producer. I just always try to stay as open as possible so I can feel out what the song wants to become. Once I'm open, I can channel an energy that matches the producer's energy. With Nick, 2nd Son, Elaquent—they're so amazingly talented that they push me to elevate to the level of whatever they're creating. The way they groove is kind of otherworldly, and I think that's what we're all trying to tap into. The kind of creativity that's elusive and comes from spaces that we can't see.
You seem to have a pretty deep creative bond with 2nd Son. Can you talk a little more about that relationship, and why it works so well?
2nd Son is like a brother to me at this point. Right from our first session about 3 years ago, we knew we had this really intuitive musical connection. Now our sessions feel ritualistic. We'll cook, smoke, chill, jam and just talk for hours. Creating has been like therapy for both of us. We've gone through a lot of shit together in the past few years, ups and downs and just real life shit. I think people can feel all that in the music we make together.
Part way through an English Lit degree at Concordia, you decided to put academia on hold and focus on music. Now that you're a few years removed from that decision, how does it feel? What advice would you give to someone in a similar state of flux?
It feels like it was 100% the right choice for me. I'd say just remember that your path doesn't have to make sense to other people. I think a lot of people stay in situations that aren't for them because they're looking for some form of security. But nothing is actually secure, nothing is permanent. So whatever makes you feel alive, go do that. Do it now!
Can you explain your affiliation with HW&W? How did that come to be?
That all came about because of a song I did with Elaquent called "Interference." They loved it and asked me to do some more stuff, which led to "Maharajah" and working with Sweater Beats. I have a lot of love for their roster, so much talent happening there.
"If one person listens to my music, takes some deep breaths, and chills the fuck out, then I've done my job." – a l l i e
How does it feel to be sharing the stage with an artist like Tink at NXNE?
It feels pretty wild. She's one of my favourite new artists at the moment, so I'd be in the crowd at that show whether I was performing or not. One of the best things about being a part of the Red Bull Sound Select family is that they're so progressive with the artists that they choose to showcase. Also, every show I've done with them has had a female headliner which is pretty amazing.
Who do you take cues from, musically? Are there any particular influences that are resonating with you these days?
I'm really feeling this new artist called Nao. I've had her song "Apple Cherry" on repeat lately. But I'm always going back to old jazz and blues like Billie Holiday and Etta James, because they remind me to stay raw, and not try to emulate anyone else too much.
How do you want your music to be experienced?
I want people to experience my music however they want to experience it. If anything, I just want to relax people and put them in a meditative state. If one person listens to my music, takes some deep breaths, and chills the fuck out, then I've done my job.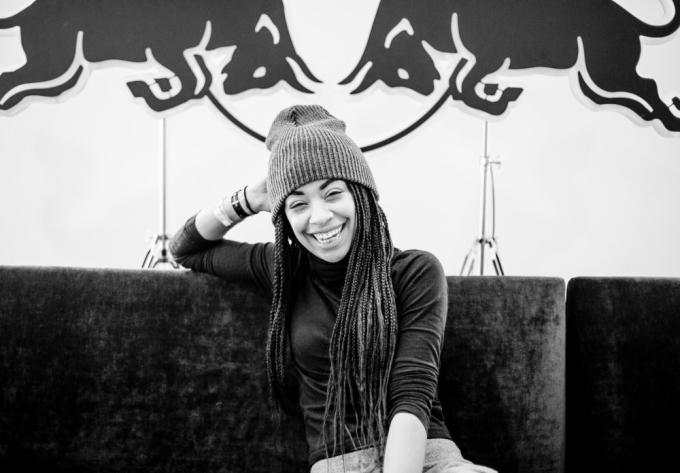 How would you describe the creative climate in Toronto? How does it compare to Montreal?
Toronto is insane right now, so much creative energy bubbling up all over the place. I think people are just starting to figure out what to do with it. There can be this very tentative vibe here, especially at shows. I'd love to see people relax a bit more and just get free. In Montreal the mentality is so open and romantic which is super inspiring, but the nightlife out there can suck you in and it can be hard to get shit done. Both cities breed so much creativity, but in really different ways.
Who are your peers in city? Who should we check out, or who do you want to shout out?
2nd Son, River Tiber, Birthday Boy, bizZarh, Charlotte Day Wilson, Keita Juma, Wilde, McCallaman… I could go on and on.
What does the rest of 2015 have in store for you?
Gonna finish my first full-length album and keep it moving.