It might seem like Keys N Krates are suddenly everywhere, but don't mistake them for an overnight success. The Toronto trio have been developing a sound, a discography, and an explosive live show since 2008. What you're seeing is the result of seven years of steady building.
Since their inception, Keys N Krates have played electronic music and hip-hop using one hundred percent live elements. With Adam Tune on the drums, David Matisse on synthesizers, and Flowinsky on the ones and twos, an immersive and engaging live show is the Keys N Krates calling card. Propelled by co-signs from electro heavyweights Diplo and Steve Aoki, the band has built a diverse cult following of trap, hip-hop, and electro fans alike.
In advance of their hometown appearance at Bestival Toronto, we caught up with Flowinsky, Tune, and Matisse, and had a chat about their controlled rise, the pains of being a live electronic band, and the saturation of the "trap" label.
Complex: You have a song in a Minions commercial, you just hit 40 million Soundcloud plays, and naked people are storming your stage. After more than 7 years of grinding, it has to feel rewarding, if not a little strange, to be where you are now. Was there a definitive moment when you knew you'd "made it"? Or is it this moment right now, being interviewed by Complex?
Flowinksy: It kind of all happened very gradually for us, to be honest. We didn't all of a sudden get good festival slots, or get one to two thousand people coming out to our ticketed shows. We have songs that are big amongst our fans, but it's not like we've ever had this one crazy hit that's taken us from 0 to 100. For us it's been a gradual grind of building a sound, a catalog, and an identity over time that's organically grown with a fan base.
"We think the term "trap" is kind of fleeting, and it's a bit of a weird category to put things in at this point." – Flowinsky
Can you share with us a peak and a pit, or a "Rose N Thorn" if you will, of the last few years? To be clear, rose equals lit, thorn equals shit.
Matisse: Our rose is playing shows to people. The thorn is the insanely ridiculous travel we've done to get to some of those shows.
With yourselves, Thugli, Grandtheft, and Zeds Dead, it feels like Toronto has a bit of a trap movement. Would you agree with that? Are you a part of a local scene, or does trap live and die on the Internet?
Flowinksy: We think the term "trap" is kind of fleeting, and think it's a bit of a weird category to put things in at this point. We'd prefer to not really even be associated with a lot of the stuff that people label in that category. I think we all make different kinds of bass music. Our stuff kind of falls into what we think are weird, futuristic rap beats. Come to think of it the term "future" is also kinda corny. [laughs] I wouldn't really say it's a movement. We're just all doing our own thing, and we're all from Toronto. Those are all definitely the homies, though.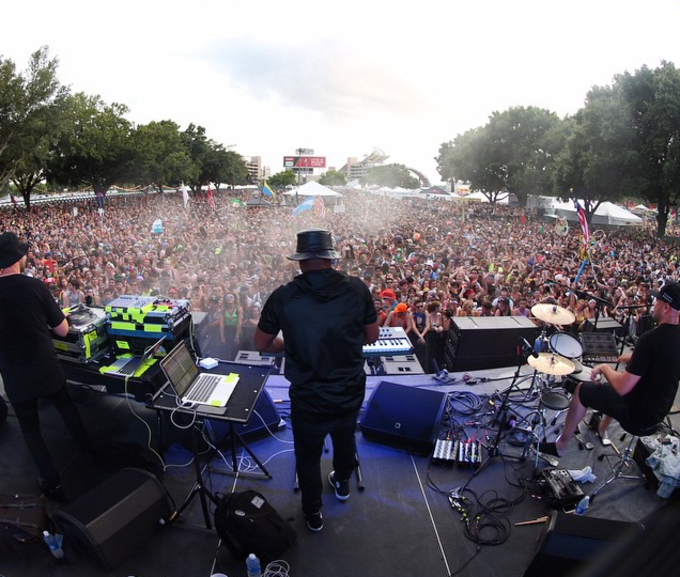 You just dropped a new single featuring Katy B. Can you tell us about it? What's it like working with a vocalist?
Tune: We're really psyched on it! It wasn't the easiest process, to be honest, but we are happy with how the song turned out in the end. We wanted to make something epic with her vocals, and we feel like we accomplished that.
Some would say the biggest challenge for an electronic artist is adding an engaging live element. Being a live band, that's already built into the DNA of Keys N Krates. What's your biggest challenge?
Matisse: Maybe agreeing on details between the three of us. Being that there's three of us, it can take a while to even agree on even the really subtle details. It wouldn't be crazy for us to argue over the reverb decay that should be on a snare drum for a an hour. When you start to think about that in the context of making whole songs and compositions, you can see how stuff can take a while. That can be frustrating, but it's also part of our chemistry, I suppose.
Since starting the band in 2008, there must have been some technological advancements that make being a live band using electronic elements way easier. Were there any hallelujah moments with any piece of "desert island" gear or software that made your lives easier?
Tune: Hell yes! Ableton Live and it's ability to let us trigger and stack VSTs and play them live has been really important. The Roland SPD-SX for has been amazing for our live drums, cause it's basically allowed us to use sampled drums, 808s, and whatever we want live to get that big knocking sound that's reflected in our produced tracks. Those two pieces have been integral to us staying a band that plays 100% live, but can use whatever soundscapes we want want without being limited to live drums sounds, or the two or three keyboards we would be able to travel with.
Imagine you've been tasked with putting together a remix of a song from the first record you ever purchased. What's the song, and what's your approach for the remix?
Flo: The first record I ever bought was called "Mass Appeal" by Gang Starr. We'd would probably find the original sample that Primo used and try and freak it differently in our own style to how they used it. It would probably start there. Not sure where it would go from there. Would have to think about that more carefully.
How being Canadian affect your approach to making music? Would you say that there's a "Canadian sound" when it comes to electronic music?
Tune: I'm not really sure if there's a Canadian sound per se. Maybe because we're from Toronto and listen to a lot of Drake, we probably like to filter our synths down the way 40 does. But doesn't everyone listen to Drake and like to do that also? [laughs]
What can we expect from KNK's set at Bestival in Toronto? Tons of pyro? A children's choir? Will you descend to the stage via helicopter?
Flo: You can expect the three of us on stage going for it, playing our instruments and probably sweating a lot. No pyro 'cause we aren't Justin Bieber, and no helicopters 'cause we can't afford that. A children's choir would be sick. Good idea for the future!