The answer to your question, "Do I know who Ramriddlz is?" is no.
At least you don't know of him yet, but that will all but change soon with the impending success of his song "Sweeterman." To be honest, "Sweeterman" isn't new, and the 21-year-old Mississauga native Ramriddlz isn't either, but he just released the video for his wavy anthem, and his life is about to change because of a potential Drake co-sign, of course, and as you know, that can go really far in 2015. Just ask iLOVEMAKONNEN​, PARTYNEXTDOOR, or anyone else. 
Ramriddlz currently has 100 followers on Twitter and 476 on Instagram. On the surface not much is known about the young Canadian, but after a bit of digging, we were able to speak with one of his in-house producers, Jaegen, who provided a few details about the unknown artist. Along with Jaegen, Ram also works closely with former Degrassi cast member AJ Saudin​, who is not only his longtime friend, but also his manager. Together they have managed to keep a low profile, but at the same time, they've sent the depths of music forums on KTT and Reddit wild with speculation and hype that seems to be hitting at the perfect time.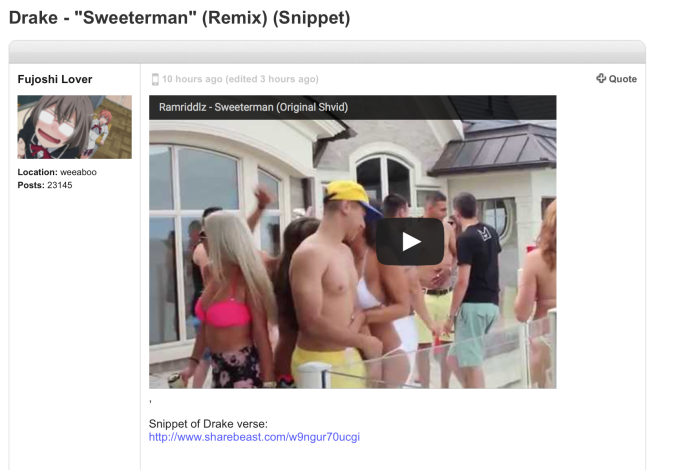 The YouTube views on "Sweeterman" are climbing by the second and the buzz on Twitter is multiplying with every share. The smooth party cut just might be the perfect jam for the summer, with Ram breaking out a calm and collected flow over the snapping production from Jordan Francis. 

While the exact details about Drake's future involvement in the "Sweeterman" remix aren't known, it was revealed that Drake and OVO did approach Ram and his camp. Three weeks ago, before barely anyone knew about Ram or "Sweeterman," a 10-second snippet of Drake's version leaked onto the net, which fans just assumed was a new song. Through a look at one of Ram's Instagram posts from a month ago, Drake's manager, Oliver El-Khatib wrote a comment on the post saying, "Link up," which seems to be the first interaction between the camps.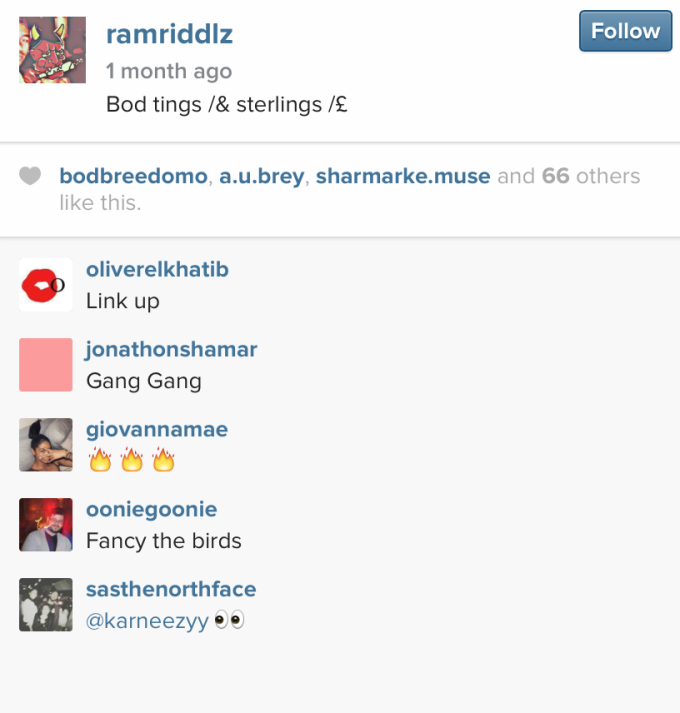 Interestingly enough, Jaegen shared Ram's name in a thread on KTT about other artists from Toronto who Drake might co-sign last month. Even with that warning, nobody really saw this one coming. What happened next is unclear, but at some point Drake decided this was his next move, and according to Ram's camp, the final, Drake-included version of "Sweeterman" is coming very soon. As with most incoming OVO drops, we won't know exactly when, but the mysterious tweets from affiliated members of the clique are already pouring in and you can bet that that won't stop, either. Below, Cassidy Jordan, who is the girl name-dropped by PND in the opening lines of his verse on Drake's song "Preach," hinted at Ramriddlz eventual success.
With the newfound attention that's coming Ramriddlz's way, he's not settling or compromising, but rather's acting on the momentum, and is finishing up his new EP, Sweeter Dreams, which is coming soon. Until then, and probably further after that, we won't know the true potential of the young Canadian Ramriddlz, but like with any artist that Drake co-signs, he's about to get one hell of a shot to show what he's got.