Nicki Minaj may have revealed that her and Meek Mill—who said the cutest things about her in an interview with XXL—are engaged. Chances are Minaj might be fucking around on Twitter, as she tends to do, but after a closer look at their Instagrams, it's definitely a possibility. Here's why: earlier today, Minj posted a tweet with a ring, heart and diamond:
💍💛💎 - I'll post it later 👅

— NICKI MINAJ (@NICKIMINAJ) April 15, 2015
But, later in Minaj terms could mean weeks if not years. The Barbs think Meek's recent tweet has something to do with this, too:
💛

— Meek Mill (@MeekMill) April 14, 2015
But let's be real, looking at their Instagrams, something special went down last night. First, Meek hyped himself up in his Porsche:
A photo posted by Meek Mill (@meekmill) on Apr 14, 2015 at 3:58pm PDT
Then Minaj posted a photo of them together, with what looks like a huge diamond ring on her wedding finger:
A photo posted by Nicki Minaj (@nickiminaj) on Apr 14, 2015 at 8:10pm PDT
Plus this cute little text exchange below:
A photo posted by Nicki Minaj (@nickiminaj) on Apr 15, 2015 at 10:00am PDT
We've reached out to her reps—but she'll probably chime in on Twitter sooner rather than later with an answer. Oh, the possibilities. One thing is for sure, it's not to DJ Khaled this time: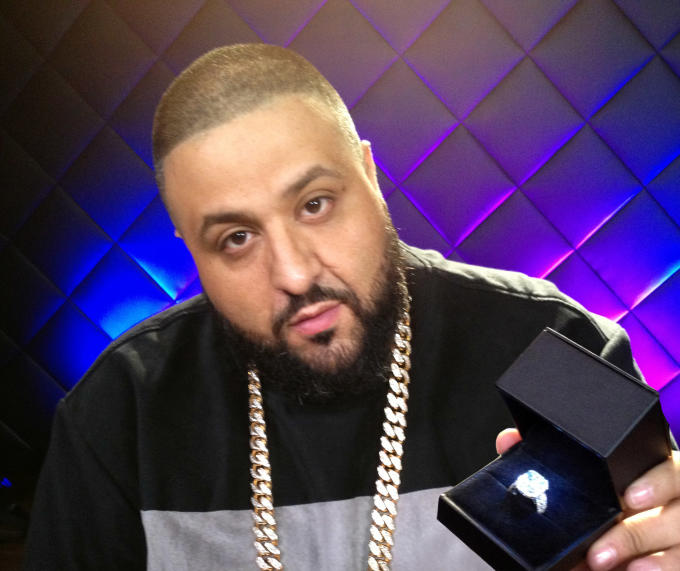 Update: Well it seems Nicki was not trolling us after all and Meek Mill really did pop the question. Her latest Instagram post only features the softball sized diamond ring on her finger, with a few emojis as a caption. We want to be the first to congratulate the pair on their engagement and upcoming nuptials.
Update: A source close to the couple has reportedly confirmed the engagement to E! News. He or she stated, "Both Meek and Nicki have been spending amazing quality time together lately and have gotten extremely close these past few months...It may seem like it all is happening very quickly, but Nicki and Meek are in this 100. They truly love each other." 
If you wanted know more about the boulder Meek gifted Nicki, Morgan Shara of MASbisjoux jewelry has got you covered. "This looks like a 15-carat fancy yellow heart modified brilliant cut diamond mounted in platinum with a double halo of white pavé diamonds," the Shara told E! News. "This would retail for approximately $500,000..." Good job Meek, good job.