Last week my roommate randomly asked me if I remembered when Ja Rule was going to change his name to Loki. I kind of did. It was around 2006, when he blacked out on the radio talking about he was going to bring Pac back and what not. Rule was going through a rough patch back then. 50 Cent essentially destroyed his career, Murder Inc. was forced to change their name, and his Erving Geoffrey​ clothing line that he had with Irv Gotti shut down because they were jipping people out of money.
For those who don't know, Loki, for some, is associated with the Angel of Death because they watched the movie Dogma, but he actually stems from Norse mythology. Loki is the brother of Thor, son of Odin. This is where the Marvel Universe got Thor's backstory from. So for the past week I've been trying to find an actual quote from Rule about changing his name. The first thing that comes up when you Google "ja rule loki" is a link from our good friends over at boxden.com.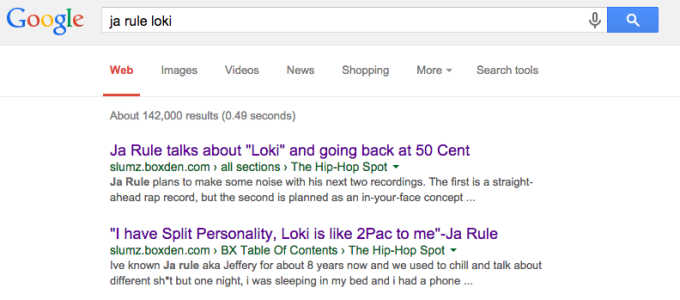 Here's the quote that could be found in numerous forums around the 'net:
Ja Rule plans to make some noise with his next two recordings. The first is a straight-ahead rap record, but the second is planned as an in-your-face concept album told through his alter-ego, Loki. "It's going to be very controversial, the things that I say on it. It's no-holds-barred. Loki's not politically correct, he's a person who speaks for the little people, all the people in the hood, all the minorities; that's who Loki represents," stated Ja Rule. Ja Rule, whose real name is Jeffrey Atkins, also will be sending a message to 50 Cent, his arch hip-hop rival. The two have been feuding for the past five years. "I got some things for him, he got it coming his way, trust me," says Ja Rule, who also called 50 Cent an unprintable expletive. "His downfall is going to be worse than MC Hammer." "I'm going to touch on a lot of situations. I told you Loki is no-holds-barred."
This is the original SOHH link, but it's not working.
And Miss Info mentioned the name change in this 2013 blog post about Ja Rule's "coming home from jail" party:

In an installment of Noreaga's "The Superthug Diaries," Rule goes by the Loki nickname: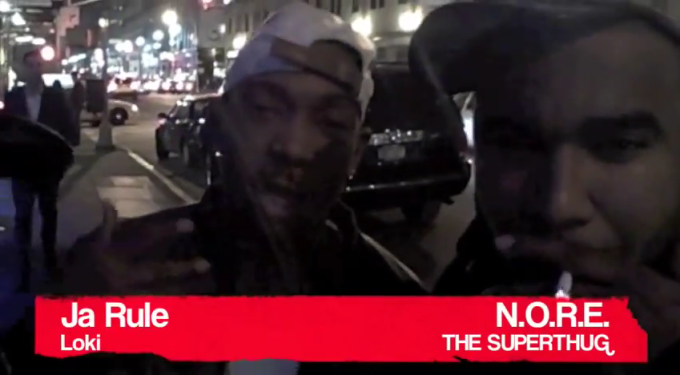 I guess Ja never unleashed Loki upon the world because a rapper from the West Coast by the same name called him out in a track off the 2007 album Ignition called "Identity Theft" alongside X-Raided. In the song the real Loki doesn't name names, but he does say this to start the track:
"Now this song is dedicated to a certain special someone. You know who you are, motherfucker. I don't hate you, I mean, shit, you got my name tattooed on you, you know? You must be a fan. And it's too bad I gotta shit on you, considering all the beef you've had with other motherfuckers in the industry. But you see, you're fucking with my name, homeboy. My name, and your arrogance is going to cost you."
You can peep a snippet of the track on AllMusic, or you could buy the song like I did, to hear it for yourself.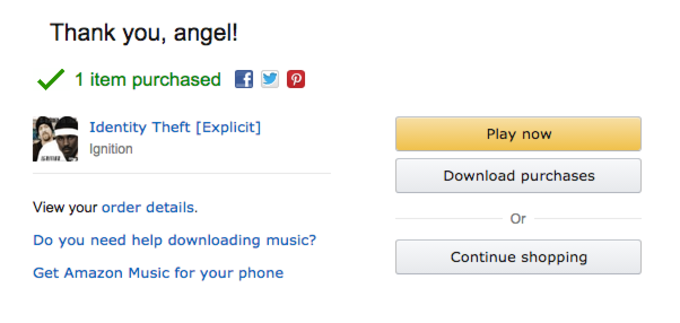 The "you got my name tattooed on you" line was the proof I needed that Ja was really into this name-change thing.
Check this shit out: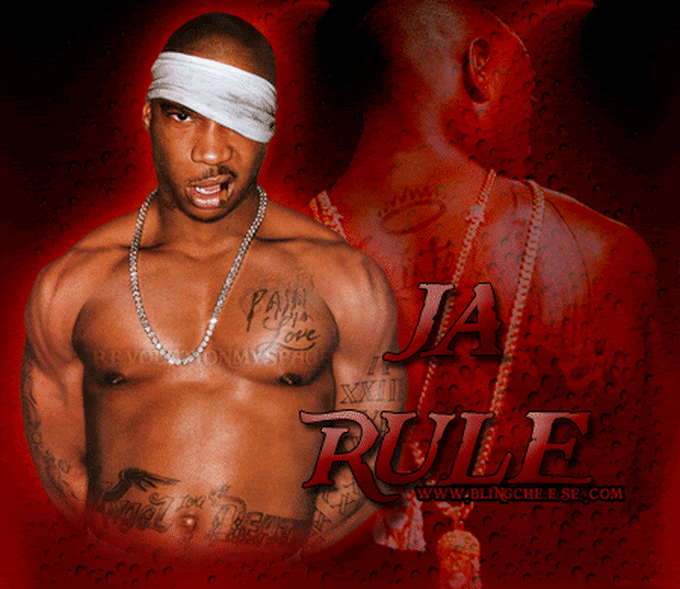 Upon further inspection, Rule has "Angel of Death" tatted across his belly with "Loki" just above the navel.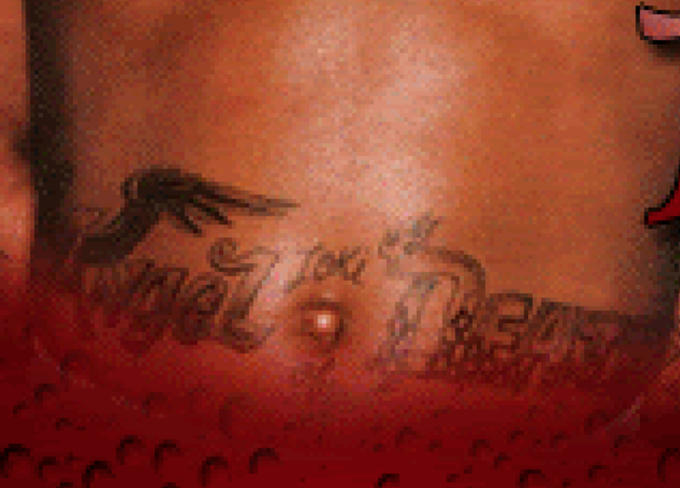 Bless the Ja Rule fan who took the time out to make this Myspace picture.
Rule should've gone along with his plan to drop that "controversial" album. His career probably would've been resuscitated. Instead, he let the window close and then got himself locked up for two years in 2011 for gun possession and tax evasion. This song called "Strong" is supposedly from the long lost L.O.K.I. album. The artwork is from Pain Is Love 2, but this particular track isn't on that album. Must've made the cutting room floor instead.
Damn, what a hit. Rule was really trying to change the game.
Angel Diaz is a staff writer for Complex Media. Follow him @ADiaz456.