Slim Jxmmi​ skateboards into the entrance of Hot 97 with Gucci goggles atop his head. He kicks the board up into his hand while Swae Lee begins to sing into the echoing, high-ceilinged lobby: "Codeeeeeeine craaaaazy." He draws out each word operatically as they proceed to walk through, followed quietly by their DJ, manager, and publicist. They dap up the building security graciously then chase their way to the elevator. Once seated in a waiting room, Swae begins to explain how he got banned from Snapchat.
"Too many nudes," someone chimes in. Apparently replying to a high volume of female fans has put Swae's account in jeopardy. Slim Jxmmi's Snapchat appeal is more about how creative he gets with it. He prides himself on putting the extra effort into coloring in a masterpiece for each message.
In the waiting room, the only thing that keeps the energetic Sremmurd boys from bouncing off the walls is the magnetic attraction of their phones. They focus on a flood of Snapchats, tweets, and Instagram notifications, constantly showing each other what's being said to and about them. But they simultaneously tap into the social energy in any physical space that they happen to be in. At any given moment, they might be drafting a tweet while flawlessly executing an ollie and flirting with the label rep.
To the untrained eye, the Sremmurd boys' incessant turn-up image can appear to be a manufactured glaze of infinitely hashtaggable song concepts and savvy music industry social media marketing. But after spending a few minutes with them, their kinetic energy makes it clear that they truly live this shit.
When the pair met superproducer Mike WiLL Made-It in early 2014, they were jumping on chairs in his engineer P-Nasty's home studio. But it was more than pep that caught his eye. "I saw the talent," says Mike. "I saw them in my homeboy's basement. I saw them in this small room where the lights were off and some fucking strobe lights were going and they were just in there freestyling. They had so much energy. But as soon as the beat went off and I started telling them what I had to say, they were all ears. I don't know how to explain it. I understand superstars. I understand legends."
Mike was putting together a roster of artists for his production company EarDrummers Entertainment. He signed the brothers, who took the name Rae Sremmurd, reverse spelling the name of the company.
"Their music is a reflection of social media culture among phone-limbed young people."
Fittingly, they first appeared on a mixtape with a hashtag in the title, Mike's December 2013 release #MikeWiLLBeenTriLL. They followed up that song, "We," with "No Flex Zone," which premiered on Noisey in March 2014. According to their publicist, numerous websites passed on posting the song. People didn't know who they were and their name was a jarring, easily mispronounced mess. What did "No Flex Zone" even mean? They had invented a phrase that would later evolve into a linguistic phenomenon that has superseded the reach of the song itself.
The words "no flex zone" had close to zero engagement on the Internet in the next couple of months. Then the summer began. In June, the term suddenly shot up exponentially in search queries, possibly because the song's energy suits the summertime turn-up. The words "Rae Sremmurd" followed suit. Their second single, "No Type," was made available on their SoundCloud account on Aug. 27, 2014. By then, "No Flex Zone" had turned into a smash hit (Nicki Minaj released her remix to it in July) and a hashtag meme. It had become a part of popular language, used to describe one's impervious shield to external flex attempts. "No Type," then, was what tipped the "No Flex Zone" snowball into what became the Rae Sremmurd avalanche. One-hit wonder claims were squashed outright. They were at least a two-hit wonder.
"No Type" took off, this time immediately. It became just as much and then more of a social media phenomenon than its predecessor, eventually earning them their first gold record. Its non-discriminatory titular concept could be applied to anything. "But, Rae Sremmurd, you do have a type," the people quibbled. "Your type is bad bitches. That's a type."
"To us, bad bitches are a category," Swae explains. "It's not even a type. You got Asian, Latino, black, white, tall, short—we like all of them. As long as they bad bitches."
There you have it: In the grand scientific taxonomy, "bad bitches" represents an overarching genus within which various species of bad bitch can co-exist. Apparently during the "No Type" video shoot in Venice, Calif., pedestrians made cameo appearances, and those who failed to meet the requirements of that genus were edited out of the final cut.
At every step of their success, it seems, Rae Sremmurd has had something to explain. Their name, their song titles, the origins of their relationship with each other: "We came out the same woman," says 19-year-old Swae, who was born Khalif Brown and is two years younger than his brother, Aaquil.
But what was jarring at first became brilliant search engine optimization once people started to pay attention. When someone searches for their name, it's uniquely for Rae Sremmurd, the two boys from tiny Tupelo, Miss., and for nothing else.
Every time someone mispronounced their name, they had to say it again. That act made people remember it. Each of their songs was an exercise in inserting a phrase into the social media particle accelerator, then ending up with a meme that eventually began to permeate actual spoken language. Their song "This Could Be Us" plays the opposite end of the game, in that it reaches through and takes back from the jar to which they've been contributing, repurposing an already-established meme as a song. Their music is a reflection of social media culture among phone-limbed young people, and their facility with manipulating that weight—incorporating it into their music, but also fueling that fire with the content of their music—is largely responsible for their viral nature as artists.
"I saw the talent. [Jimmy and Swae] had so much energy. I don't know how to explain it. I understand superstars. I understand legends."
—Mike will made-it
All that was left was to find out who these two actually are, as humans. Their music might have you think that they're a couple of bullies. "You ain't got no life," sung at you on "No Type," can hit you in the gut when you realize that you're not in Venice, nor do bad bitches make themselves readily available to you. "If I shit on you, I'm sorry," says Swae on the unofficially released "Illest Walking." What he means is that he's going to live his life on his terms and he cannot be held responsible for the way that happens to affect you.
But in person, the Sremmurd boys are some of the most charming, affable rappers in the game. They're not afraid to smile, which is refreshing in a rap landscape saturated with artists convinced that they will lose credibility if they don't act hard all the time. And for the record, if your girl makes her way to Swae and Slim's section of the club, they'll gladly send her back to you when they find out she has a boyfriend. Hence the song "Come Get Her."
Swae is slightly more animated than Jimmy. Jimmy is slightly more likely to rock Gucci goggles than Swae. Swae is slightly more likely to answer a question before Jimmy. Jimmy is slightly more likely to use the word "pot" in an answer than Swae. Perhaps that word has made its way full circle from teachers' use of it in middle school health class all the way back to youth vernacular. If anyone could make that happen, it's these two. Jimmy finds a way to work it into almost any conversation.
"Do you have a bathroom here?"
Yes.
"Do you have room for pot?"
But were they always like this? Brash yet cordial, outspoken yet humble? It certainly seems like it. At this time last year, among other odd jobs, including a gig at a mattress factory, they were working at an Olive Garden in their hometown. They loved it. Their mutual adoration for the establishment's breadsticks kept them satisfied, and they put all of the money they earned toward recording. And according to Swae, they were essentially homeless for some time. "We had to stay in an abandoned house," he says. "We ended up meeting the person who owned that abandoned house, like the land, and he let us keep the lights on and stuff." Even during this time, they "kept a positive attitude" and threw parties in the abandoned house. "As soon as we got to better conditions, we forgot about it," says Swae.
Prior to their introduction to the general public, the brothers called themselves Dem Outta St8 Boyz. They cringe at that name today. Tupelo, a town with a population just under 35,000, wasn't exactly the budding hip-hop community that could nurture their young talent. Perhaps that has something to do with why they called themselves that, in awareness of their state's rap peripherality.
Delving into the Outta St8 archives reveals two things: One, they were not manufactured by the people who eventually picked up on them, and two, the thematic core of their music has always been tied to the act of partying.
At a point, they were just kids filming home movies shirtless in their neighborhood to accompany their songs. They eventually got a short appearance on BET's 106 & Park as well as some label meetings in New York, back in 2011, when they were still a trio (two potential third members have been switched in and out since). Things quieted down, but they kept grinding, working, going to school, and putting out fun records. Even then, their unconcealed aim was to capture youth Internet by storm. They put the words "(Viral Video)" in the actual title of their YouTube submission for "Sway Lee." At publishing, the song had slightly under 34,000 views. Not exactly a viral smash. Eight months ago, they did the same in the title for their original "No Flex Zone" video, presumably with the intent of a self-fulfilling prophecy.
Songs like "All Night" and "Party Animal," reminiscent of late 2000s Travis Porter and Soulja Boy, were the logical predecessors to the polished party records they make today. "Lit Like Bic" and "Safe Sex Paychecks" don't come from party amateurs but from highly trained experts in the art of manifesting the turn-up.
"They're not afraid to smile, which is refreshing in a rap landscape saturated with artists convinced that they will lose credibility if they don't act hard all the time."
It's Jan. 5, 2015, and Swae and Jimmy are in a Sprinter bus, headed from one New York radio station to the next. They've been up since the early a.m. after a string of nightly shows. Their album, SremmLife, comes out at midnight. They are in the rare state of turn-down, exhausted from the promotional rounds but hiding it. They've just finished a few press day interviews, which all consisted of the same questions, and are headed to more interviews where people ask the same questions: (1) You know your name is hard to pronounce, right? (2) You guys are not a one-hit wonder, right? (3) Girls, right? And so on. But each time, Swae and Jimmy approach their interviewers with the same charm, the same humor, the same smiles. Back in the bus, the trio, which includes their DJ, DJ Sremm, rests their eyes for a brief moment. Slim is half asleep but blasting Bankroll Fresh's Life of a Hot Boy mixtape through his headphones.
When they step out of the van again, they snap back into complete alertness. They've arrived at a major media company, where they're playing their album for the staff. During the listening, they jump on chairs to their own music while a room of adults watches in stationary silence. It's strange, but even at a venue full of their biggest and most energetic fans Swae and Jimmy are the most alive.
After the listening, the staff disperses and Swae and Jimmy linger in the room. The elder brother plays a beat that was sent to them. Swae starts freestyling—sort of. He gets a line stuck in his head: "I'mma pull a fast one." Every couple bars, he comes back to it. It's catchy and electric. The room lights up. It feels like the skeleton of a hit song.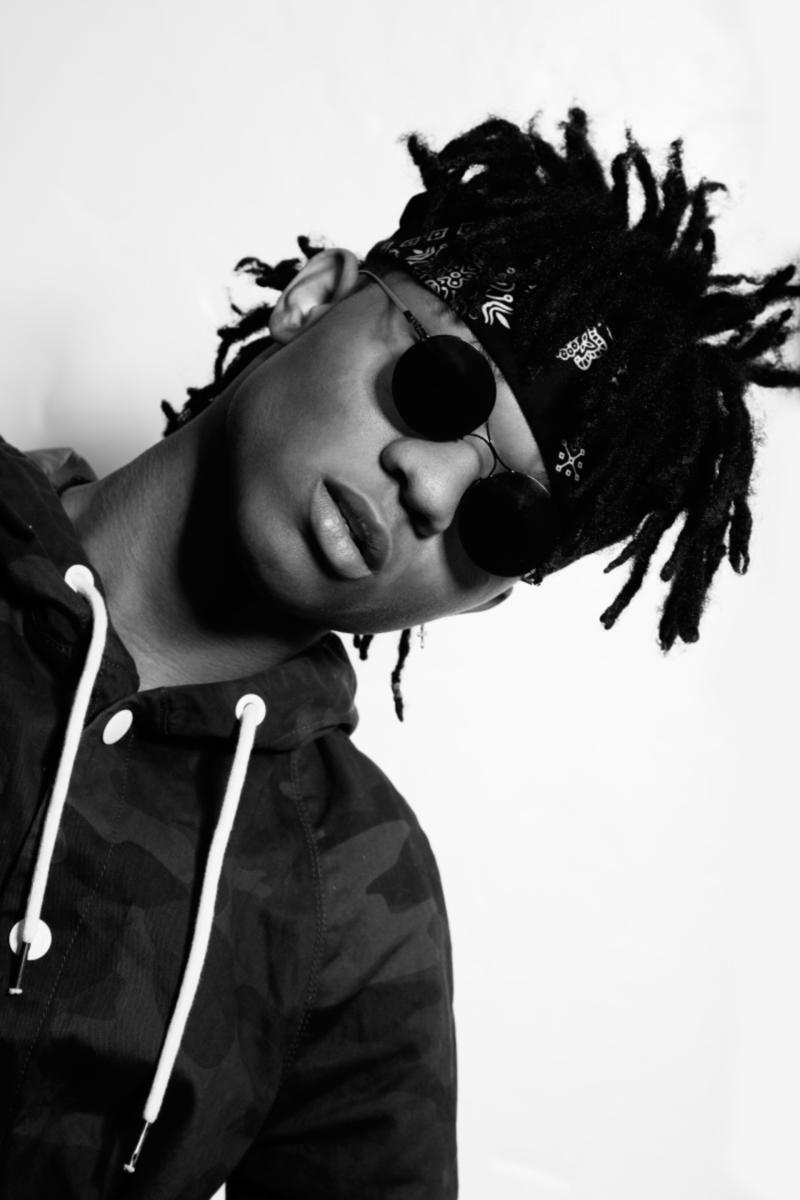 Again, "...I'mma pull a fast one."
Swae starts walking around the room. He spots some cookies on a plate that have been brought out for him and the crew.
"...I'mma pull a fast one."
He walks toward the cookies.
"...I'mma pull a fast one."
Then, just as it seem like he's about to say that line once more, he instead switches it up:
"...Can I have one?"
He's referring to the cookies.
Such is the nature of Swae and Jimmy's creative style. They pull some simple, infectious group of words, seemingly out of thin air, and lay it on the track. The story behind "Unlock the Swag" is quite similar. Slim was yelling those words at the top of his lungs, just a thought that he had, until everyone around him realized that it was a particularly compelling hook. They were already in the studio, it was 4 a.m., and it became a song.
As simple as that sounds, their approach to music is not slapdash: "We be serious—real, real serious—when we make music," says Jimmy.
"We get in our creative zone," Swae adds. They also note the large quantities of weed that are often instrumental to this process.
It's late October 2014. Both of the group's breakout hits have been in heavy circulation, and now it's time that people start paying real attention to them as an act. It's an all-around New Atlanta night at New York venue SOB's, and Rae Sremmurd is headlining. A "special guest" is to perform. The crowd, made up largely of people in media and the music industry, knows that it's going to be Makonnen. He is the true hype of the night, as he's just become the newest OVO signee. This is also the night an audience member attacks him during his performance of "Tuesday," which focuses the crowd's attention on him even more.
Once Rae Sremmurd finally comes on, there are some questions floating throughout the audience: Why are they wearing gas masks? Which one is which? Are they going to play a two-song set? Do they have any other good songs?
They do—an overwhelming number of them. This is the moment when they announce themselves as an unstoppable force. It wasn't a fluke; song after song sounds like a hit in the chamber. Soon, everyone will know the words to these cuts as intimately as "No Flex Zone" and "No Type." It's only a matter of time.
Three months later, SremmLife has dropped and the brothers are headlining New York's Webster Hall. No gas masks this time. No lingering questions. The only physical similarity to that October show is the bottle of Hennessy they tote on stage. It's 3 a.m. and hundreds of hardcore fans have waited up to five hours outside in the cold to get in. The hall erupts at their first song, a cut from their album that has yet to receive any marketing push. The kids in the crowd know the words to all the songs. Girls are brought on stage. One of them begins twerking frantically in the middle of the duo while ostensibly mouthing the lyrics to "Come Get Her." This might be the dictionary definition of lit. Rae Sremmurd has officially blown up.
One particularly resourceful fan finds himself on stage and uses the opportunity to take a perfect selfie. He extends his phone-bearing hand outward such that his face becomes the foreground of the shot and Rae Sremmurd becomes the background. He attempts several variations on this theme over a number of minutes. This is the quintessential Rae Sremmurd fan: young, likely to use the words "lit," "flex," and "this could be us" on a regular basis, and inextricable from constant social media self-documentation.
Their album represents yet another manifestation of the tried and true Rae Sremmurd method, in that it's a made-up concept, preemptively hashtagged with the intent of becoming a social media phenomenon and thereby entering the public vocabulary.
"What is SremmLife?" asks Peter Rosenberg at their Hot 97 interview the week of their album release. "Riding in the front seat," they reply. "It means living how you want and not having to say sorry."
He asks them for an example.
They respond with a situation in which a male subject is at home with his side girl. His main girl arrives at home and catches him and his side girl in the act. He looks up, shrugs, and says, "SremmLife." All is forgiven, and he is henceforth absolved of any responsibility for his actions.
Later that night, Swae and Jimmy have to catch a flight back to Atlanta. I'm in the bus with them on the way to the airport. They're not sure why I'm there. I have a flight from the same airport, departing at roughly the same time as theirs. I'm headed to Puerto Rico for a few days on a whim because friends randomly invited me. I have no good reason to be leaving at all. They ask me why I am coming to the airport with them. "I'm going to Puerto Rico," I reply. Why Puerto Rico? I'm wondering the same thing. I don't have an answer for them. I shrug and conclude, "SremmLife."
"Yes, finally someone gets it," says Swae. "That's what it means. That's exactly what it means."