Peter Rosenberg is one of the most important radio DJs in hip-hop; a white Jewish kid from Maryland whose sheer love and passion for the game has taken him all the way to the morning show of New York's Hot 97. He's a polarising figure, loved by some for repping old school boom-bap hip-hop, yet also gaining heat for his very public feud with Nicki Minaj (and the rest). Rosenberg touched down in London for the first time last week, so we got him together with Kiss FM's DJ Snips for a head-to-head chat.
With a similar age, background, and tendency to get very passionate about the current state of hip-hop, Snips is often seen as the Rosenberg of the UK scene. A co-founder of London's hugely respected Livin' Proof club night, he's hosted UK appearances from A$AP Rocky, A$AP Ferg, ScHoolboy Q and Danny Brown, toured with Professor Green and S.A.S., as well as making eats for Cappadonna, Sway, and Skinnyman. As two of the most opinionated guys in hip-hop, we put them in a room together to grill each other on grime, Kanye West, and whether or not UK rappers need a co-sign from their peers overseas. 
DJ SNIPS: I've been getting tweets, saying: "Omg, there's this guy in America called Peter Rosenberg who works at Hot 97, and he's just like you," which I take as a compliment, but I know what they're actually saying is: "There's this other white guy in his 30s who gets really angry about hip-hop, and he's just like you."
PETER ROSENBERG: I've heard about you... You're the outspoken emo on Twitter, who gets very passionate about things.
DJ SNIPS: A little bit, a little bit. But I am passionate about the culture.
PETER ROSENBERG: Then, yeah, we're very similar. Cipha Sounds told me about you, actually, and that you know your stuff. 
DJ SNIPS: Yeah, Ciph is my guy! I recently saw a video where you were shown a few UK artists. All are very strong artists, but I'd like to know how much of the UK scene you've actually been able to check out since you've been here? The artists played to you, as dope as they are, I didn't think they were the equivalent of the hip-hop that you represent.
PETER ROSENBERG: I was actually just hanging with Stormzy. I think what I've been put on to mostly, so far, is the more trendier, mainstream grime stuff which is important because, based on what I can tell, that seems like it might have the best chance of making it in the US. It's not the be-all and end-all, but I guess in my world, that's what mostly matters. 
DJ SNIPS: See, this is the massive fight we have over here: do we need that American co-sign, or do we do it on our own? I personally think it's important to have that American co-sign. If you were a reggae artist, you would obviously want the co-sign from Jamaica. 
DJ SNIPS: Do I think SKEPTA's the best representation of hip-hop in this country? Definitely not. Do I think he's a good figurehead to represent the UK scene? Most definitely.
PETER ROSENBERG: It's most definitely important to be recognised in the birthplace of any genre. Hip-hop only exists with America, and no one can argue with that. However, I do think those grime artists I've been put on to are really important. I'm not gonna show up here and lie to everyone, though; here's what's going to happen realistically: I'm going to return from my first trip to the UK, and there'll probably be a few artists I start learning a little bit more about, but I'm not going to sit here and tell you who each underground UK artist is. Get the fuck outta here! I barely know who the underground US artists are anymore [laughs]. I'm an old, man. 
DJ SNIPS: [Laughs] Nah, I appreciate that. The amount of people I know in their late 20s, early 30s, who listen to underground hip-hop, if they're completely honest, they got into it through Bad Boy and Ma$e. There's always going to be an entry level.
PETER ROSENBERG: So, are you interested in putting me onto some of the stuff that's completely different? Is there like a British Mos Def or Kweli that you can point a finger at?
DJ SNIPS: Hmm, see, it's funny, because there was almost a flat line of the UK scene a few years ago. In the late-90s, we had a hip-hop scene that was akin to the New York one—that's what we were influenced by. Parallel to that, we had an underground dance scene, the UK garage scene, which is what grime got birthed out of. Kids who were into grime also listened to Dipset, D-Block, 50 Cent. So a lot of UK rap that exists now, that was the birth of it.
PETER ROSENBERG: So, now, do you think grime is the spawn of kids who were influenced by American hip-hop and garage?
DJ SNIPS: Definitely, and dancehall too. But with the American hip-hop influence, it was a very specific style. The only example of artists who I think you'd be aware of is S.A.S., who were kinda the UK version of what was going on in rap at that time. As far as there being a Mos Def, we've got a group out now called Hawk House. I don't want to say they're the new Tribe Called Quest, but they're definitely in that vein. Then you've got Piff Gang and ItsNate, artists who are definitely more like a UK A$AP Mob or Kendrick Lamar. I know a lot of the people over here know you as being the who said some shit about Nicki Minaj on Hot 97, but I'm a big Juan Epstein fan; I've been following you from an early point. There's a whole scene that's getting a lot of love from New York right now: A$AP Yams was actually working really heavily with some guys over here, and Remy from World's Fair has done a whole EP with one of the rappers from Piff Gang. But I don't want to seem like I've been shitting on the guys you've been turned on to...
PETER ROSENBERG: Not at all, man. You're just saying you know my brand a little deeper, and know what's akin to what I've traditionally supported.
DJ SNIPS: Having said that though, Wretch 32 is lyrically probably one of the best out there.
PETER ROSENBERG: Do you think Skepta's poised to become one of the bigger UK artists there's ever been? 
DJ SNIPS: Possibly. Skepta's a bit of an anomaly at the moment, because he's actually been a major UK artist for a really long time. But he's done a great job at almost totally re-inventing himself. Skepta, now, is in the trendy world wearing Supreme and hanging out with A$AP Mob when they're here. But, at one point, I'd say the kids listening to Skepta in 2005 probably called Papoose their favourite American rapper. 
PETER ROSENBERG: I'm not thrilled with Kanye these days. He went on my competition's show and told them: "You are the streets! You are the barbershop!" That mofo hasn't been in the streets or a barbershop in 15 years. 
PETER ROSENBERG: I already get that from him. But think about where Papoose was supposed to have gone in 2005.
DJ SNIPS: Exactly! I definitely think Skepta could be that artist to break through in the States. Do I think he's the best representation of hip-hop in this country? Definitely not. Do I think he's good figurehead to represent the UK scene? Most definitely.
PETER ROSENBERG: That's a good way to put it. Very diplomatic.
DJ SNIPS: I bet you can talk shit about a major artist and not run into them... Me? I run into all of them.
PETER ROSENBERG: I run into all of them, too, unfortunately. Well, maybe not everyone. Like, I can trash-talk Kanye pretty safely unless I'm going to go to a high-end fashion show or something.
DJ SNIPS: Funnily enough, Kanye was actually on my block last night getting a tattoo.
PETER ROSENBERG: What was it of? Did it say Liz Claiborne, slash Kim, slash Armani, slash designer I've never heard of?
DJ SNIPS: Slash streetwear brand, slash $3 t-shirt sold for $900. Let's move onto Kanye, then. I'll start by saying, College Dropout and My Dark Beautiful Twisted Fantasy are incredible records, but, I just think he's the Antichrist of everything good right now.
PETER ROSENBERG: Oh my god! I have some pretty strong feelings, dude, but that is strong.
DJ SNIPS: I think what he represents and the culture that he promotes, is everything that's wrong with not only hip-hop, but basically the world. I think he's a great producer, a fairly good rapper. I think he's a horrible fashion designer and an equally terrible shoe designer. What he's pushed out to the younger generation is that you can do anything; you don't need to learn your craft or be educated in it. I think there is a positive in that, somewhere, but what it's promoted is people thinking: "I don't need to work hard, man, I can don't need to listen to Illmatic to be a rapper." Or even, "I don't need to know who Giorgio Armani is to be a fashion designer." This culture of "I bought a camera and now I'm a photographer," Kanye is the spearhead of that mentality.
PETER ROSENBERG: I'm not thrilled with Kanye these days. He went on my competition's show and told them: "You are the streets! You are the barbershop!" That mofo hasn't been in the streets or a barbershop in 15 years. And he's gotten support from our station since he was brand new, so I am personally biased. Although I think he's full of shit, I think you've understated his greatness as an artist; that's the one place I'll disagree with you. Kanye is arguably the greatest hip-hop artist of all time. Kanye's albums, at their worst, are better than 99% of everyone else's.
DJ SNIPS: Even Yeezus?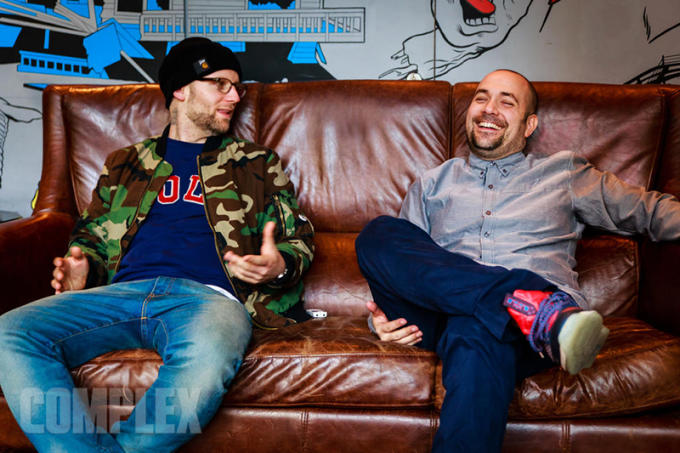 <span></span>
PETER ROSENBERG: I love Yeezus. I love 808s & Heartbreak, too. Kanye could shit in a toilet and I'd it was fucking amazing, and that's the truth [laughs]. But he is a douchebag. You can't act like you're fighting for the underrepresented artists who just want an opportunity but aren't able to do it because of mainstream corporations, when you've married into mainstream corporations. I'm not stupid enough to fall for that. I'm not able to identify with his plights to be like Ralph Lauren. Kanye aspires to be accepted by the mainstream white establishment, he'll say he doesn't, but ultimately that's everything he's doing. And he's doing it right now: this week alone he's made up with and apologised to Taylor Swift and Bruno Mars. I cannot overstate how amazing I think he is as an artist; sometimes I think he's on point, but sometimes he goes on a promo run where he's full of shit. Right now, he happens to be in the middle of a full-of-shit promo run. Even what he did with the UK artists on stage at The Brits, we all know what that was. I'm not an idiot...
DJ SNIPS: I don't think Skepta is, either.
PETER ROSENBERG: Of course not. But for me, you throw a whole group of dudes on a stage that looks like something artistic and interesting because you're at these super-mainstream awards, and you bring these hooded black guys so it looks like an interesting thing. But that's not really giving a great nod to grime artists.
DJ SNIPS: Kanye didn't know the name of anyone on that stage apart from Skepta's.
PETER ROSENBERG: I'm not saying Kanye's intent is terrible, but I see through him. This week, he happened to fuck with my business, where he decided to go and kiss Clear Channel's ass, and co-sign my competition. So, I'm extra heated about it and I think I have the right to be. I'll tell you one thing—his promo game, he's learned that from Kim K. She's fucking amazing at it! That's one thing she has definitely taught him.
DJ SNIPS: I grew up with late-80s/mid-90s New York hip-hop, and I'm seeing this massive resurgence in it now, with Joey Bada$$, Bishop Nehru, and those young guys who probably grew up in a house where their older brother was listening to classic hip-hop. Do you think that could become the dominant sound of hip-hop again? I give people the Royce and Premier album and I'm told that it's "niche." Why the fuck does it have to be niche, or a sub-genre?
PETER ROSENBERG: I think it's just because hip-hop has become incredibly broad, and everything is "niche" now. What would you say is not niche? I guess you could say Kanye, Jay, Eminem, and Drake. But Earl Sweatshirt and Tyler are certainly niche. And Bada$$ and Bronson are certainly niche. And all the grime shit is niche. So, I wouldn't take it to heart. The reality is, if you're listening to a mainstream mix show, and someone drops a PRhyme record, it's going to sound out of place. It may be niche, but it's a great time for that niche stuff. It's going to last forever.