22-year-old Denai Moore is a powerful enigma. Composing devastating and heart-rending lullabies, a stricken and haunting quality resonates from her soulful tones. Pairing with Rodaidh McDonald, manager of XL Recordings' in-house studio, the music born of this magical union is unparalleled. Born in Jamaica and now based in Stratford, London, Moore's music represents rare, deep, and complete emotional clarity. Opting to study songwriting, her obsession and first passion at university, the folk-pop-soul singer's love of music quickly morphed into a resentment and hate for it. In attempting to harness her creativity and write to a schedule, she became isolated from peers and her precious guitar.
Questioning her character, future, talent and very self, Denai then dropped out of university in order to rediscover herself. Her journey of rediscovery forms the material behind her ambitious debut album, Elsewhere. Laying herself bare through illustrious lyrics, she bravely reveals herself with delicate poetic poise on record. Touring with SBTRKT and featuring on his Wonder Where We Land LP, Denai Moore is now signed to forward-thinking independent imprint, Because Music. She's also worked with Plan B, James Vincent McMorrow and is a favourite with BBC Radio1's Huw Stephens. Complex gets to know the beautiful chanteuse.  
Interview by Milly McMahon
Photography: Elliot Simpson
---
Now that you're standing back from the album, does it change your own perception of yourself as an artist? Did the journey of the music morph as the production progressed?

When I listen back to it, the main reflection I have is that Rodaidh was the right person to work with because it is everything I wanted it to be. I was very nervous about my first record, and I'd be terrified if I wasn't nervous [laughs], but I feel really proud of it. Generally, everything went very smoothly. The process just seemed to work organically with the ideas; it was a creative marriage. I already knew what I wanted the record to sound like when I wrote it. "I Swore" was my demo and Roddy was just the perfect producer to bring that feeling for the music out of me and put the following tracks into context. We played most of the instrumentals between the two of us and then had my drummer come in and play the drums. I think, in that respect, even my vocals were layered and harmonised in ways I never thought possible. Roddy really pushed me, and it was a great. My vocals are used as instruments, which is crazy! Even now, going through the album and listening back to the music, I'm unsure how I even played certain parts. And I think that's something that has improved my confidence. If you had asked me before if I would ever predict I would play guitar live and all these other things live, I would never have thought l could. But now, I'm doing just that. It's so funny. 
There are some powerful moments of love lost and pain endured throughout the album. Is the majority of the material written about a single relationship, or does the order in which the tracks run piece together different experiences?

The record definitely represents my last two years. Three years ago, I went to university and last year, I turned 21 so a lot of it is about growing up and having these experiences of being a young adult. A lot my lyrics are very honest and I really pride myself on being an open book. The only thing I can do, is talk about what's happening to me. Certain times though, I share my opinions about the current world, about society... I want to look back on the album as though it's a chapter of my life.
When you were recording the material, did you need downtime from the process? The emotional context of the content is pretty deep and emotional.

The whole process just felt really good, mainly because there weren't too many people meddling in the creative process. When a song was finished, I invited my manager and A&R to listen in but, apart from that, the whole process was just me and Roddy so I didn't feel too overwhelmed. I felt really free whilst recording, actually, and that was something that was really important for me, so I could control what was going on. No meddling! [Laughs]. After I recorded most of the songs, I invited Ben Drew in for last-minute input, which was very useful because I value his opinion a lot. I wrote "Lay" with him; he's such an amazing songwriter. But at the core of Elsewhere, it's just me and Roddy. It was so organic, and you can definitely hear that on the record.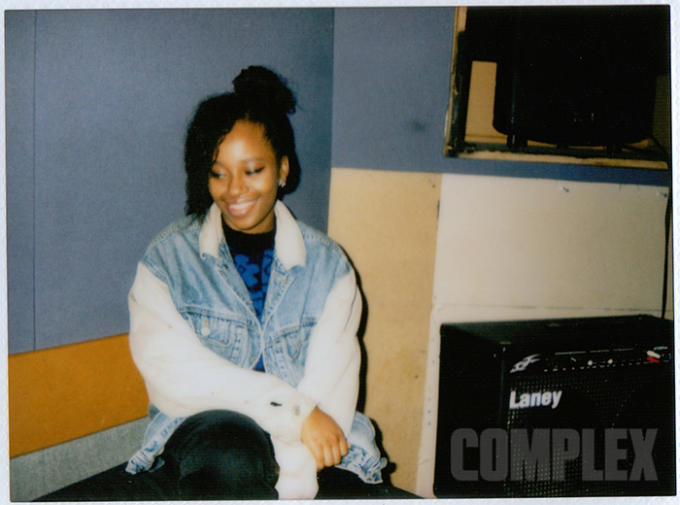 Who created the album artwork? How do you feel the image represents your material?

Leif Podhajsky has done a lot of projects that I really love. He did the last Foals record and the artwork for Bonobo, too, and I just think he's really incredible at what he does. I didn't know who he was before, but I spotted his artwork through Tumblr and decided to reach out. We met up and I explained to him that I wanted to create this world that was surreal; I had the whole image of the record captured in my head. So the concept behind the artwork was born between the both of us. I just gave him a bit of creative input. 
Plan B looks to inspire social change and bring about revolution with his powerful anthems. Is there any sort of mission statement behind the music you create today?

100%! Ben [Drew] is someone that stands for something and isn't afraid to speak up for what he believes in. His opinion on society really makes a lot of difference; his charity work inspires me too. Lyrically, there's nothing worse than someone who has nothing to say about absolutely everything. The plight of the artist is that people who are outspoken are looked down upon, but I do think it's important to stand up for what you believe in and project that in your music. When you reach a certain point, you have a platform that can help change a lot of things that you care about. You can change things! And that's what Ben does. He used to live close to me in Stratford, and I've seen how his voice has benefited so many people's lives with his charity work. I really look up to him and hope that, I, too, will have the opportunity to make a difference in that way one day. 
What can you imagine being your cause?

I don't know yet, because I'm passionate about so many things. I have a lot of friends in school who are really deterred from doing what they love doing, creatively, because music is looked down upon as something that isn't a real thing. I have a sister who's 16, and a lot of her friends define their lives by their education and they value themselves based upon what they get on an exam, which makes me sad. There's more to life than that.