Brampton's own BriskInTheHouse is one of Canada's premiere lyrical talents, known for combining conscious flows with saturated breakbeats and piano trills. Growing up in Vaughan and Oakwood, the rapper/producer started refining his craft at the age of 7, at the behest of a very musical family. Brisk likens his upbringing to a sort of "rap bootcamp," with two DJs in the house, and cousins who would pummel him if he didn't showcase a few bars for their friends. Two decades later, BriskInTheHouse has conceived a sound that straddles influences like Stones Throw and Jay Electronica, but remains unwaveringly true to himself.
We linked up with the BKR$CLB affiliate to talk about music, faith, and future plans.
When people talk about your music, the term "conscious hip-hop" gets thrown around. Is that a label you embrace?
When it comes to the label or term "conscious," I'll embrace it. I know where people are coming from when they say it. Life is all about balance. On a good day, you can find me hanging out with my boys, getting drunk and cracking jokes. But I also take the time out to study, so I don't get caught up in the traps this world has to offer. I try to be in the world, but not of it. My main goal in life is nation building, and that's why I write books, read books, and share information with anyone willing to listen.
Your latest record, Tickets To The Roxy, has a throughline of classic, jazzy boom-bap, sidestepping massive trap beats that dominate mainstream hip-hop. Who do you cite as influences for the sound you've created?
The title Tickets To The Roxy was inspired when I was watching the movie Beat Street one night. Back in the day, the Roxy was the place to be, and I wanted to bring back that real hip-hop sound everyone seems to be ignoring these days. The music itself was probably recorded two and a half years prior to me putting it out, because I was recording so much at the time. My main influence when it comes to making music is Jay Electronica. I can relate to him because we're both followers of the Honourable Elijah Muhammad, and we come from the same school of thought. He is probably the only mainstream rapper I can relate to at the moment. Most of my favourite artist are signed to Stones Throw Records. I stopped being a fan of rap a long time ago, and started getting heavy into jazz, and music from Brazil. I think that's where the influence for most my records comes from. I try and channel that Brazilian jazz swing in the beat, and in the way I flow.
Faith is a recurring theme in your lyrics. Can you talk a little bit about what it means to you, and the way it surfaces in your music?
My name is Rasul EL, and it means messenger of God. I got knowledge of self from a brother named Sean 13x. He put me onto the teachings of the Honourable Elijah Muhammad, and it changed my life. It's been 5 years since I started my journey. I build with the Moors and the Gods, and I'm a proud Moor doing my job, uplifting fallen humanity. Ninety percent of music today promotes the lower self, and I'm doing my best to change that. I practice I-Self-Lord-And-Master. I don't really have a belief or a faith, but what I do know is that God is not a mystery. The Mystery is my story. My music changed once I gained knowledge of self. And knowledge is the only thing I want to talk about, or rap about. When I rap, I rap about my life—everything is me. I'll be reading my Koran and see a quote jump out at me that day, and put it into my rhymes. When I mix the Moorish Science in with the music, it gives the listener something to look up afterwards. My hope is that a word might jump out at you, and you might research the Moors and find out who the mothers and fathers of civilization are.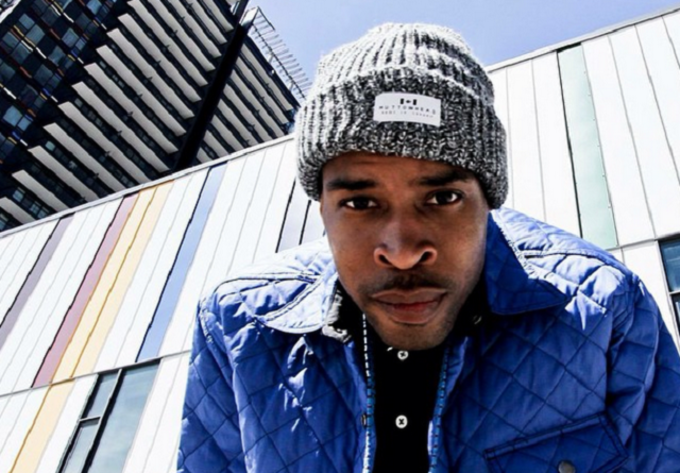 Toronto-based visual artist SoTeeOh directed your last video, and put together the artwork for Tickets To The Roxy. What's your artistic relationship like?
Working with SoTeeOh is the greatest experience I could ask for as an artist. We both appreciate the craft, and respect each other's visions. He's more like my older brother, or a guardian angel. He's helped me grow as person in so many ways, and I'm forever indebted to him. As long as I'm making music, he'll always be involved in my career. Whether it's making album art, a photo shoot, shooting a music video, or just giving me advice on life, he will always be involved in the moves I make for my career. Inshallah.
How did the BKR$CLB affiliation come about? What's collaboration like in your clique?
My affiliation with Bakers Club came from my cousin Brandon Chey, who is also a member. He introduced me to Raz [Fresco], and we started working together the next day. Raz recorded his 1995 mixtape at my studio. The vibes at our studio sessions were peace, so he asked if I would be down to be in the Club. And the rest is history.
---
Be on the lookout for BriskInTheHouse's new mixtape Rasul EL: In The Mist For The Most, dropping next month. Check out the video for "High Punched" below.