When looking back on the career of electronic duo, Chase & Status, instead of rose-tinted recollection, the story so far is one of continued elevation. Constantly refining and refreshing, Saul Milton and Will Kennard have managed to sculpt their sound across genres, and now, towards a whole new generation. The vanguard of this decade-long run has been the establishment of independent label, MTA Records, home to top British acts such as Moko, Dream McLean and Nero. We caught up with Will, Saul and label manager Sophie Hall at MTA HQ (they're doors away from Complex's office) for a brief catch up that inevitably turned into a full-blown Q&A session. Fans will tell you the rarity of a Will and Saul joint appearance, even at DJ gigs, and we simply wouldn't be doing our jobs if we didn't capitalise in tying down the boys and picking their brains on the success of MTA over the last five years. (They had a few words to say on their controversial Red Bull Culture Clash win, too). Read on for more. 
Interview by Tobi Oke (@TefTobz)
---
What was the original vision for MTA Records when you established the label?
Will: I think it was because we've released on so many small independent labels throughout our own career, some of them were great and some of them weren't. When we got further, we thought it'd be nice to develop artists in the way we would've liked to have been helped. Just to do things properly, from a label point of view. We were coming across new artists and new producers, thinking, "We can do this better than a lot of the labels out there."
Saul: I guess, the vision was to be a label for artists. Put them ahead of the brand, the label. 
Will: They're the most important thing!

MTA brands itself as "specialising in exceptional music." What makes an artist exceptional to you?
Saul: Originality. I want to hear something fresh and exciting, something that makes you think, "What the fuck is this"?
Just from observing you guys, it's clear you both have different tastes in things. How does that affect joint decision-making, musically?
Saul: Yeah, okay, aesthetically, we look different [laughs]. Thankfully though, we've always been on the same musical page.
Will: We've always had an eclectic taste in music; we can appreciate what's good about something. There's very little disagreement throughout the label as to what's good music.
Sophie, what would you say has been the biggest challenge you've faced in keeping the label going for five years?
Sophie: I think just sticking to the vision, really. There's always opportunities that come about that make you think that we could take a different lane, get on board with a new trend and attract a different type of person. But it's about remembering who you are, as a brand. That's why people are signing to this label, because of what we believe in.
Saul: Play to your strengths really.
What successes are you most proud of to date?
Saul: We were very, very happy to score a number one single with Nero. They were probably our first exclusive signing. I mean, we barely had a label when we signed them—​it was in the studio, with a piece of paper, and they just came with absolute bangers. It all happened so organically, and suddenly, the trajectory changes and, in the blink of an eye, it was like right, "This is now a proper business."
Who is your most recent signing to the label that has excited you?
Will: I'm really happy we singed Moko. There was loads of interest from other labels, so it was difficult. We featured her on our last album and we've just been working with her on developing the album now. She's just someone we're really proud to have on the label.
Do the artists around you influence you, too?
Will: Yeah, all the time. They're the future, you know? We've been doing this for ten years now and it'd be kinda stupid if we didn't pay attention to what was coming through. Before the label, we naturally did that just from being DJs, and wanting to play. Now though, we have to do be on the ball as part of running the label. It's work, but it feeds it into who we are as artists.
Saul: We've got an artist called Moody Good who is considerably younger than Will and I. Okay, maybe just me [laughs]. His production levels are through the roof, and it's always so exciting to hear what he comes up with. I'll call him up and be like, "That noise, 40 seconds in, how'd you do that"? It's very inspiring, because could be in a creative rut, it happens after ten years, and you see these new guys go through 15 tunes in two weeks! It really does make you pull your finger out.
Now, let's talk Red Bull Culture Clash. As reigning champs, you guys have to return in 2016. But how do you plan on topping the last win?
Saul: I don't think my marriage will be able to handle it [laughs]. I was away for months! We worked so hard preparing for this clash, and we're very proud of the result. 
Given the pedigree of Rebel Sound, did you feel a little slighted by the early predictions having A$AP Mob and BBK as the pre-clash favourites?
Saul: Yes, of course! My ego and my pride have had calmer days, to be honest. So yeah, it did annoy me because people underestimated us. I also felt, perhaps some homework wasn't done. People didn't realise we had worked with Capleton back in 2005 and we've been cutting dubs since 2003—we've been in this for a long time. We didn't get into any pre-match jibber-jabber online because that's not us; we're not into all of that. 
Sophie: Under-promise, over-deliver.
Saul: That's right, exactly that. We've got some exciting ideas for 2016, actually. I was on holiday just last week and already cut a couple dubs.
The main controversy of the night was Tempa T coming out on your stage against his close affiliates, Boy Better Know. As a grime MC, he's been called a traitor, a sellout, and more. What's your take on the drama?
Saul: Let me quickly clear it up. First of all, we've been very close with Tempz for about five years. I heard an interview with Wiley on radio about this and I'm not gonna get into too much detail, but everyone has their own relationship and so comparing us to theirs is pointless. At the Red Bull Culture Clash in 2012, BBK performed "Next Hype" and "Hypest Hype" and came out in Tempa T masks; they didn't call him down to go on stage with them. This was happening from back then!
Sophie: Really, it's all just fun. It's entertainment. 
Saul: Yeah, it was all love after the clash. We linked up with BBK the next day and Skepta laid a verse down for us, so it's all good.
Will: Lots of comments I saw were like, "Thank God for Tempz! This is what grime needs." It's what it was built on, isn't it? That excitement of clashing different camps and crews. I respected it, because it made him a real individual character. He's a rockstar, and it was a rockstar thing to do.
Okay, so lastly, where do you see MTA Records being in ten years from today? 
Saul: Erm... Probably speaking to you guys again, where I'll probably be in a different Moschino suit.
MTA Records' 'MTA 5' compilation is out now. The label will also be throwing parties throughout 2015; for more info, head here.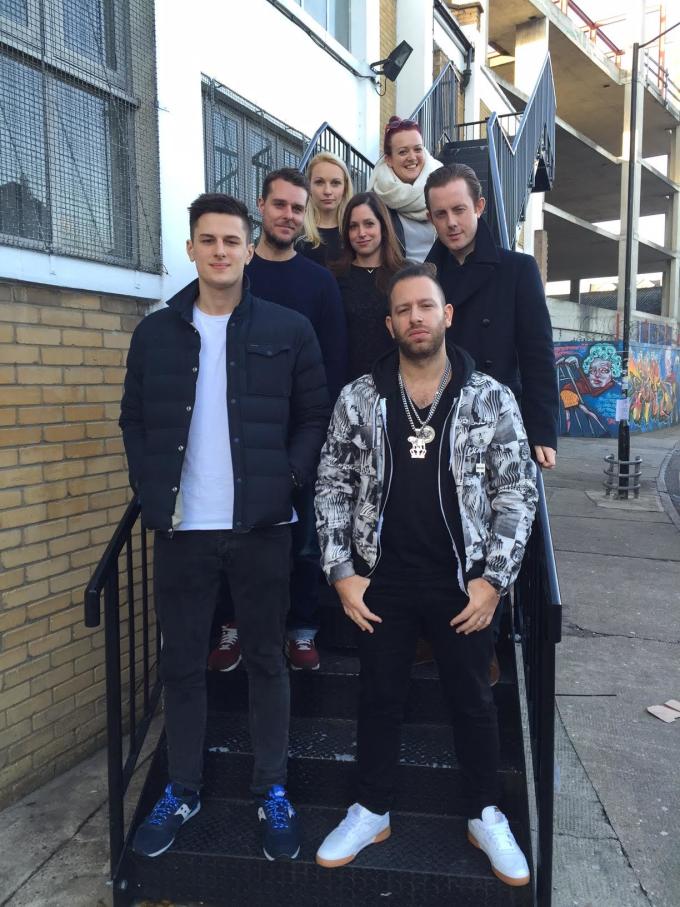 <span></span>