Art is not easy. An entire wing of publishing is devoted to making you a better creator: how to beat writer's block, how to become a better actor, and how to learn piano faster. Much of the advice is contradictory—some say the best way to create is to do it constantly (surely their bosses would agree). Others contend that it's best to wait until inspiration strikes—even if inspiration is "last-minute panic." But very, very few get the opportunity to work in the ideal space. Whether you were skipping lunch period to practice the trumpet back in high school, or hiding out in the laundry room—the only place to work without interruption—we seldom get a chance to work under ideal conditions. In fact, we rarely even think much about what ideal conditions even mean beyond a straight-backed chair, a couple of Advil, and a glass of water.
Some have been given the opportunity to sit with just that problem: Where would an artist go to leave all the petty distractions behind? Luckily, with success comes freedom. Singer, songwriter, producer, and jack-of-all-trades J. Ralph is an Academy Award-nominated artist who has worked with some of music's biggest names, writing and producing soundtracks for films and documentaries; he was the composer behind two Oscar-winning films, 2009's Man on Wire and 2010's Cove. J. Ralph has also released music under both his own name (2005's The Illusionary Movements of Geraldine and Nazu) and the handle "Spy" (1999's Music to Mauzner By). He also heads up the Rumor Mill, which is a music production company.
Where does this level of accomplishment come from? No doubt J. Ralph has found things easier thanks in part to his own exclusive studio, which is situated in the former Clinton Star Theatre, tucked away in Manhattan's Lower East Side.
Before it was a private studio, it was the Clinton Star Theatre for much of the first half of the 20th century. Rumor has it that Charlie Chaplin and Groucho Marx had both performed at the venue in its heyday. J. Ralph is protective of the studio's history, but says that his attraction to the space was as much about size as history.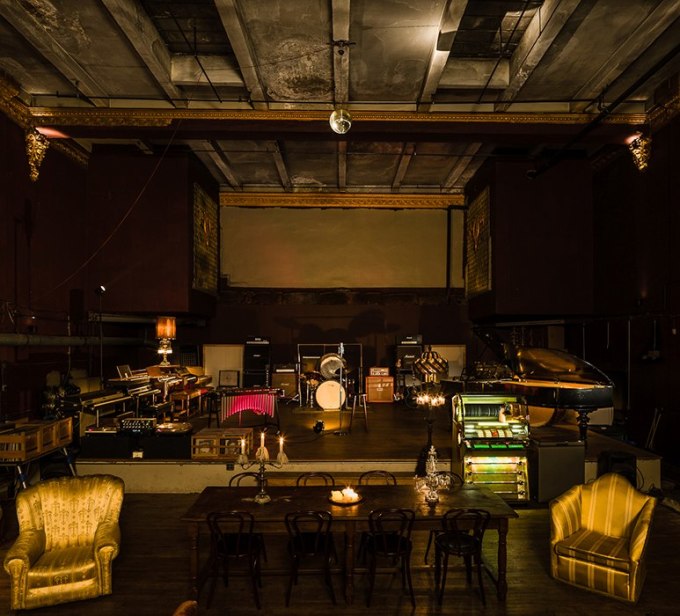 "I was looking for a big sound and needed a big space to accomplish it," he says. "I don't like doing things artificially when possible. So it was critical for me to find something that would allow the music to breathe."
Indeed, the space is immense, with ceilings that reach nearly 50 feet into the air. But what makes J. Ralph studio unique isn't its dimensions or its history—it's the artifacts, which are hand-selected by J. Ralph himself. There's a 10-foot Blüthner piano from the early 1900s that belonged to Duke Ellington, an old jukebox packed with rock 'n' roll standards like Fats Domino's "Blueberry Hill" and the Everly Brothers' "Let It Be Me," and the space's centerpiece, which is a rare J.W. Fiske aquarium.
Ralph has collected these pieces and others over the course of many years of travel. As he puts it: "Just picking up different things that I thought would create an environment that would allow musicians to get lost in their own creativity. Just traveling around the globe, I wanted to find things that were otherworldly." For Ralph, the design—or, in his words, the anti-design—isn't about a particular aesthetic, style, or period. While some pieces date back to the 1800s, others—like his huge 1,200-watt McIntosh stereo—are much more recent. Instead, he looks at it holistically: "I guess it's like some sort of cathedral or refuge—a hideout from another world, you know?" Then, somewhat morbidly: "Some kind of a tomb."
But he's joking—the space is no mausoleum. Every instrument, from the 5-Octave Schiedmayer Celeste to Duke's piano, is functional and available for the diverse range of visiting musicians. J. Ralph has recorded with some of the biggest stars in the business—everyone from Antony Hegarty of Antony and the Johnsons, to Wynton Marsalis, Scarlett Johansson, Norah Jones, and, most recently, Youssou N'Dour. But the space is explicitly not a commercial studio. "There's no ticking clock," Ralph says. "You're just free from the outside world to let your imagination and all possibilities unfold."
Although Ralph contends that a great-sounding performance can come from anywhere, it still requires considerable focus.
"Part of that focus is creating an environment for the artists to feel free and feel on another dimension. It allows you to feel like you're in another reality, free from ego, and free from consciousness to interfere with the performance."
Ralph's attention to detail is uncanny, although he's entirely self-taught. He's continually shifting the appearance and content of his studio in the most subtle ways. "I'm always finding stuff—any instrument or piece of equipment or object that might have a story or a song in it—I want to somehow introduce to the environment. It could be a blanket; it could be a drum; it could be an effects pedal, a microphone, or a microphone stand. All of these things influence the touch, the sound, and the visuals that drastically change how you're going to perform on that day."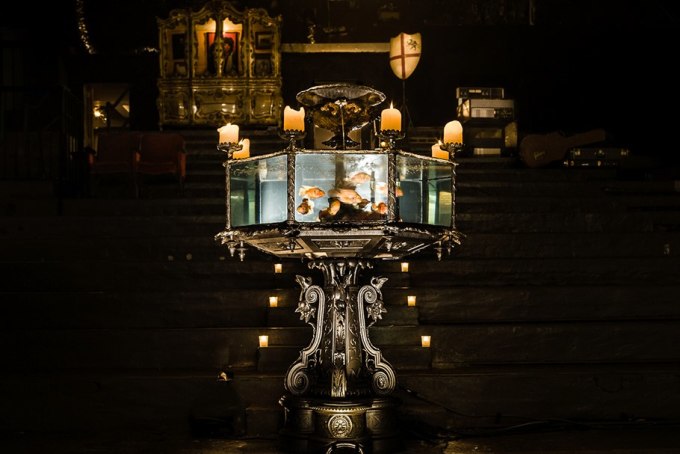 This perfectionist approach is something he applies not just to the artifacts in the space, but also to everything else, from the lighting to the art. Driving it all is a fascination not just with music, but the stories of seminal art.
"I love to study incredible people and incredible objects to find out the history of them and why they became kind of iconic things—to try to understand something about the people and what drove them."
A piece that he's particularly drawn to is the aquarium—designed by ironworker J.W. Fiske—that sits at the room's center.
"He used to build all the ironwork you see in Soho—all the lamp posts and the grates and gates and fire escapes of all these majestic buildings," Ralph says. "Towards the end of his life, some of the biggest pieces of his production were these elaborate aquariums that would be shown in the conservatories of the Rockefellers and the Vanderbilts."
J. Ralph has been lucky enough to obtain one, which is a rarity in this day and age since few have survived the centuries.
"The proportions he utilized on that piece—I've never seen anything like it. It's just really extraordinary. It's one of the biggest ones that he ever made, and they are very rare to find. Not many survived."
If you're hoping to take a look yourself, you might have a shot—one day.
"It's a crime to just hoard things," Ralph says. "I always think that if you're not using it, then someone else should be using it, unless you have a good reason to keep it."
But don't get too excited: Ralph's studio is more than an antique shop and music fanatic's dream world. It's an extension of his entire artistic life, the tentacles of his creativity.
"I have an almost methodical archive of all different things that are important to my process," he says. "And everything is in flat files and paper and diagrams and designs. All very intentionally kept for research, to trace back to stuff—to see if you've gone down the wrong path and you want to go back. You stopped using one guitar and one microphone, and then you got into this other realm—it's something essential that's during the journey, and I wouldn't sell that because I might need to retrace my steps back through that and then go another way."