Neneh Cherry is the epitome of cool. From her early days as a teenager in the 1970's UK punk scene, through collaborating with trip-hop legends Massive Attack and Tricky in each of their genre-defining albums, Neneh is jazz-cat-level cool. Which is unsurprising when you consider her dad was legendary jazz trumpeter Don Cherry. And we haven't even mentioned her setting the stage for today's singer-poets like Kelela, Kelis, and Erykah Badu, with her iconic 1989 debut solo album, Raw Like Sushi, and its eternal party single, "Buffalo Stance." Then there was the time she was a member of the Gorillaz…. We could go on.

This past weekend, Neneh performed her second show ever in the U.S. (the last one being back in 1992) at the Pitchfork Music Festival. Backed only by a drummer and synth player, a.k.a. electronic-jazz brothers RocketNumberNine, Neneh and the band tore through the sparse, dubby, freeform tunes of her recent record, Blank Project, produced by electronica wizard Four Tet. We were there to catch it all and linked up the next day to chat about her involvement in half a dozen genres of music, her love for FKA Twigs, and what it'd be like for Madlib to sample her family's record collection. Neneh may have old guard street cred, but her energy remains as fresh and cool as ever.

Interview by Clay Bassford

Are there any contemporary artists that you're really interested in at the moment? I'd say a lot of your earlier work has been pretty influential in the resurgence of experimental R&B, and I'm curious if you keep up with that.
I like Kelela. I like Twigs. I love the more old school, I hate to say old school, but I love Peaches, I love Peaches, I love Cat Power. And there's constantly new things coming up. But there's something so beautifully powerful—for me being a woman, when there's a woman doing something it really strikes a chord. I love Robyn, not just because we've worked together. I mean that's why we've worked together, because I love her. But to me, she's definitely the voice of pop right now that has that extra je ne sais quoi.

The last time you played in the U.S. was '92?
I remembered last night that I was here [in the U.S.] with the Gorillaz. We were doing Demon Days at the Apollo Theater in the 2000s.

What was that like? Was that the tour where people performed behind a big screen?
No, we had a screen behind us, and all the musicians were silhouettes, and this string of performers were just getting on the stage and Damon was joining in on the piano. To answer your question without ranting on for so long, it was really amazing. It was a very, very unusual thing to have that many egos that were like, without egos. You looked at it and it was this amazing tapestry. Everyone just felt like there was this real enthusiasm around the whole thing. It was as much for Ike Turner, as Shaun Ryder. De La Soul was there. Bootie Brown from Pharcyde was there. It was like 60 or 75 people going on and off the stage, and that can be really annoying but it was like one piece. It was a…

A music party.
It was an absolute music party and a party! [Laughs.] The last time I was on a stage, like two and a half years ago, doing a tribute for Ari Up from the Slits, and I did "Typical Girls," the Slits song. But doing my own gig, it's been a light-year.

What led you to come back and do your own stuff now in the U.S.?
The invite to play Pitchfork and now we need to tour. I mean, I wanna take the music everywhere. Especially for me, I grew up half in New York, and I feel—obviously, having spent a huge chunk of my life there on and off—really connected to it. And it's kind of weird that, as such a big part of who I am, the music hasn't really had a life here yet. I hope to maybe come there in the autumn. It was a big deal coming to play here at Pitchfork. It was kind of like breaking the ice. It was like, "OK, let's start here and get inside and then do some touring."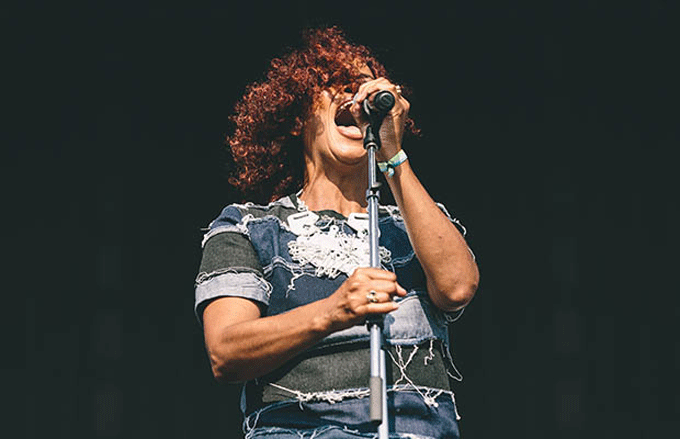 Your set [at Pitchfork festival] was very cool.
Thank you. Really? Thank you.

Yeah! It was really cool to see you perform your new music live. It felt very stripped down in an awesome way.
This album is kind of tough, but it's kind of raw in a way. It's not multi-layered, it's not that it hasn't got its complexities, but it is kind of stripped back. I think just the sheer force for me, doing music in this way—I've discovered that I respond much better to the kind of sound and energy that's a bit more coarse. And right now where I seem to be heading and where I am is to be in a more freeform kind of environment—unorganized organized chaos. RocketNumberNine, Tom and Ben, what they're doing is special because it's electronic but it's kind of…
I've discovered that I respond much better to the kind of sound and energy that's a bit more coarse.
It feels really organic.
It's really organic, because they're playing live rather than having a bunch of stuff. It was interesting I suppose because when we went to record the album with Kieran Hebden [a.k.a. Four Tet], me and Tom and Ben thought, "Hmm, maybe Kieran would produce the record in a different way." We thought we would end up with a slightly more complex—but Kieran was really just interested in keeping it as it was. Obviously he produced the record and he added stuff to it, but he wasn't really interested in changing it. He was interested in capturing what was there and making it happen in an organic way.

I read that a lot of what Four Tet did was stripping things down.
He took stuff away, you know, from, like, tunes where there wasn't really that much shit in the first place! Like, "Oh my god!" [Laughs.] It's kind of like playing strip poker, like, "Shit! I've just lost another layer, and I'm down to my underwear." But he was right. I think he is one of the geniuses of our time in the way that he works, which has a kind of fearlessness but it's also very intellectual. It's intellectual because he really thinks about what he wants to do, but he can see it for what it is. I think that's a really complicated, complex thing. I have that in my instinct, in my belly, but if I started applying my brain to a resolution of looking at something and seeing how to get there in a mathematical way, I'd just end up being confused. So I get there through following my feelings. [Laughs.] It's a different journey.

It's kind of a yin and yang balance.
Yeah. And I think Ben and Tom, the three of us are kind of similar in that way, in that we sort of plod along with a force of nature and then we're like, "Woo, we got there!" While Kieran is already there seeing it, and he brought us in, he towed us in.

Speaking of collaborations. You did an awesome cover of "Accordion" by Madvillain, and I read that you'd love to work with Madlib. Do you think that could ever happen?
I would. I wish it could.

What do you think that would sound like?
I think it could sound really good. It's hard to say. Before you've done something with someone, before you've actually started it's really scary, because nothing might come of it, and you have no idea what it's gonna sound like. The interest of someone like Madlib is how he sounds and then imagining that we could make a sound together…. But my daughter was like, "Yeah, you should bring him to our house in Sweden and he could sample all of our records and make a record with our record collection." That could be cool, because my family—all of my dad's record collection—it's a record collection to be reckoned with, let's put it that way.

Favorite food?
Soul food. When I say soul food, I mean food with spirit. I love collard greens and sweet potatoes. But like, traveling, I'm always just looking for that thing where you feel like there's love in the food. Like one of the best things, in Brazil it's feijoada. I was in Tobago in the winter and I had the best roti I've ever had, with curry goat.

Anything up next? I saw you're touring Europe.
We have a little break, then first of August we're doing a two-week back-to-back festival thing. All of it's with RocketNumberNine. Then that takes us up to September and then it's time to make some more music. I'm hoping to do some stuff with Forest Swords and some stuff with RocketNumberNine and see what unfolds in this oyster of a world.