deadmau5, who pulled of a big performance with Eric Prydz for Miami Music Week, is said to be spending more time in Miami than he originally planned for. With Avicii currently hospitalized, reports are coming in saying that deadmau5 is going to be filling in for Avicii's Ultra Music Festival slot, which looks like it's the closing set on Saturday night's main stage. deadmau5 hasn't outright said "YES I AM FILLING IN FOR AVICII," but the tweets up above definitely sound like he's all but outright confirmed this. If you remember, deadmau5 played closing main stage sets during both of the UMF 2013 Saturday night shows. This is a truly unexpected treat, and will make the price of those Ultra tickets worth it, especially considering that deadmau5 has two-discs worth of new material he could drop on the Miami masses!
Here is the official poster and announcement from Ultra: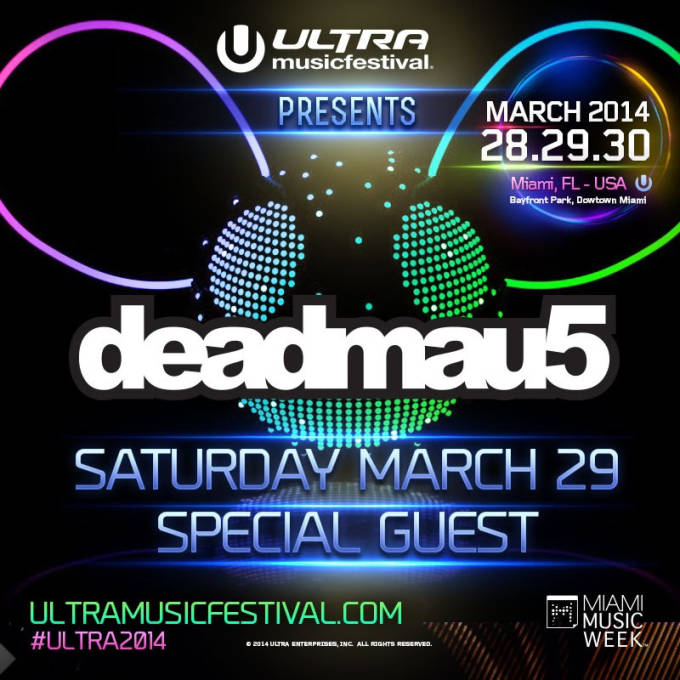 The biggest party on the planet ULTRA MUSIC FESTIVAL, is underway at Bayfront Park in downtown Miami this weekend. The festival has announced the addition of special guest deadmau5 for tomorrow, Saturday, March 29. The world-renowned electronic music producer will step in to helm a main stage spot as Avicii is no longer scheduled to appear due to health issues. The entire Ultra Music Festival family wishes Avicii a speedy recovery.