We're not even sure what to say about this. Without any real back story, it's definitely confusing to check Twitter and see tweets like this: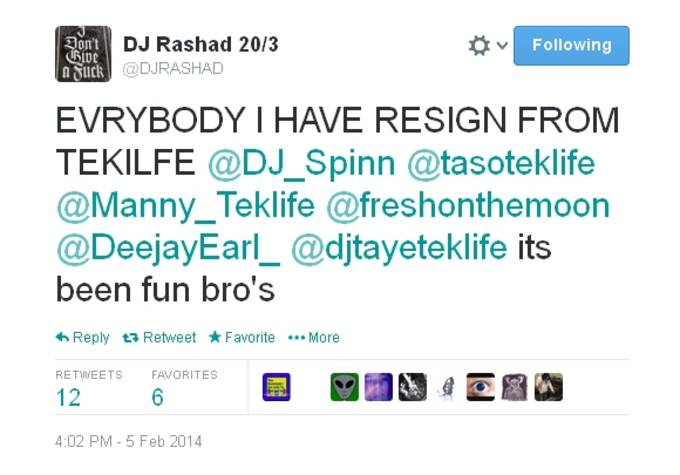 We can't speculate on WHY DJ Rashad would leave a crew that he's helped bring to the world over the last few years, but it looks like something was brewing. We were actually just enamored by the love and support the TEKLIFE family was getting via their forthcoming WTF! album on Freshmoon, but to see this, after we've been seeing (and heralding) a vibrant push for footwork worldwide, it's odd to see the above tweet, although Rashad doesn't plan on stopping: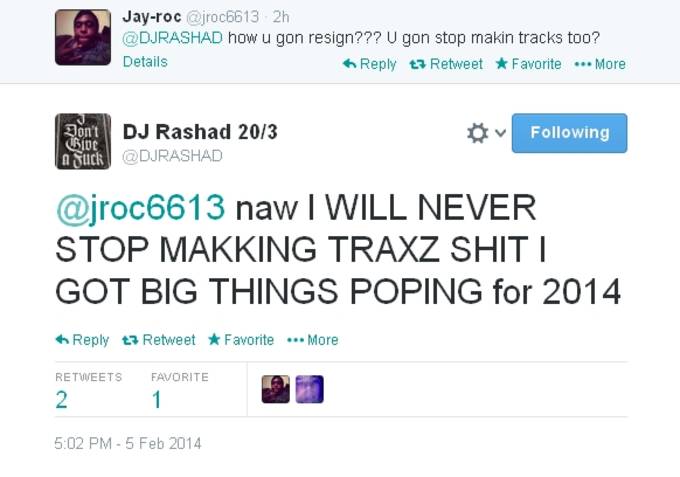 Although that makes us wonder: Rashad linked up with Hyperdub last year to put out his Rollin' and I Don't Give A Fuck EP, as well as the critically-acclaimed Double Cup album. Is he moving on to a more fixed position in the Hyperdub family? Whatever the case may be, he seems to have left TEKLIFE in the hands of MooNDoctoR and FreshTillDef: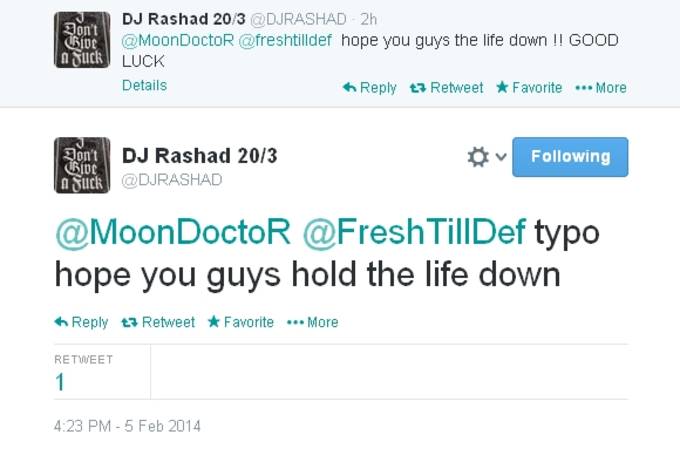 We've reached out to a number of TEKLIFE affiliates; we will update you with any new information we receive.
UPDATE Well, I can't call these updates, really, as they're just a pair of videos and an interesting FB post, but we've not heard word back from anyone, nor seen any new updates on this, so we'll just go with the flow. Up first, DJ Rashad posted a Vine and DJ Earl posted an Instagram video that shows that they were chilling, and that they don't give a fuck about haters (who should know who they are):
FUKK THE HATERS https://t.co/fX6GLke5RK

— DJ Rashad 20/3 (@DJRASHAD) February 6, 2014
We then saw the following Facebook status that questions if TEKLIFE is being moved to Texas (as MooNDoctoR and FreshTillDef are TEKLIFE, but live in Texas). We're not sure why the original poster made a comment about not wanting to attend a party "filled with doandroidsdance type people," though. We thought we were pretty fun, and for whatever they may think, we ride for footwork, juke, and many other sounds (which we've bigged up many a time). In any case, here's their original thoughts, and you can check out the rest of the update HERE.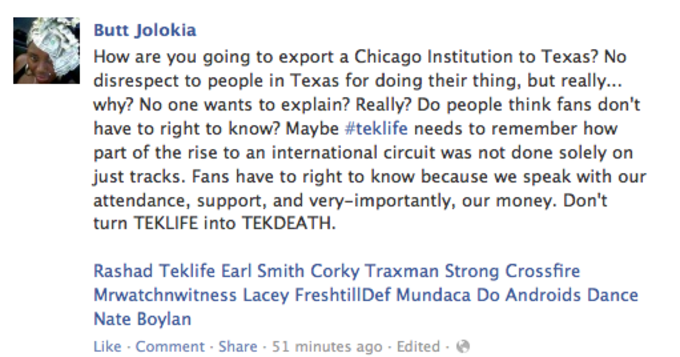 UPDATE Crisis averted; DJ Rashad tweeted earlier today that he's back in Teklife. No real word on what the situation is, but whatever the case may be, it's great to see that all is well.