I am not one to get involved in the petty nonsense of the interwebs, and this site is the furthest thing from an online blog version of TMZ. We bring you music and the truth about music. This scene is very precious to us, and preserving the sanctity of the industry and integrity of its art are my number one priority. As a journalist, I agree to remain objective, but as a blogger I have some leeway for opinion. I am going to try and keep that to myself as I report on the events that have unfolded since yesterday.
Wolfgang Gartner held an AMA on reddit yesterday. It lasted two hours, and he was asked many questions. Gartner is a veteran in this field, and has been spinning music since his college days Southern California. There was no massive "EDM" scene in the late '90s/early '00s, only a small myriad of genres. It was almost ancient times, with personal computers and reliance on technology in very early stages.
Few DJs have evolved so well with the times, keeping themselves relevant and becoming as successful in the modern age of electronica. Wolfgang was seemingly opinionated about many things in the electronic music industry, and rightfully so. He answered questions honestly, and called out a few things he found distasteful.
His comments have since been deleted, but I am going to assume from the fan comments, blatant attacks on 3LAU's skills, that something unfavorable was said about the 23-year-old DJ, particularly about mashups as they become a heated topic. Justin even popped on to defend himself, but his efforts were fruitless. The comments struck a serious chord with mashup monster Justin 3LAU, who in turn headed over to Facebook to express his heated opinion, very hurt and quite venomous at this point: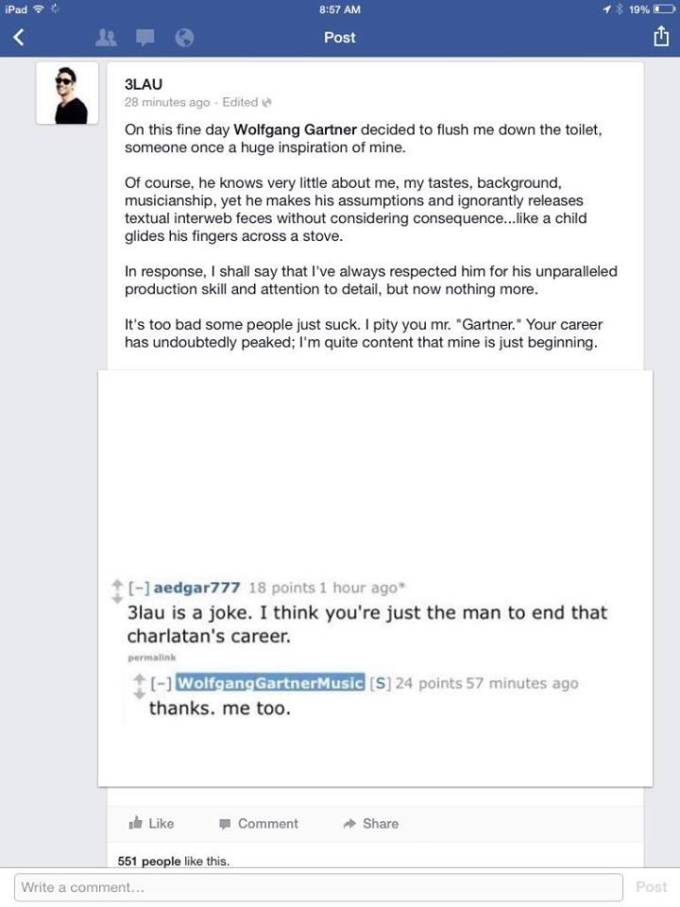 This post has since been deleted, and 3LAU ultimately chose action over words. None of this can be undone, and we bear witness to yet another messy public feud between to respected artists. The comments made on reddit struck a very serious chord with 3LAU, literally.
"Piano Concept" is an attempt to silence the taunts and unkind words, sounding a little like a cry at the opposition. I am not sure if he is overreacting, as anyone who has been teased knows how words can hurt. I really don't want to choose sides here, but I'd like to give Justin 3LAU a hug and tell him that he makes beautiful music.
Ultimately, the show will go on. Behind the decks at a venue, or viral flashes of trolling opinions on a computer screen.
Sigh.