Weed Delivery Explained: How to Use Marijuana Delivery Services Near You
From how to buy weed online to the best cannabis delivery services, here's what you should know & expect when getting marijuana delivered.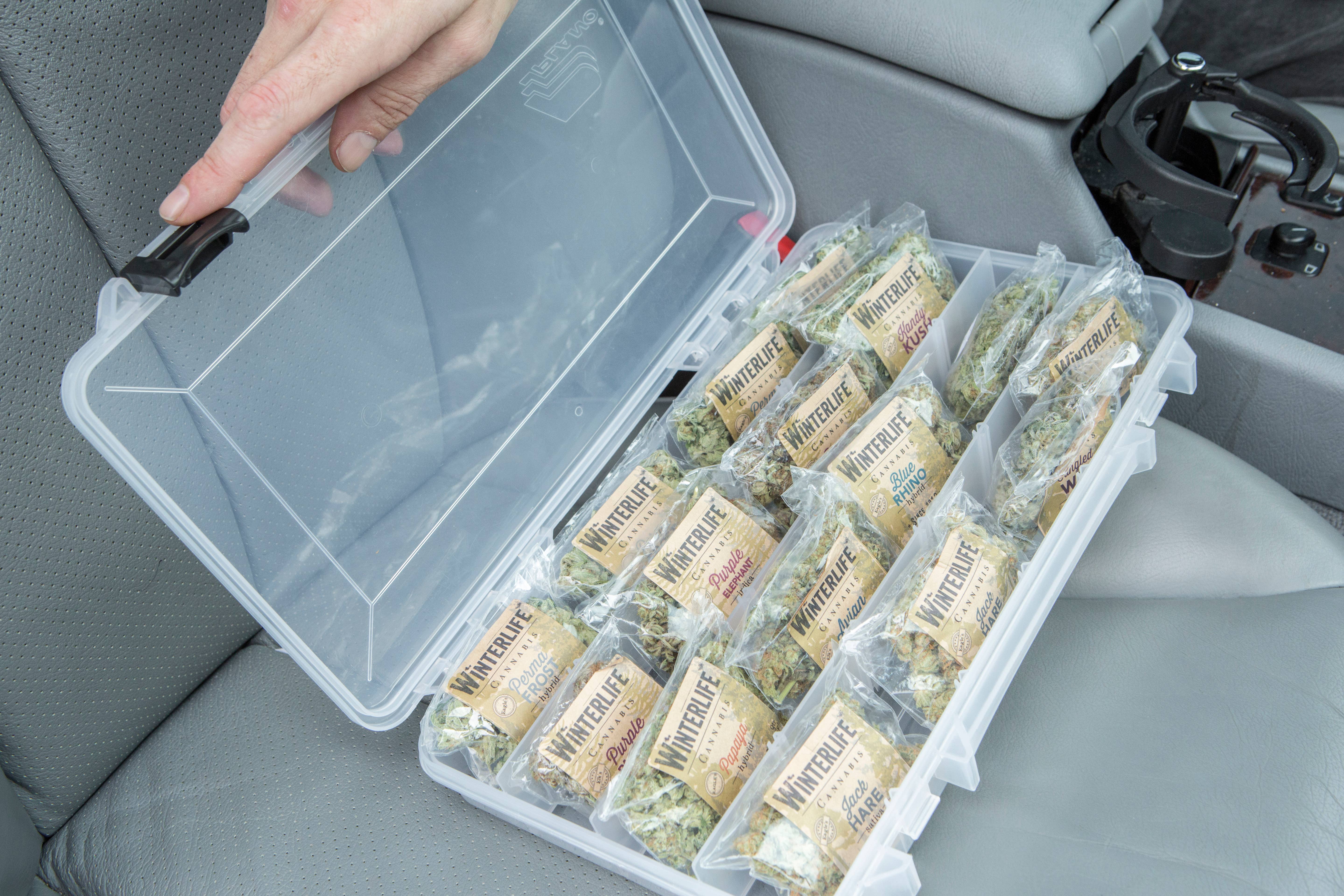 Getty
Image via Getty/Gilles Mingasson
Considering the democracy-destabilizing events kicking off 2021 and the global nightmare that is coronavirus, there are plenty of reasons to sit back and toke a special strain. If you reside in one of the states where the cannabis trade is illegal, then it sucks to be you. But if you're in one of the 37 states where marijuana is legal for recreational or medical use, then jump for joy. It's not only possible to score a sack with the greatest of ease—you may also be able to get it delivered. To learn more about the exquisite bliss that is weed delivery, keep reading. 
Weed delivery service is exactly what it sounds like: the ability to order marijuana products remotely and have them delivered directly to you. Weed delivery services are legally available with no restrictions to users who are 21 years or older in California, Nevada, and Oregon.
Arizona, Colorado, Maine, Maryland, Massachusetts, New Mexico, New York, Rhode Island, and Vermont require registration with the state as an approved medical marijuana consumer or caregiver. Delivery time and possession limits—anywhere from an ounce per strain to a 70-day supply—may apply. Some delivery services may require an actual residential delivery address as opposed to a random location. The delivery service itself may also require separate registration. In all cases, you'll need proper identification.
While Alaska and Washington do provide delivery, legality in both places is sketchy. In Alaska such transactions are referred to as "gift exchanges" as in a "gift" of marijuana for a monetary gift plus a delivery fee. Neither Alaska nor Washington offer clear standards or operational regulations. 
Whether you reside in any of  these states or are just visiting, search the web to verify legality and requirements.
Because most states require medical cannabis cards, it's wise to begin your weed delivery journey by getting registered or verifying your cannabis registration status. Again, each state differs by requirement which may include address verification, a registration fee, an in-person doctor's visit, and a qualifying disease or ailment such as cancer or post traumatic stress disorder. Alaska, Arizona, Arkansas, California, Colorado, Hawaii, Maine, Massachusetts, Michigan, Nevada, New Hampshire, Oklahoma, Oregon, Pennsylvania, Rhode Island, Washington, and Washington D.C. all accept out-of-state medical marijuana cards.
For the states that offer delivery services, medical marijuana registration often provides users with tax or delivery fee waivers and/or special discounts on products. Be advised that some states are more lenient than others and may have certain restrictions with visiting customers. Do your homework by verifying any applicable laws online. Once registration is complete and approved—and you've made sure you can legally score—start shopping.
Many delivery services have a website or an app for download. Once on the site or app, customers can browse products ranging from flowers, edibles, tinctures, concentrates, pre-rolls, topicals, CBDs, and accessories.
After you've made your selection and purchase online, the dispenser will contact you via phone, text, or email to confirm the products you want and arrange a delivery time. Twenty-four-hour delivery does not exist—even in Las Vegas. But if you place your order during normal business times, you can typically get a delivery within 2-3 hours or at least on the same day. Otherwise, you may receive your delivery on the next day. Sometimes a dispensary may run out of a product and recommend either a suitable substitute or a refund.
Dispensaries are not uniform in service quality, product availability, pricing, or delivery fees; do yourself a favor by comparison shopping and checking out customer ratings. While some may do specials on select strains, others may have combo deals or throw in free samples. Take the time to read the descriptions to understand the potency and effects of the strain as well as any purchase stipulations. 
A dispensary may price by the gram but require a minimum 10-gram purchase. Depending on the THC and CBD content, an eighth of an ounce may cost from $35 to $70 or more. Some delivery services may require a product purchase minimum anywhere between $25 or $100 and may only accept cash upon delivery. Finally, some delivery services may waive the delivery fee with a minimum purchase, charge a percentage of the product purchase, or offer a flat delivery fee.
Every state that offers legal weed delivery services does so with a spate of regulations and licensing mandates to follow. With safety and security being an utmost concern, regulated green businesses feature strictly licensed employees, constant identity and legal age checks, and tough security measures.  For instance, in Oregon a weed retailer must have written permission from the Oregon Cannabis Commission to proceed with delivery services and can only transport $3000 worth of a product at a time.
While there have been robberies of delivery personnel, it should be noted that these crimes typically occurred after nightfall and targeted the delivery drivers specifically—not the customers. It should also be noted that legalization has had the overall effect of reducing and preventing crime. Still, there is always a right and best way to do everything. Check your state's laws. Place your orders and arrange for deliveries during daylight hours. Choose dispensaries that offer electronic payments through Cash App, Zelle, or other digital payment services to avoid cash transactions.
In light of COVID-19, many dispensaries have instituted guidance measures to keep their dispensaries and products sanitary including limiting the number of onsite customers and requiring personnel to wear PPE and maintain social distance at all times. When participating in delivery transactions, these personnel are typically more than happy to accommodate any social distancing requests you may have.